 ---
Ever since the prominent headlines have been dominated by the spread of the novel Covid-19 pandemic and themes of racial injustice, climate change caused by pollution and global warming has almost taken a back seat. Yet the adverse effects continue to be felt by people across the world.
As global temperatures continue to soar, the urgency of addressing climate change that is eating away glaciers at an alarming rate could not be greater – especially for countries like Pakistan. The country is home to over 7000 glaciers which makes it even more vulnerable to the havocs of climate change.
This battle against mother nature, however, cannot be fought alone. It's also critical to realise that such events do not occur out of the blue; there have been countless warning signs that were ignored over time. But as they say, it's never too late to stir up positive change!
One Pakistani brand took it upon themselves to raise awareness about the grave issue on World Environment Day, celebrated globally on June 5th. National Foods Limited (NFL) took their promise of a better Pakistan a notch further by upholding its values and leading by example.
Apart from being consistent in delivering premium-quality products, they vowed to be more responsible towards preserving the environment of our beautiful country. They launched an incredibly interesting, yet engaging campaign #LetsPlantOurFuture, that aims to make a colossal positive impact while making people well-versed with the power of repurposing.
The brand introduced exclusive pack sizes for their Recipe Mixes, and stepped up to optimise material consumption by reducing paper usage. NFL's upscaled initiative can save hundreds of trees per annum, decrease the tree-felling rate, and result in a significant amount of reduction in the brand's carbon footprint.
Here's how the ever-responsible brand has geared up to reduce their carbon footprint by over 25%, much of which has been achieved already.

National Foods Limited started the mission by sending out 150+ eco-friendly giveaways to influencers in order to expedite the cause. They asked them to play their part in educating the masses and planting seeds for a cleaner and greener Pakistan.
All of the influencers received a box made up of seed infused paper which included three types of seeds, sunflower, cantaloupe and okra to plant, and a pot along with optimised recipe mixes packs.

This remarkable effort and the hashtag #LetsPlantOurFuture quickly garnered immense attention on Instagram and twitter as people all over Pakistan started applauding and appreciating NFL's unique initiative.
I'm taking a pledge today to plant a tree and try to go green by cutting down paper waste, limit use of plastic and limit water wastage to move towards clean and green #Pakistan. Aaj meine @NationalFoodLtd ke is initiative ko support karte huey tree plant kiya hai 1/2

— Iqrar ul Hassan Syed (@iqrarulhassan) June 6, 2021

#LetsPlantOurFuture was the inspiring message of many renowned influencers and celebrities such as Fakhar-e-Alam, Iqrar Ul Hassan and Sidra Iqbal, who wanted Pakistanis to participate in the plantation drive led by NFL.

Many people, including top influencers participated by uploading videos and putting up stories of themselves planting a tree while simultaneously talking about National initiative and asking their followers to participate in the campaign.

The campaign skyrocketed into becoming one of the top five trends of Pakistan.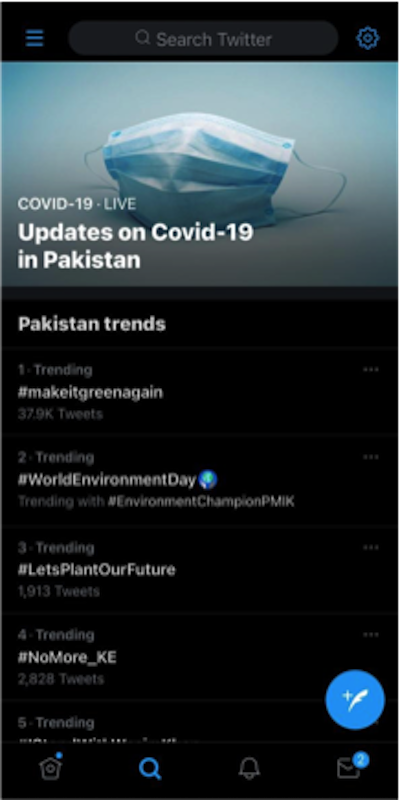 The brand went an extra mile for the betterment of 'Mother Earth' by collaborating with governemnt and WWF in tree plantation & reforestation. In fact, to further its mission of empowering people to protect the environment, NFL joined hands with the NGO, NOWPDP -Shamil in co-creating eco-friendly reusable bags as well.
Kudos to team NFL for coming up with such a thought-provoking and heartfelt initiative that will not only raise awareness about an extremely critical issue but also ensure our future generations can safely reap its benefits.
Let us all pledge to protect this nation and strive for a greener Pakistan.
#LetsPlantOurFuture with National Foods today!
COMMENTS
Comments are moderated and generally will be posted if they are on-topic and not abusive.
For more information, please see our Comments FAQ