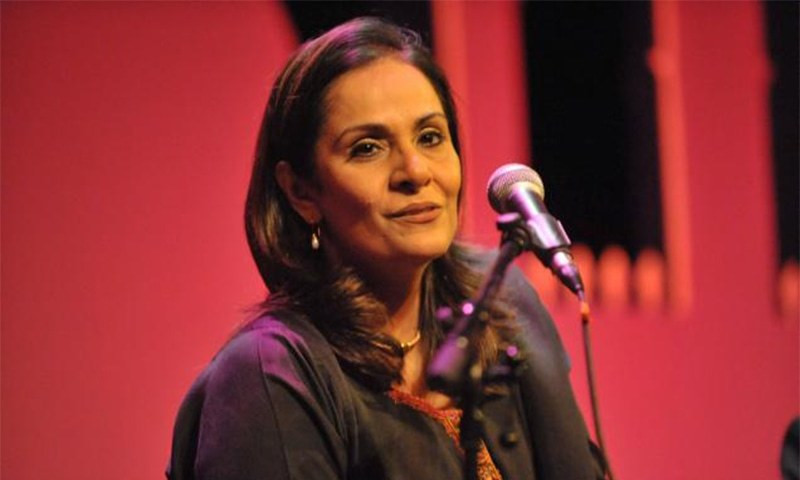 ---
ISLAMABAD:
From Faiz to Iqbal, Tina Sani, a veteran of ghazal and geet has always chosen to sing what is meaningful, socially poignant, and immersive. But that exposure and depth of understanding what piece of poetry to sing and when, is a trait that she has acquired over the years.
Tina's journey as a professional singer began with her singing Akhan Cham Cham on PTV back in 1980. Her music teacher Ustad Nizamuddin Khan and his cousin Ustad Zahoor, who was visiting from Delhi, helped her rehearse the song. It became an instant hit and Tina was immediately signed by EMI Pakistan to record an album with the expert ghazal singer Habib Wali Mohammed and veteran composer Nisar Bazmi.
Thereby, in an exclusive chat with The Express Tribune, Tina looks back at her journey and the ghazals that lasted in her playlist.
"My earlier musical references were from the west such as Barbara Streisand, John Denver and The Carpenters." Tina recalls. "When I seriously started to associate with eastern music, I discovered a new world of music and vocals. The first singer I would like to talk about is Mehdi Hassan Khan sahib. Interestingly I also took some singing lessons from him during my formative years as a singer. His ghazal Baat Karni Mujhay Mushkil is an all-time favorite." This beautiful ghazal about melancholy and loss is written by the last Mughal emperor, Bahadur Shah Zafar. Mehdi Hassan sang it for a 1968 film Sharik-e-Hayat and it was composed by A Hameed.
"There is always something captivating about the blues that grip the listener's irrespective of the times and the language. I often listen to KL Saigal's Babul Mora Naihar Chooto Hi Jaaye. This is a thumri written by Nawab Wajid Ali Shah, the king of Awadh," Tina shares Saigal sang this striking number back in 1937 for the film Street Singer. Composed in Bhairavi Raag, it laments about the exile that Wajid Ali Shah had to endure after he was banished from his beloved Lucknow by the British.
"Reshma's Haaye O Rabba Naiyun Lagda Dil Mera is another timeless piece that never fails to cast the same magic every time I listen to it," says Tina. The effortlessness with which Reshma sang this song immortalised it with a haunting quality. The words of Manzoor Jhalla and the music of Nathoo Khan beautifully complement the rustic charm of Reshma's vocals."
Tina feels few singers have the capacity to modulate their voices like Lata Manageshkar could. Her Ik Pyar Ka Naghma Hai from 1972 film Shor is a proof of her greatness. This song got Santosh Anand and Laxmikant-Pyarelal Best Lyricist and Music Composer nominations at the Filmfare Awards respectively.
According to Tina, another masterpiece by Lata is Kora Kaghaz from the unforgettable 1969 film Aradhana. "SD Burman's composition in Raag Pahari and Anand Bakshi's lyrics perfectly frame the vocal prowess of this living legend of the subcontinent," she says.
Tina absolutely loves Nasir Kazmi's Niyat-e-Shauq sung by Madam Noor Jehan. "I discovered the phenomenon that is Noor Jehan much later in my own musical journey. She had a very peculiar voice and I found her ghazals much more likeable than her film songs," Tina shares. "I once did a cover version of Farida Kahnnum's Sham-e-Firaq in Madam Noor Jehan's presence. Madam liked it a lot which gave me the courage to ask her if I can cover her Mujhse Pehli Si Mohabbat too. She looked me straight in my eye and said, 'Hallay Naeen! (Not yet!)'."
The behlawa in Farida Khannum's singing is something that always stood out for Tina. "What she was able to do with her singing was brilliant. I have recently added her signature Aaj Janay Ki Zid Na Karo to my repertoire for concerts," she says.
Speaking about another singer whose vocal style is closer to her own, Tina shares, "Vocally I know I am very much like Iqbal Bano. I think this was established very well through Dasht-e-Tanhai that I later re-sang. It's a beautiful composition and suites the vocal styles for both of us very well."
Talking about two other vocal giants Tina adds, "Abida Parveen's Dhondo Gay Agar Mulkon Mulkon and Nusrat Fateh Ali Khan's Sanu Ik Pal Chain Na Aavay are very close to my heart. I must also mention Amanat Ali Khan sahib since I especially love Ada Jaffery's Honton Pe Kabhi Unke Mera Naam in his voice."
The one singer who Tina feels does not often get mentioned enough but was outstanding is Naseem Begum. "She unfortunately died during child birth and remained under the shadows of the more dazzling Noor Jehan and effervescent Mala," says Tina. "Her Uss Bewafa Ka Shehar Hay for the 1962 film Shaheed should be enough to convince anyone of her vocal range."
Have something to add to the story? Share it in the comments below.
COMMENTS
Comments are moderated and generally will be posted if they are on-topic and not abusive.
For more information, please see our Comments FAQ