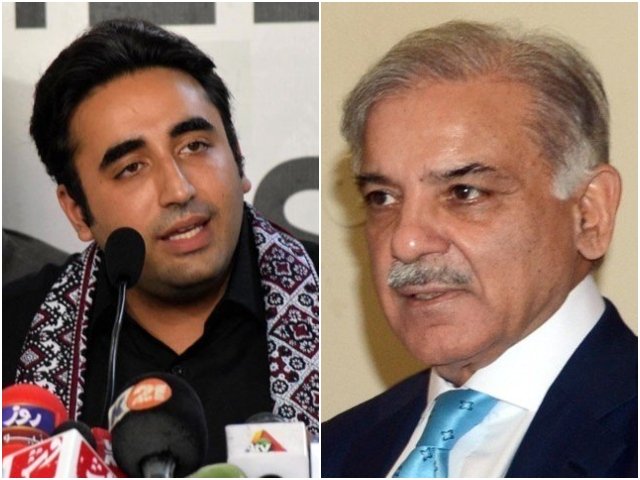 ---
ISLAMABAD:
Differences between the Pakistan Muslim League-Nawaz and the Pakistan Peoples Party have started to narrow after Shehbaz Sharif and Bilawal Bhutto Zardari held two back-to-back meetings at the Parliament House.
Shehbaz first entered Bilawal's chamber and held a meeting with him. Later on, the PPP chairman went the opposition leader in the National Assembly's chamber and met him.
Talking to the media after the meeting, Bilawal said, "All of my MNAs are at Shehbaz's disposal."
To question about the decisions made during the meeting, the Bhutto family scion said, "We will move forward together in parliament."
To another question about no-confidence motion against NA Deputy Speaker Qasim Suri, Bilawal said that consultation with the PML-N on the matter are under way.
Read more: PDM leaders are divided, confused: Bilawal
Separately, Opposition Leader in the Senate Yousuf Raza Gillani chaired a joint opposition session in which PML-N's Azam Nazir Tarar was in attendance.
Earlier, PML-N had said that they would not sit with the opposition leader Gillani, demanding separate seats of the Senate Chairman Sadiq Sanjrani.
Sherry Rehman of PPP, Dilawar Khan of Azad Group and others attended the joint meeting of the Senate opposition.
The joint opposition meeting decided on the budget strategy. The PML-N fully supported the speech of Gilani by thumping the desk.