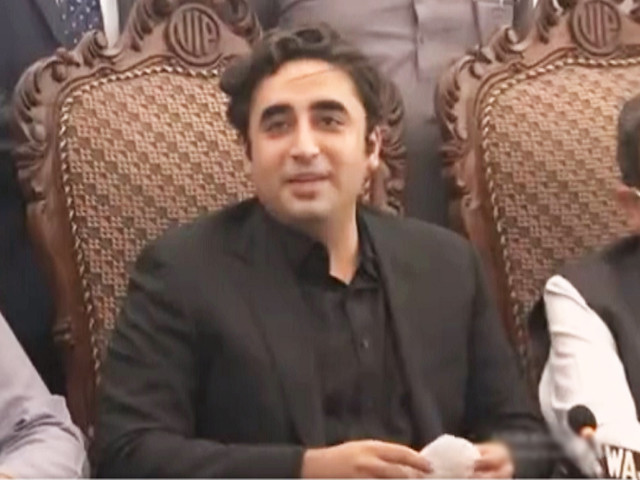 ---
PPP Chairman Bilawal Bhutto Zardari has said that leaders of the fragmented anti-government alliance, Pakistan Democratic Movement (PDM), appeared to be "confused and divided" after Saturday's meeting.
"PDM leadership seemed divided and indecisive in their objective and strategy," he said, referring to PDM's Saturday's huddle. He made these remarks while addressing a press conference with ANP leaders in Khyber-Paktunkhwa's Charsadda on Sunday.
"کل پی ڈی ایم کے اجلاس میں پاکستان پیپلز پارٹی اور اے این پی موجود نہیں تھیں مگر آج بھی وہاں پاکستان پیپلز پارٹی کی پالیسی ہی چل رہی ہے۔
وہ آج بھی استعفی نہیں دے رہے اور پارلیمان میں ٹف ٹائیم دینے کی باتیں ہورہی ہیں۔"@BBhuttoZardari
2/3 pic.twitter.com/dUQICtMDI2

— PPP (@MediaCellPPP) May 30, 2021
PDM chief Maulana Fazlur Rehman, while responding to a question about the return of the PPP into the alliance, said on Saturday that the PPP was not part of the alliance and they neither discussed "this matter nor is this matter important enough to be discussed".
"If they (PPP) want to return, they can approach the PDM," he added.
The PPP chairman, during today's presser, said that after leaving the PDM in March, his party and ANP did not express desire at any point to re-join the anti-government alliance.
"ANP and PPP were not present in yesterday's meeting but PDM is still pursuing PPP's policy of not stepping down from legislative assemblies and giving tough time to the government in parliament," he remarked.
Also read: PPP is no longer a part of PDM, says Maryam
In the same press conference, he urged the opposition parties to join hands and not let the government to pass the upcoming "PTIMF" budget.
The PPP chairman said the people of K-P especially the youth were facing acute poverty and unemployment due to the incompetence of PTI-led government.
He said PPP has an ideological and political relationship with ANP and added that both the parties would work jointly inside and outside the parliament.
He said the PDM was founded by his party.
"The masses are facing difficulties due to the incapable government of [Prime Minister] Imran Khan. I will continue my struggle to get rid of this incompetent government," the PPP chairman added.
Earlier, Bilawal visited Wali Bagh in Charsadda to mourn the demise of ANP veteran leader Begum Naseem Wali Khan.
چارسدہ: پاکستان پیپلزپارٹی کے چیئرمین بلاول بھٹو زرداری کی ولی باغ آمد

چارسدہ: چیئرمین بلاول بھٹو زرداری کی بیگم نسیم ولی خان کے انتقال پر عوامی نیشنل پارٹی کے مرکزی سینئر نائب صدر امیر حیدرخان ہوتی سے اظہار تعزیت@BBhuttoZardari pic.twitter.com/2W6QMpTfnv

— PPP (@MediaCellPPP) May 30, 2021
The PPP chairman met ANP Senior Vice President Ameer Haider Khan Hoti, ANP K-P President Aimal Wali Khan and Longeen Khan and expressed deep sorrow over the passing of Begum Naseem.
ANP Secretary General Mian Iftikhar Hussain, Treasury Secretary Senator Haji Hadayatullah, ANP spokesman Zahid Khan and Haji Ghulam Bilour were also present on the occasion.
Bilawal was accompanied by Sindh Chief Minister Murad Ali Shah, provincial minister Hamayun Khan, former senator Nayyar Bukhari, Farhatullah Babar, Robina Khalid and others.
(With input from DNA)