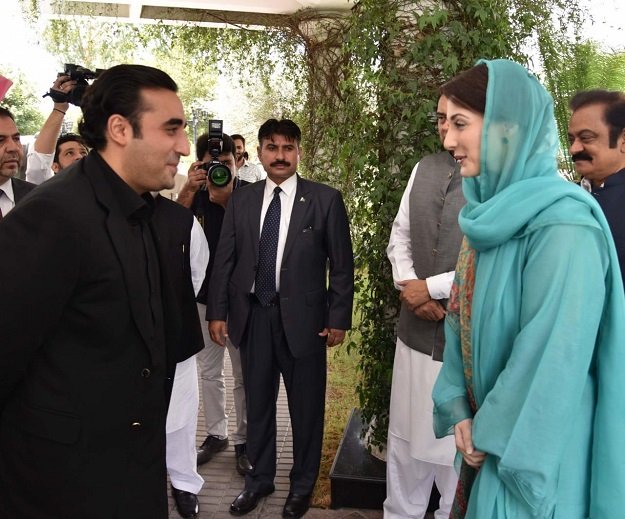 ---
ISLAMABAD:
Pouring cold water on the efforts to unify anti-government alliance of major opposition parties, PML-N Vice President Maryam Nawaz has categorically stated that PPP is no more a part of PDM.
"PDM is a completely independent forum and the PPP is neither a part of it nor my target," she said while responding to a question after holding a joint news conference following a PDM huddle in Islamabad on Saturday.
The PPP and the ANP parted ways with the PDM in March after the alliance issued show cause notices to the parties' leadership for deviating from a decision with regard to appointment of the leader of opposition in the upper house of the parliament.
During today's meeting, the PDM leadership was expected to decide whether or not PPP and ANP should be allowed to return to the alliance, formed in September last year to dislodge the PTI government.
However, PDM President Maulana Fazlur Rehman told the media that the issue of PPP did not come under discussion.
Also read: Gulf within PDM widens
Responding to another question about PML-N's future course of action, Maryam said only a narrative of "resistance will lead to reconciliation".
"Power talks to power… powerful do not speak with weak. The moment you show weakness, your enemy will hit you hard," she remarked. "You don't get anything in tray… you have to fight for your rights," she added.
پی ڈی ایم مکمل طور پہ خود مختار ہے پیپلزپارٹی اب پی ڈی ایم کا حصہ نہیں ہے اور میرا ہدف بھی نہیں ہے
پاور کمزوری سےبات نہیں کرتی جہاں آپ نے کمزوری دکھائی وہاں آپکا دشمن آپ پہ حملہ کرے گا.ٹرے میں رکھ کر کبھی آپکو کوئی چیز نہیں ملتی آپکو اپناحق لڑ کے لینا پڑتا ہے@MaryamNSharif pic.twitter.com/ycElmqE033

— PML(N) (@pmln_org) May 29, 2021
Maryam's statement comes amid reports that her uncle and party president Shehbaz Sharif since his release from jail seemed to have taken charge of the party and the first direction that he has issued is to lower the rhetoric and pursue the policy of reconciliation.
Party insiders told The Express Tribune earlier this month that the PML-N president, who is the Leader of the Opposition in the National Assembly, believes that the party should quietly move ahead; refrain from issuing unnecessary statements and position itself as an "acceptable alternative" for the next general elections in 2023.
"At the moment, the PML-N is popular but not acceptable," a PML-N leader said, while requesting not to be named. "Shehbaz has asked the party leadership to prepare the party for the next general elections instead of locking horns with the establishment by issuing unnecessary statements."