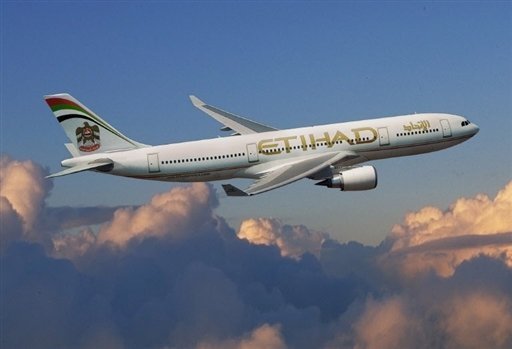 ---
UAE airline extends ban on 'travellers from Pakistan until July 7'
'Those who visited Pakistan, Bangladesh, Nepal and Sri Lanka past 14 days won't be able to enter UAE'
---
The UAE airline Etihad Airways on Monday said that it had extended the travel ban on passengers from Pakistan, Bangladesh, Nepal and Sri Lanka until at least July 7, saying that it could be extended even further, Khaleej Times reported.
A search on the website of the airline for flights to the UAE from Islamabad, Karachi and Lahore displays a message, informing passengers about the aforementioned date.
It said that those who have visited these countries over the past 14 days, too, won't be able to enter the UAE. "The only exemptions to this is if you are a diplomat or a UAE national or a Golden Visa holder. Your PCR test, in this case, must be taken a maximum of 48 hours before your flight departure," the carrier said.
Read more: At least 39 passengers from UAE test positive for Covid at Peshawar airport
The report said that flights will continue to show as available for the above destinations in the flight search as exempted passengers are still allowed to fly to the UAE.
As of 5pm on Monday, June 14, Dubai-based Emirates had not updated a date extension. Its website maintained that the carriage of passengers from Pakistan, Bangladesh and Sri Lanka will remain suspended "until further notice".
The UAE had first announced the suspension of entry for travellers from Pakistan, Bangladesh, Nepal and Sri Lanka on national and foreign flights on May 12.
However, the report stated, the cargo flights will remain unaffected.
Meanwhile, UAE General Authority of Civil Aviation (GCAA) issued a fresh list of safety protocols for passenger and private business charter flights arriving from countries that are currently facing incoming travellers' suspension.
Measures include mandatory tracking devices for passengers, including golden and silver visa holders said a new safety decision circular issued by the authority.
Read more: UAE to suspend travel from Pakistan, Bangladesh, Nepal and Sri Lanka from May 12
"The stringent regulations apply to all aircraft operators conducting flights from and to the UAE from the following countries – Bangladesh, Democratic Republic of Congo, India, Nepal, Nigeria, Pakistan, Uganda, South Africa, Sri Lanka, Vietnam, and Zambia."
Last week, Emirates had said that the suspension of passenger flights from India to the UAE will continue until July 6.
Overall, passenger entry from 10 countries are currently suspended: India, Pakistan, Bangladesh, Sri Lanka, Nepal, Vietnam, South Africa, Zambia, DR Congo and Uganda.
Pakistan had previously raised concerns with the UAE that many citizens were returning home from the Gulf Arab state infected with Covid-19 and that crowded living conditions for workers in the UAE could be a factor in spreading the virus.