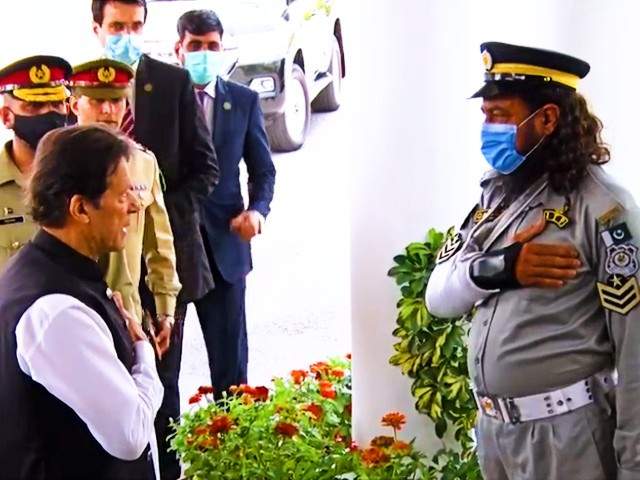 ---
Prime Minister Imran Khan on Monday heaped praise on a head constable of Islamabad Traffic Police (ITP), who returned to work only two days after an on-duty injury, resulting in a fracture to his arm.
On Wednesday, Qaiser Shakeel was hit by a speeding motorcycle while stopping a Suzuki Pickup for being on the wrong side of the road.
Qaiser's arm was fractured in the collision. This type of injury usually takes weeks to recover but the high-spirited police official returned to duty after just two days of medical attention.
Read more: PM inaugurates first 'one-window' Ehsaas centre in Islamabad
"I am very happy," the premier can be heard saying while meeting with Qaiser in a video released by the Prime Minister's Office (PMO). "I saw [what you did] and read about it... a lot of people also appreciated your effort."
وزیرِ اعظم عمران خان کی ٹریفک پولیس اہلکار قیصر شکیل کی حوصلہ افزائی. وزیرِ اعظم عمران خان نے ہیڈ کانسٹیبل قیصر شکیل کو دورانِ ڈیوٹی زخمی ہونے کے باوجود اپنی ذمہ داریاں احسن طریقے سے ادا کرنے پر انہیں وزیرِ اعظم ہاؤس بلا کر حوصلہ افزائی کی اور شاباش دی۔ pic.twitter.com/SHxVSlLnfF

— Prime Minister's Office, Pakistan (@PakPMO) June 14, 2021
The prime minister said that the entire image of police is lifted by the effort of just one man because of such an incident. "I called you especially here to appreciate your effort and we will reward you for it as well."
Qaiser said that PM Imran was performing his duties to serve people with high spirits and he wanted to replicate it.
COMMENTS
Comments are moderated and generally will be posted if they are on-topic and not abusive.
For more information, please see our Comments FAQ