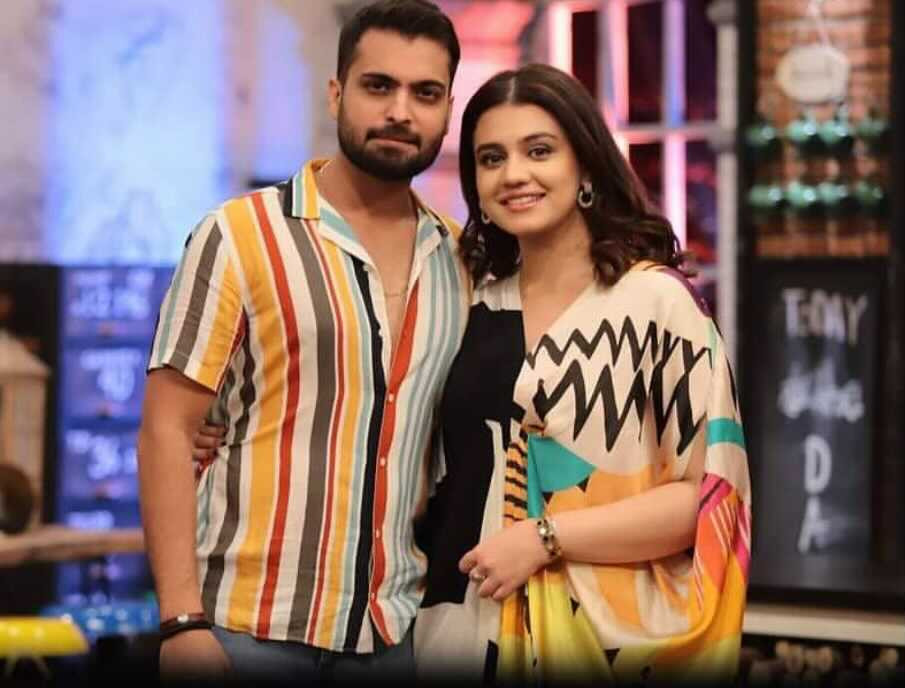 ---
Celebrity couple Zara Noor Abbas and Asad Siddiqui recently made an appearance on Time Out with Ahsan Khan and spoke about their life together, nepotism and their showbiz experiences so far. The actors, who have been married since 2017, starred together in the 2020 TV serial Zebaish. Reflecting on the criticism Zara received for her performance in Zebaish, which many viewers felt was exaggerated to the point of being comical, the actor shared that she doesn't feel the criticism was a personal attack.
"I worked hard and started focusing on myself. When the same people who love you criticise you, you should understand that the criticism is coming from an honest place. It isn't personal," she said.
Elaborating further on how certain scenes from the serial were made fun of relentlessly online, Zara added, "That was the most viral moment of my life. At first, I enjoyed it. I would laugh about it. Then it got to me and I started to cry asking, 'What is going on!'. But I learned a lot from it." Speaking about how Zara has changed the way he works, Asad spoke about the power of two minds put together. "If you're just one person, you're just one mind. But when two minds get together, opinions and suggestions increase, and the end product is always better. Similarly, I've been working from before, and then Zara came into my life. So yes, I did get a push which was very positive," revealed the Takkay Ki Aayegi Baraat actor.
Asad, the nephew of veteran actor Adnan Siddiqui, shed light on the issue of nepotism. He explained, "PR and sifaarish (contacts) can only get you through the door, where you go from there and how you survive is on you. People talk about nepotism a lot, and say that there is some level of nepotism at play, someone's mother or father got them into the business, but are they not acting well enough? If they aren't, you have every right to criticise them." He added later, "I did my first job, my first show, without letting him know. People found out later that he was my uncle. I saw my uncle at home since I was a child, and I wanted to be like him."
Zara, who is the daughter of actor Asma Abbas and niece of Bushra Ansari, also spoke about her famous family. "Bushra Ansari was always my khala to me. It's only when I grew up that I realized the level of her popularity and would ask her not to pick me up from school. That's when I really understood," explained the Parey Hut Love actor. The couple spoke about the industry's hyper fixation on topics such as saas-bahu conflicts and cheating spouses.
Zara explained how she believes actors and filmmakers have a social responsibility to tell the right stories at the right time. "I think I have realised now that as an actor you should take a responsibility upon yourself to not tell stories about the process of marriage and the cheating that ensues because I feel like there's been too much of that at this point. When we start working on a social issue, we just keep going on and on and when we start making dramas on marriage and saas/nand we don't know when to stop. I'm trying to choose one narrative at a time and then not repeat it."
Elaborating on the issue, Asad added, "Why don't we do things that actually benefit people? If we show the same thing over and over again, for example, there is a rape happening in every drama, what are you trying to put out? To this day we continue to make narratives in which the saas is fighting and the girl runs away. Why do we always have to show the negative side of our society?" Zara noted how she felt the current method of storytelling in dramas is problematic, saying, "There was a drama in which they had shown how a harasser would stalk the child he was preying on at night. There was an entire montage of it. Don't show this to people, don't give them ideas."
The conversation took a light-hearted turn when the couple spoke about their marriage. Asad revealed that he asked for Zara's hand in marriage with traditional fanfare. "I called them and asked when they'd be back in Lahore. They told me they'd be back in three to four days and I told them I'd come over to their house with my mother and father. We went to their house, my entire family, Sajal, Asim and Yasir. Those three contributed a lot to us getting together." Speaking about her marriage to Asad, Zara shared, "I'm still discovering things. Every day is a new day with him."