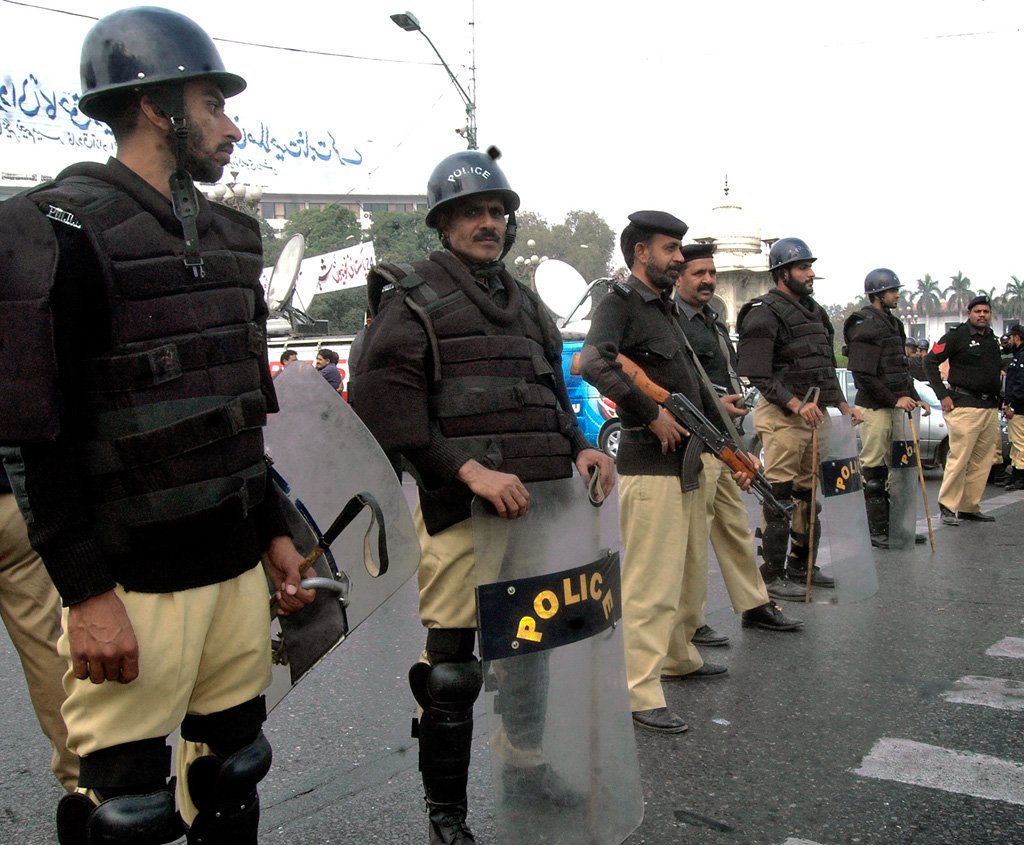 ---
ISLAMABAD:
The residents of Rawalpindi had to face traffic congestion during most of Saturday because the family of a man who died in police custody staged an over six-hour long sit-in with the body on IJP Road from 10am to 5pm.
Hasan alias Mankae, a resident of Ziaul Haq Colony, was arrested by Islamabad Counter Terrorist Department (CTD) police for being involved in street crimes and killing two police constables in March this year. The CTD police held Hasan and detained him for interrogation and investigation, but he died in police custody.
The family and relatives of the slain man staged a sit-in with the body on IJP Road (which is always busy throughout the day) and blocked traffic. The demonstrators chanted slogans against the police and claimed that Hasan had died because of police torture.
When news of the road blockade and its reason reached the Islamabad Inspector General of Police (IGP), Qazi Jamilur Rehman took notice of the incident. He formed an investigation team under Investigation Wing SP and IGP's subordinates assured the protestors that justice would be done and their grievances would be heard.
The IGP ordered that a case should be registered against four CTD personnel including the SHO, Inspector Shamsul Akbar, and three other officials of the CTD department. The Muharir of the CTD police is the plaintiff in the case filed against the CTD officials. However, what is interesting is that the First Information Report (FIR) mentions that Hasan died after his head hit against the lockup's bar and makes no mention of how the detained man's head hit the bar so hard that it resulted in the detained person's death.
Read Rape case suspect killed in police 'encounter'
A CTD department official when asked to comment only agreed to do so on the condition that his identity would not be revealed. The official said that the CTD staff were under a lot of pressure to curb the increase in violent street crimes and come down hard on street criminals who had made citizens' lives miserable.
The official said since March street criminals had killed four police officers and injured several others when law enforcers tried to stop street criminals.
Citing instances of violent crime in Rawalpindi in recent weeks, the CTD official said a head constable was killed and two other policemen were injured when unidentified motorcycle riders opened fire on them on Sunday within the remits of Golra police station.
In an incident in March Sub-Inspector Jamil Ahmed, Head Constable Qasim, and Constable Qaiser were on routine patrol when they set up a picket on Container Chowk in Sector G-13. They intercepted two men riding a motorcycle. However, they opened fire on the police and fled. The three policemen were injured where Head Constable Qasim died of his injuries.
On the other hand, the mother and brothers of the man who died in police custody claimed that Hasan died in police custody due to torture and brutal interrogation of the CTD staff. They added police tortured Hasan in detention.
The mother alleged that CTD personnel had booked her with her son as well, but later she was dumped in a forest.
The police claimed that Hasan was apprehended on the charge of killing two police personnel on IJP Road. The police also claimed that Hasan was previously nominated in cases pertaining to attacks on police in Sector I-8 and being involved in other street crimes.
Published in The Express Tribune, June 13h, 2021.
COMMENTS
Comments are moderated and generally will be posted if they are on-topic and not abusive.
For more information, please see our Comments FAQ