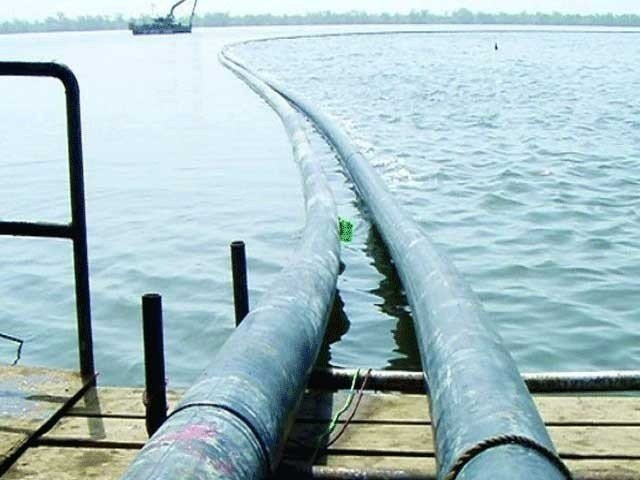 ---
LAHORE:
In view of the controversy raging between the federal and Sindh governments over the apportionment of water and allegations by the latter that its due share had been slashed, it is imperative to give a little background to allow people to make their own judgment.
Differences in water distribution of the Indus Basin System between Punjab and Sindh have been ongoing since 1921. After partition, in the absence of any decision on the sharing of Indus water, the available river supply was distributed amongst the provinces by the Federal Ministry of Water and Power based on the historic uses.
The adhoc distribution of Indus water continued till 1991. During this period no new development works were under taken. Keeping in view this statement in the progress of development works the government of Pakistan constituted an Inter-Provincial Committee on Apportionment of Indus Basin Waters in January 1991 to examine all the previous reports and formulate recommendations within 30 days.
Read: Punjab cuts water losses to 10%
This Inter Provincial Committee decided to hold deliberations at the technical level and at the highest political level in the presence of chief ministers to develop a consensus on the distribution of the Indus water.
A consensus was ultimately reached on March 16, 1991 between all the stakeholders that agreed on the terms of the Water Accord. The accord comprises 14 paras, with focus on developing the water resources in the country. The provincial shares were determined, addressing previous concerns of all provinces in Para 2, which added up to 114.35 MAF against the existing useable historical supply of 102.73 MAF.
Sindh demanded 10 MAF for flows downstream Kotri, it was recognised that there was a need for certain minimum escapages to sea below Kotri to check sea intrusion, nothing definite was decided on this. It was decided to carry out studies in order to determine the minimum needs of escapages below Kotri in this respect. These studies have been carried out through a panel of independent international experts and submitted to the federal government in November, 2005. The decision of the federal government is awaited.
The necessity to establish an Indus River System Authority (IRSA) for implementation of the accord was accepted. The IRSA advisory committee, in its meeting on April 8, 2021, approved the water availability criteria for Kharif season, anticipating shortfall of 10% on average system uses. However, the actual water availability has fallen short of this expectation; actual flows of Indus at Tarbela, Kabul at Noshehra and Chenab at Marala are short by 21%, 29% and 33%, respectively.
Ironically instead of shifting to a revised water availability scenario, IRSA depleted Mangla reservoir to meet provincial requirements in accordance with the forecasted availability, which indicates that filling of Mangla reservoir is not possible during this Kharif period.
During the month of April, which is the sowing period of Sindh, IRSA depleted the reservoirs to meet Sindh's indents. Punjab suffered a loss of 33% and Sindh's shortages were only 9% of the allocated shares during the month of April. Punjab requested IRSA to equalise the shortages but reservoirs were already depleted during early April.
Today, Mangla is 80% below the expected storage level. According to water experts Mangla dam should be filled by 80% of its capacity by the end of June, which seems improbable during this current Kharif season. Mangla dam command canals usually irrigate 13 million acres of Jhelum Chenab zone in Punjab. And Mangla dam is the only source of irrigation for this fertile land in Punjab. Punjab is going to suffer drastically not only in this current Kharif season but also in the upcoming Rabi season, which is alarming. Punjab produces most of the wheat for the country in Rabi season and the national food security is at risk.
Read more: Sindh, Punjab to get even more water
Sindh Irrigation Department is claiming 39% conveyance losses in its 600 mile water carrying channels, which translates into 1.5 MAF. The accumulated storage of both Mangla and Tarbela currently is 1.42 MAF. To put it in simple terms, Sindh Irrigation Department's claimed losses are greater than the storage the country has at the moment. Punjab in its 2,600 miles of water carrying channels is reporting 8% losses in Jhelum Chenab zone and plus 2% gains in Indus zone due to Koh-e-Suleman range hill torrent contribution to the system. Sindh too has hill torrent contribution but is not reported.
Taunsa and Punjnad Barrages were visited by Sindh Irrigation Department and nothing irregular was found. However, Punjab officials' visit to Guddu Barrage was interesting to say the least. At Guddu, there was no proper mechanism of discharge measurement and proper gauges were missing and surprisingly discharge tables are not available either.
Despite IRSA approved seasonal plan not to have any downstream Kotri flows, the escapages downstream Kotri amid these extreme shortages were 0.558 MAF during Rabi 2020-21 and to-date have accumulated 0.048 MAF during early Kharif 2021.
Published in The Express Tribune, June 13h, 2021.
Like Business on Facebook, follow @TribuneBiz on Twitter to stay informed and join in the conversation.
COMMENTS
Comments are moderated and generally will be posted if they are on-topic and not abusive.
For more information, please see our Comments FAQ