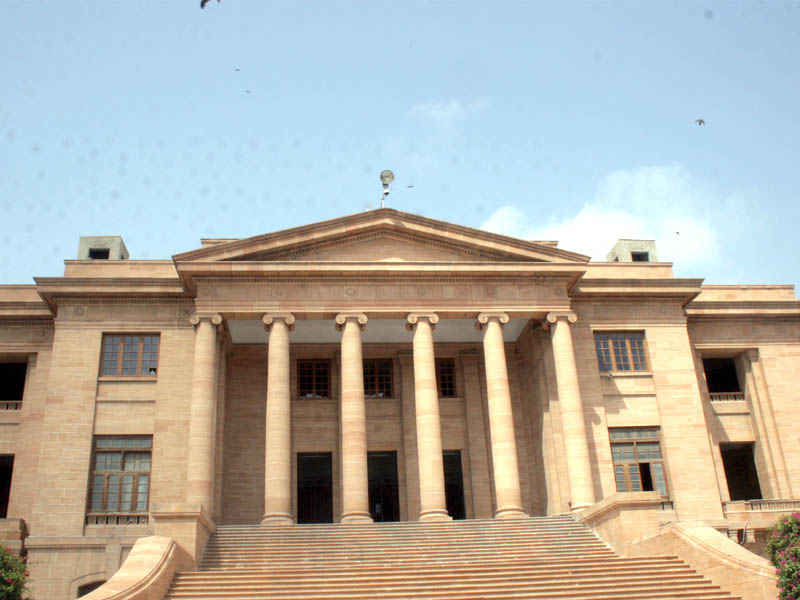 ---
KARACHI:
The Sindh High Court (SHC) on Thursday sought a progress report from the National Accountability Bureau's prosecutor on bail pleas moved by his alleged front men in the graft inquiry against Pakistan Peoples Party leader Syed Khursheed Shah.
A two-member bench comprising Justice Yousuf Ali Sayeed and Justice Adnan Iqbal Chaudhry was hearing the pleas.
The NAB prosecutor apprised the court that evidence against the suspects has been collected. He asked for a six-week extension to submit the final response.
A reference was filed against a few suspects while preparation of the reference against a few suspects is in the final phase, he said.
The court extended the interim bail of the suspects until July 14 and sought a report from the NAB prosecutor.
The alleged frontmen, Mahesh Kumar, Mukesh Kumar, Phalal Mal and several others have filed bail pleas, requesting the court to restrict NAB from arresting them and also to prevent the anti-graft watchdog from taking any action without a court order.
Plea disposed of
Meanwhile, the court disposed of a petition seeking the recovery of Jeay Sindh Qaumi Mahaz Chairperson Sanan Qureshi, who had been 'disappeared' after being taken under police custody following the recent protest against Bahria Town Karachi.
The petitioner's counsel informed the court that Qureshi was produced before the Anti-Terrorism Court on Wednesday by the Gadap Police and that they wanted to withdraw the petition now.
Milk prices
Separately, on a petition moved against inflated milk prices, the court directed officials to ensure that milk is sold at rates approved by the government.
The Sindh Food Authority (SFA) and the Karachi commissioner submitted implementation reports before the court and maintained that efforts were underway to ensure price control.
The petitioners accused the milk mafia of selling the commodity for prices set according to their whims.
The government rate for milk is fixed at Rs94 per kilogramme yet the milk mafia is selling it for Rs130-140 per kg, the petition stated.
The court directed the relevant authorities to ensure the selling of milk at government rates.
Advocate Nadeem Sheikh filed a petition to become a party in the case.
The court issued a notice to the Karachi commissioner and several others."Further hearing of the case will be held after the holidays," the court remarked.
The court adjourned the case hearing until August 12.
Published in The Express Tribune, June 11h, 2021.