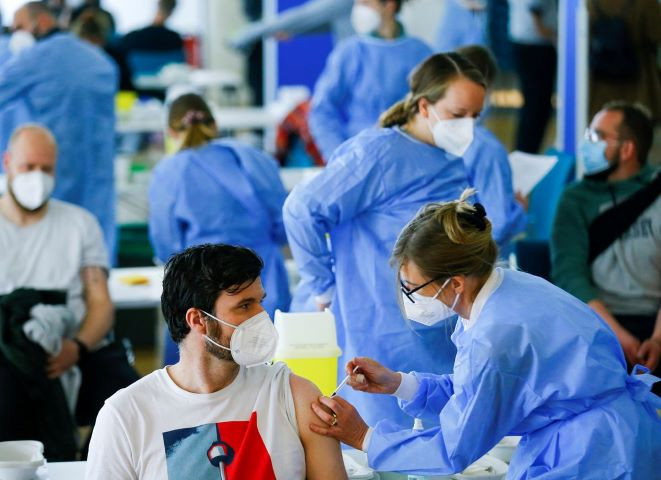 ---
All adults to be vaccinated by Dec 31
Buzdar directs all ACs and DCs to prepare vaccination plan for their districts
---
LAHORE:
The government has decided to administer the coronavirus vaccine to all adults by December 31.
Lahore Division Commissioner Capt (retd) Muhammad Usman has announced that the target has been set for mandatory administration of coronavirus vaccine to the entire population of over 18 years by the end of the current years.
Presiding over a meeting related to the ongoing vaccination campaign here on Thursday, Usman instructed all deputy commissioners and assistant commissioners to prepare vaccination plan and target for their districts and tehsils within two days.
He suggested them to segregate the entire population of all districts and tehsils on a number of available days and fix the daily target for their jurisdiction which will be followed in true letter and spirit along with the instructions given by the provincial health department.
Read Active cases of Covid down to 35 in Rawalpindi
He underlined that all deputy commissioners will be responsible for achieving vaccination targets for their districts while assistant commissioners will be responsible for tehsils' vaccination target.
The assistant commissioner will also submit a detailed plan for the existing vaccination centre and proposed vaccination facilities.
Usman highlighted that with an increase in vaccination centre it would be easy to achieve the target, however, there will be a need to motivate citizens to get vaccination through an effective publicity campaign.
Meanwhile, Punjab Minister Housing and Urban Development, Mian Mehmoodur Rasheed highlighted that the process of vaccination against coronavirus has been expedited across the province. So far, 677 vaccination centres have been established in all districts of Punjab.
Published in The Express Tribune, June 11h, 2021.