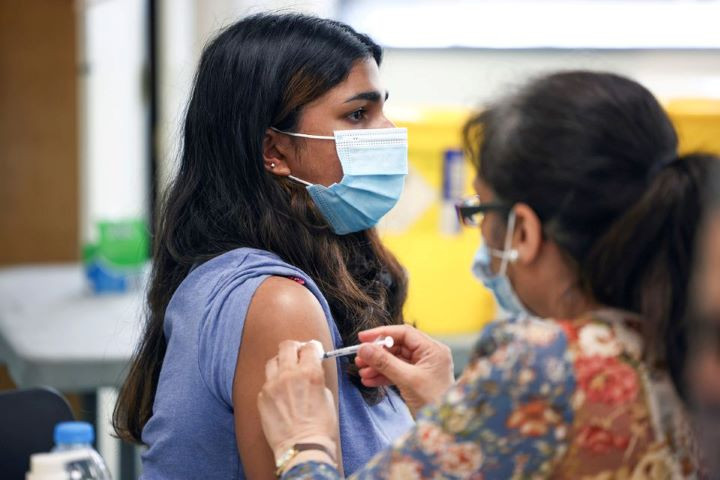 ---
Active cases of Covid down to 35 in Rawalpindi
Health experts attribute it to strict implementation of SOPs, vigorous inoculation drive
---
ISLAMABAD:
The third wave of coronavirus in the Rawalpindi district nears culmination as 35 Covid patients remain admitted at three major hospitals, a spokesperson said on Tuesday, adding that the infection rate has declined to 3.22 percent.
The implementation of anti-Covid standard operating procedures (SOPs), the imposition of smart lockdown, and the vaccination of over 400,000 citizens have considerably reduced the spread of the virus, the official maintained.
Following this, the coronavirus wards at Benazir Bhutto General Hospital, Holy Family Hospital, and Rawalpindi Institute of Urology and Transplantation (RIUT) are getting vacant.
The health experts claimed that if the SOPs implementation and vaccination is continued, the third wave of the deadly virus will soon end. Rawalpindi Medical University Vice-Chancellor (VC) Prof Dr Muhammad Omar said that we still need to continue the SOPs implementation for another ten days to completely eliminate the virus.
Stressing the need to get vaccinated, Dr Omar said the first dose of vaccine ensures that people are 40 percent safe from contracting the virus after 15 days while people get immunised up to 85 percent after five to six weeks of the second dose.
In the last 24 hours, the number of coronavirus patients in public hospitals has started to decline rapidly. Out of the 36 patients undergoing treatment in three hospitals, 31 patients are on oxygen while four have been shifted on ventilators. One patient, who was admitted to Holy Family Hospital (HFH), succumbed to death during the span.
So far, a total of 441,266 people have been vaccinated in the district. The health department has directed the citizens to get vaccinated against coronavirus.
Meanwhile, the management of Polyclinic Hospital (PCH) outperformed other federal government hospitals during the Covid crisis as it took all substantial measures for the protection of staff besides providing the best healthcare facilities to the infected patients.
The healthcare facility ensured the provision of personal protective equipment (PPEs) to the staff and established isolation wards for Covid-19 patients along with a flu clinic.
Besides this, PCH management took exemplary measures for vaccinating citizens once it was rolled out. Another milestone of the hospital was keeping the outpatient department (OPDs) functional throughout the pandemic to ensure the treatment of patients suffering from other ailments besides Covid.
PCH had hired three tailors for preparing face masks and producing 1,500 of them daily in three shifts that were distributed among patients and the hospital staff. Similarly, the healthcare facility also got self-sufficient in manufacturing hand sanitisers.
During the vaccination process, Dr Niyaz and the team ensured round-the-clock immunisation during Ramazan. The teams of medics and paramedics worked in two shifts from 8am to 10pm to carry out vaccination without interruption.