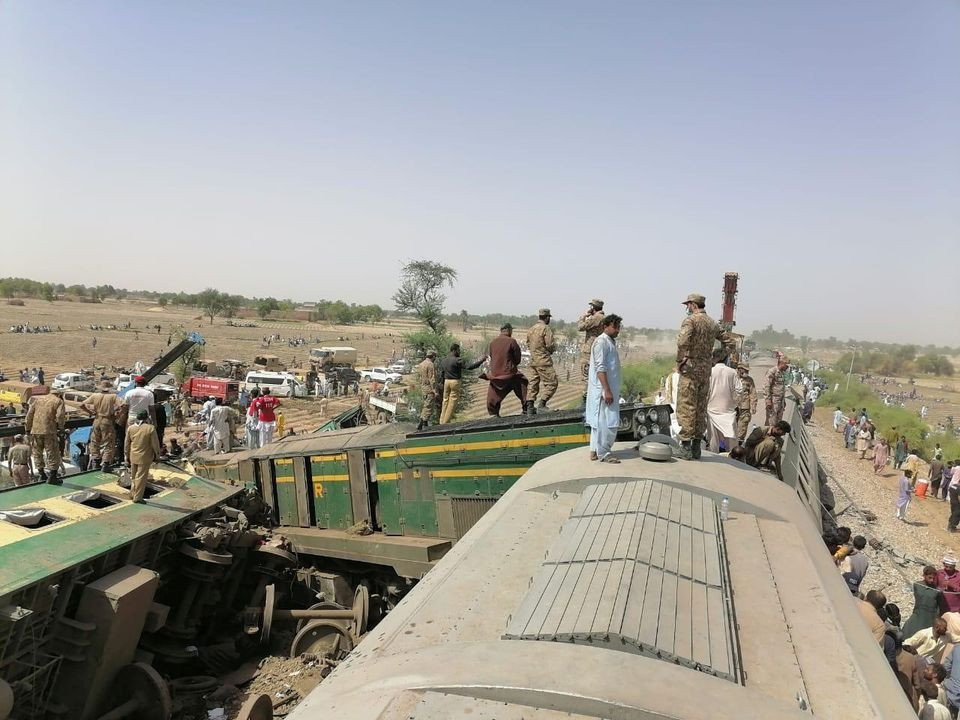 ---
LAHORE:
Nine Railways officials were suspended on Wednesday for their alleged negligence that caused the recent horrific collision between two trains in Daharki – killing at least 65 passengers and injuring around 100 others.
Railways Minister Azam Khan Swati suspended Mansoor Anwar, Mujeed Rehman, Shaukat Ali Shaikh, Nehal Khan, Ibtesam-ul-Hassan, Shamsuddin and Ghulam Qadir, according to a notification.
Millat Express was heading from Karachi to Sargodha on Monday morning when it derailed, spilling carriages onto the track carrying Sir Syed Express from Rawalpindi in the opposite direction.
Read more: Ghotki train tragedy toll climbs to 65
Earlier in the day, the minister while addressing a news conference in Lahore, conceded that when Millat Express left Karachi, its carriages were shaking.
He added that carriage number 10 of the train was missing buffers and its bolts were broken as well.
The minister said he was present at the site of the accident until the entire track was restored.
He elaborated that 63 people had died in the accident and 20 others were currently being treated at hospitals for injuries – three of them in a serious condition.
Also read: Deadly smashup on tracks
"Twelve carriages derailed that caused the accident."
The minister said the although the lives lost in the accident were "priceless", the heirs of the deceased would be given a sum of Rs1.5 million each by the government as compensation.
"Every injured person will be provided between Rs50,000 and Rs300,000."
Swati maintained that it was unlikely that a fault in the eight-mile stretch of railway tracks was responsible for the accident.
The tracks where the accident occurred had recently undergone maintenance on a stretch of eight miles.
The minister said he himself and other senior personnel had inspected the site of the accident themselves.
However, he added that it could only be determined when the final report arrived.
Swati pointed out that the rescue train reached the scene after a delay of two hours.
He added that an investigation into the mishap was under way and whoever was found guilty of negligence would be punished accordingly.
Swati claimed that nothing had been spent to upgrade the tracks since 2014.
He said a sum of Rs620 billion was needed to overhaul the entire railway system. " I will meet the prime minister and take up this issue."
The minister said if his resignation could heal the wounds of the victims, he was prepared to step down.
Swati further said he had decided to appoint an experienced army officer with expertise in conducting investigations and another individual in the aviation ministry to carry out the probe into the tragedy.