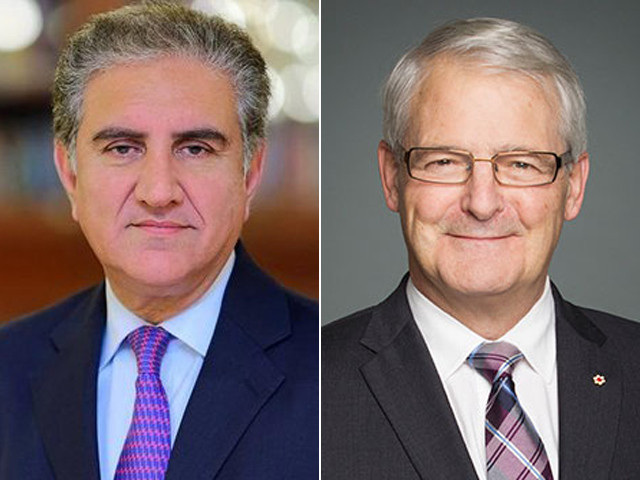 ---
ISLAMABAD:
Foreign Minister Shah Mahmood Qureshi held a telephonic conversation with his Canadian counterpart Marc Garneau on Tuesday and discussed matters pertaining to recent tragic incident of Islamophoia in Canada, as well as bilateral ties.
The two foreign ministers agreed to work together on countering Islamophobia through coordinated efforts at various international fora, said a statement issued by the foreign office. "Both foreign ministers further agreed to remain in close contact [in this connections]," it added.
A Canadian Muslim family of Pakistani origin on Sunday lost three of its generations after it was targeted in a "religiously-motivated" attack when a pick-up truck ran over them in the south of Canada's Ontario province while they were waiting on the sidewalk to cross the road.
The four family members killed were Salman Afzaal, 46, his wife Madiha Salman, 44, their 15-year-old daughter Yumnah Afzaal and Afzaal's 74-year-old mother whose name has not yet been released. Their nine-year-old son, Fayez Afzaal, is in hospital with serious but non-life-threatening injuries.
The family had migrated to Canada from Pakistan 14 years ago.
Also read: Killing of Pakistani Muslim family in Canada sends shockwaves
Qureshi, during today's telephonic conversation, stated that the Islamophobic attack was a matter of serious concern and had caused anguish among the Muslims worldwide. He appreciated the fact that the Canadian government, civil society, media and general public had extended support to the family of the victims in this hour of grief.
He expressed hope that the perpetrator of the crime would be brought to justice at the earliest.
Foreign Minister Qureshi briefed his Canadian counterpart on the efforts undertaken by the government of Pakistan to raise awareness and to curtail the growing Islamophobic tendencies. He underscored that the international community must show a common resolve against the rising trend of Islamophobia and promote peaceful coexistence and interfaith harmony.
The tragic incident sent shockwave across the world with leaders condemning the brutal act.
Read more: PM saddened over killing of Pakistani-origin family in Ontario
Canadian Prime Minister Justin Trudeau described the incident as a "terrorist attack".
Speaking in the House of Commons on Tuesday, he called the attack "a brutal, cowardly, and brazen act of violence".
"This was no accident," he said. "This was a terrorist attack, motivated by hatred, in the heart of one of our communities."
Expressing grief over the killings, Prime Minister Imran Khan called the attack "condemnable act of terrorism".
"Saddened to learn of the killing of a Muslim Pakistani-origin Canadian family in London, Ontario," PM Imran said in a tweet.
"Islamophobia needs to be countered holistically by the international community," he added.
"This condemnable act of terrorism reveals the growing Islamophobia in Western countries."
Foreign Minister Qureshi had said three generations of Pakistani-Canadians were killed in a "brutal act of mass murder for their Muslim faith".
"This is an act of terror rooted in unspeakable hatred and Islamophobia. Extend our deepest sympathy to the family members and pray for recovery of the only survivor; a little boy," he tweeted.
Qureshi said the killings were a "test case for the Canadian government and society".
He urged the Canadian government to play its role in restoring the confidence and protection of Muslims residing in their country.