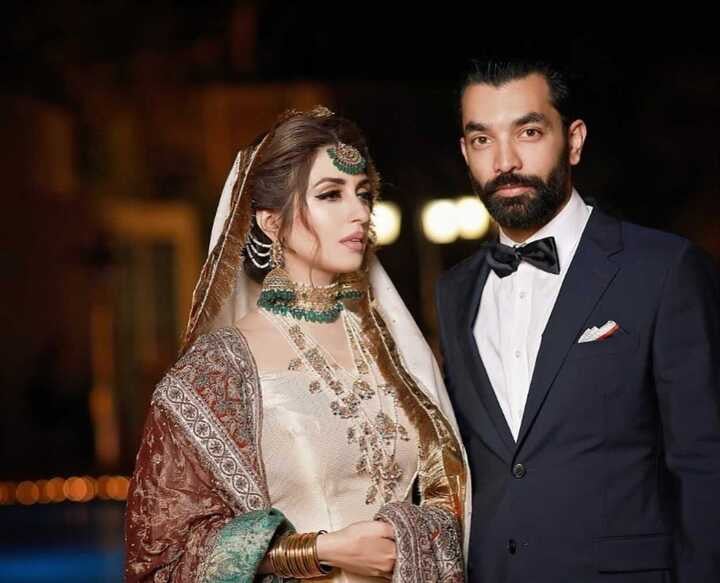 ---
Actor and model Iman Ali recently appeared as a guest on a local talk show with host Vasay Chaudhry. The Bol actor spoke about keeping a low profile on social media as well as her life as a married woman.
The model famously referred to as 'Iman Ji', shed light on the origins of the name and her feelings towards it. She explained that it started out as a joke, which eventually spiralled out of control.
"I don't know when and why I got this name. When Athar Shahzad first opened his salon, all the models there were referred to with 'ji'. But for some reason, Tariq Amin liked the sound of 'Iman Ji', and he started calling me Jumanji and that's how it started, as a joke. I hated it and I never laughed."
As far as her marriage is concerned, Iman is cherishing every second of the new bond. She elaborated on how she felt differently about the institution of marriage before meeting her husband Babar Bhatti. "I was really scared of marriage. People who are from broken homes are generally afraid of marriage. But it's a lot of fun actually. We get to travel; it's like a picnic that takes place every day, Netflix, and chill. Babar, me and Netflix," she shared.
Speaking about her experience in the industry as a married woman, Iman said, "I guess I'm just happier. Before marriage, it was weird, it was a double thing. People were like, she's an actor, and people have very dirty minds. Now I can relax."
Iman shed light on the body image issues she often faces and her inability to accept compliments. "People tell me I'm good-looking, but when I stand in front of the mirror I feel everyone is lying," she shared. Using rather prejudiced and questionable language, she spoke of her inability to take pictures of herself. "I can't even take pictures of myself. Whatever angle I try, I think 'aye haye, khusra'. People should try to understand that not everyone is supposed to love themselves like I don't like the way I am, which is why I don't take selfies and am not very active on Instagram," she shared.
Speaking about her husband, with reference to a picture up on her Instagram page, Iman explained that she married her husband partly because of his good looks. "I married my husband because he's so good-looking. I am a beauty-worshipper," explained the model. She further elaborated that she also married him because of his extensive English vocabulary.
Stressing the fact that she needs to set herself apart from 'stupid' models, Iman shared that she likes to use big English words to scare people who don't speak the language as well as her off. "There are some words I use to get rid of people. For example, for me, this is a very common word, but I recently started using 'conundrum' quite a bit," she shared.
"I started reading big books from an early age. I have to be louder about the fact that I'm not one of the stupid models," added the Mah e Mir actor.
Talking about her role in Shoaib Mansoor's Bol, Iman said that no one could have done justice to the character the way she did.
"I was offered the main role for Bol that Humaima ended up playing. I didn't take it because I had my own reservations about it which I do not want to get into right now. The role that I did do, the transitions between Urdu and Punjabi, I don't think anyone could have done it the way I did," she said.
On the topic of working on films across the border, she shared, "I didn't want to work in India. I am too patriotic of a person."
Have something to add to the story? Share it in the comments below.