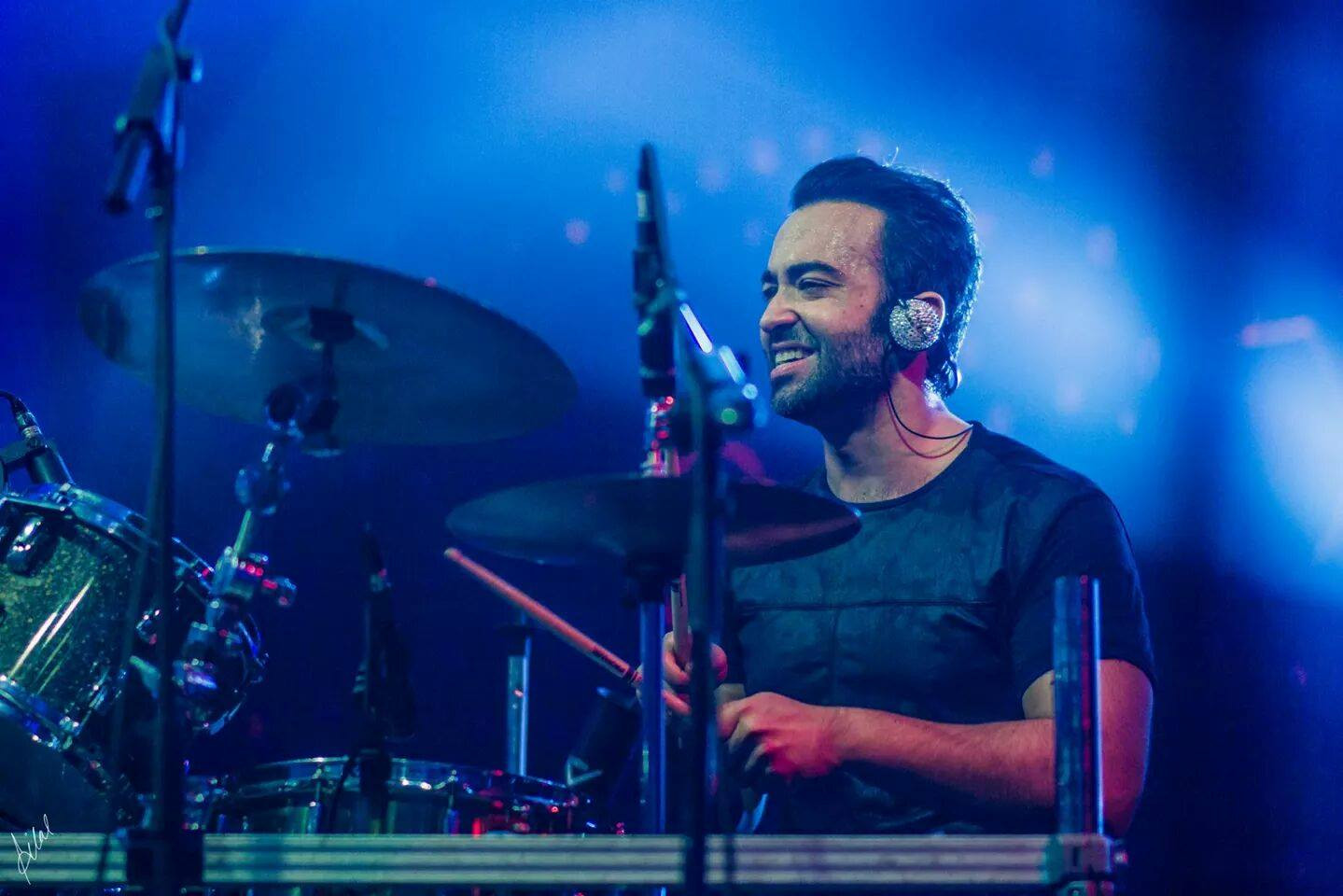 ---
KARACHI:
Few people get the opportunity to be a part of legacies, even fewer are able to add on to them. Farhad Humayun not only added to his family's incredible legacy but also managed to build upon it brilliantly and uniquely in a short span of two decades. Born in 1978 to actor Navid Shahzad and cricket commentator Shahzad Humayun, Farhad passed away on Tuesday morning as the virtuoso drummer behind Overload.
The band announced his passing in a Facebook note that read, "The magnificent Farhad Humayun left us for the stars this morning. Stoic in the face of challenges, uncompromising in his values, generous to a fault, witty as hell! Fadi was far too ahead of his time, both in spirit and art."
Farhad or 'Fadi' as friends would call him was a pioneer of sorts, in fact, no one did the much debatable and often controversial 'fusion' music the way he did. Farhad managed to put out tracks that layered the metallic bang of the drums with the organic beats of the dhol; creating a harmonious mishmash of sound for a generation that just wanted to rock out.
The 42-year-old released two albums with Overload, a band he formed in 2003 with songwriter and composer Sheraz Siddiq. Meesha Shafi was the vocalist for the band. The self-titled 2006 album Overload and Pichal Pairee, released in 2009, put Overload and Humayun on the musical map and transformed the musician into a powerhouse who could cook a curry with drum sticks.
The band, under the leadership of Farhad, managed to mix indigenous instruments and melodies with a heavy Western hard rock vibe, a combination that wasn't just new for its time but also something that was received with open arms. With hits such as Dhamaal, Neray Aah and Mahi in his musical arsenal, Farhad gave us memories that only his presence could help us cherish, but for now, it will be his music, particularly his work with Overload that'll serve as the balm on our bruises.
After playing the drums for two seasons of Coke Studio, in 2013, Farhad launched his own music show Pepsi Smash. Acts such as Strings, Noori and Sajid & Zeeshan in the line-up made the electronic heavy pop sound of the show a welcome change for our musical map. The show didn't see a second season but the music stayed, just like the rest of Farhad's catalogue. If anything, Smash brought his and DJ Faisal Baig's work to a wider audience.
Yet, he kept on playing and producing new music not just for himself but for other artists as well. Having said that, a lesser-discussed aspect of Farhad's work are the songs he produced or co-produced for other artists, which also includes Atif Aslam's second album Meri Kahaani. He even toured with the likes of Noori, Atif Aslam, and Fuzon, so much so that there was a time when the reign of the snares was shared between Farhad and Louis J Pinto (Gumby). Gumby in Karachi and Farhad in Lahore were so huge that they were very much considered the giants of their respective instruments despite other drummers being around.
Perhaps it wasn't just his skill that made him so big in such a short time, it was the fashion choices, style, and swag with which Farhad delivered everything. Surrounded by Pappu Sain in a lungi, Meesha Shafi in a long frock, Farhad would suit up to play the drums. In fact, some of the videos he made, such as the phenomenal Neray Aah were so visually exciting and filled with motifs that they would speak volumes about his exposure and inspirations.
The last few years leading up to his death were full of ups and downs. In 2018, the musician had announced that he had been successfully operated upon after a brain tumour was detected. In the statement released on social media, he had informed that he has been well with no symptoms since the procedure. A week later he made his first public appearance and promised fans more music, videos, and fun. Although the family hasn't disclosed the cause of Farhad's death, friends that The Express Tribune reached out to said that he succumbed to tumor-related complications.
Farhad always spoke fondly of his love for music, and the satisfaction he gained from playing in front of a live audience. "We're constantly evolving. I still feel very strongly about music, and how it's my way of communicating and resonating with the rest of the world. We're all born from the same energy, we are meant to interact and everybody at the end of the day seeks love. The kind of love we get when we go up on stage cannot be put into words, they relate to us and that gives us a sense of higher purpose. Music is the medium that helps me do that."
Be it his strongest or weakest moments, Farhad wanted his friends and fans to remember him for the positivity and energy he brought to their lives. And so shall be the case when he isn't around to take the final bow. After the recent passing of musicians such as Aamir Zaki and Haider Hashmi, we hope Farhad joins them to perform a great gig in the sky.