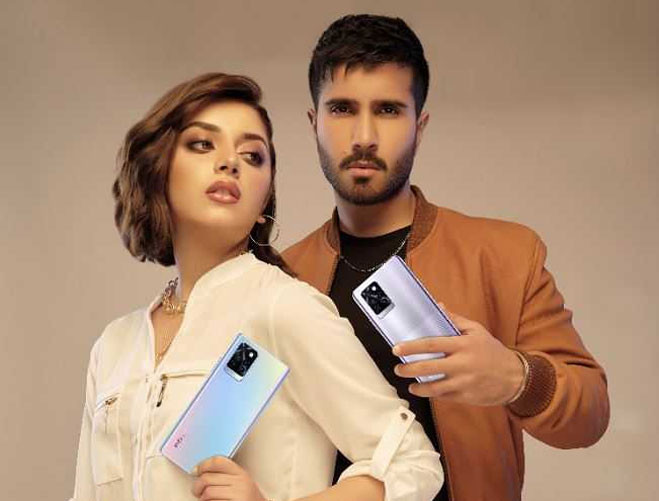 ---
Seems like Alizeh Shah has been making headlines for all the wrong reasons lately. In a recent appearance on Time Out with Ahsan Khan, morning show host Nida Yasir and director Yasir Nawaz shared details of their experience in the entertainment industry.
However, one of Yasir's statements regarding acting with Alizeh Shah has irked many. So much so that Feroze Khan came to her defense. Commenting on a post about the same, the Khuda Aur Mohabbat star pointed out how he found Alizeh's work ethics commendable.
"I've worked with Alizeh Shah. It was great working with her. She is a very young girl with no media handling schooling from the family or friends of the industry," he said, adding the fact that she is just a young outsider trying to make a place in the industry.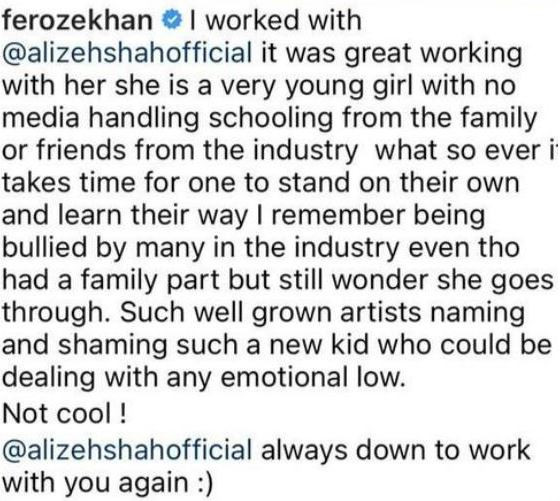 "It takes time for one to stand on their own and learn their way," added the actor, while talking about the bullying he had to face early in his career despite coming from a showbiz family. "Such well-grown artists naming and shaming such a new kid who could be dealing with any emotional low — not cool." Feroze continued the post, commenting on the couple's veteran status in the industry.
He then concluded the post after saying he's hoping to work with the starlet once again.
In the aforementioned interview, Yasir has spoken about his reluctance to take on acting again, saying the experience was not a pleasant one for him. "Acting disturbed me a little. There were a lot of reasons. I just didn't enjoy it. I always regretted getting into acting, it was that bad."
Elaborating further, Nida spoke about the issues Yasir has faced with co-stars in the past. "As an actor, Yasir had some difficulty working with Alizeh Shah. There wasn't enough chemistry, even though Yasir gets along well with everyone. But, as a director, no one has ever bothered him," she shared. She later added, "You have to be careful who you work with. You need to look into who you are going to be cast with."
Yasir then added, "When an actor is playing a character, they must keep their private life separate from the role. I was even asked by the creators to increase the number of episodes since it was performing well but I turned him down, saying that a reduction in the number of episodes was acceptable but not an increase."
Have something to add to the story? Share it in the comments below.
COMMENTS
Comments are moderated and generally will be posted if they are on-topic and not abusive.
For more information, please see our Comments FAQ