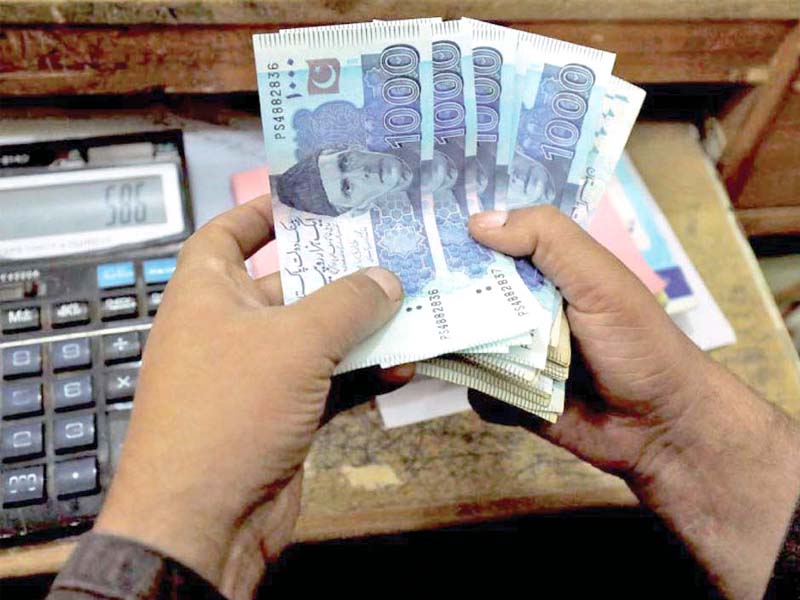 ---
KARACHI:
Pakistan's currency on Monday depreciated beyond Rs155 against the US dollar after a gap of 11 weeks and closed at Rs155.31 in the inter-bank market due to import payment pressure and likely drop in workers' remittances.
With a fresh drop of Rs0.70, the rupee has cumulatively depreciated by Rs3.04 (or 2%) in the past one month compared to the 23-month high close at Rs152.27 against the greenback on May 7, according to the data released by the State Bank of Pakistan (SBP).
The rupee was last seen closing such level at Rs155.39 on March 24. "It is normal. A fluctuation of 1-2% is fine," Alpha Beta Core CEO Khurram Schehzad said while talking to The Express Tribune.
"Adjustment in the range of 1-2% (since hitting two-year high recently) should not be called depreciation. Rupee stands stable. It would remain stable in the short to medium run (over the next three to six months)," he said.
The rupee lost ground the day the federal and provincial governments relaxed Covid-related restrictions like increasing market closure time to 8pm from 6pm, which had been in place for the past few weeks.
The reopening of economy may lead to increase in imports as the country heavily depends on imports.
Read more: Rupee strengthens against dollar
Moreover, historical evidence suggests traders increase imports in June to avoid payment of higher taxes after the budget announcement, which is usually made in the middle of the year. The benchmark Brent crude oil price has hovered at a two-year high at $72 per barrel in the international market compared to around $60 per barrel in the first week of April. Pakistan heavily relies on oil and gas imports.
More importantly, officials fear a drop in workers' remittances during May compared to the record high of $2.8 billion in April - a few weeks before Eidul Fitr (which fell on May 13). Schehzad, however, believes that the rupee will stay around current levels in the short to medium run given that the current account remained in surplus at around $750 million in the first 10 months (Jul-Apr) of the current fiscal year.
Moreover, increase in exports and low outflow of foreign currencies from the country, mainly due to limited international travel (including for Hajj and Umrah), have also supported the rupee's stability.
It was market-driven rupee-dollar parity. "Pakistan's buffer stock of foreign exchange reserves has improved notably, despite the Covid-19 pandemic," he said.
"Rupee may register average annual drop of 3-4% (or Rs7-8) over the next 12 months. This will be normal considering imports will rise with the reopening of domestic and global economies from the lockdown amid mass vaccination," he said.
Earlier, continuous outstanding growth in the receipt of workers' remittances through the outgoing fiscal year and uptick in exports, especially technology exports, helped the rupee to recover significantly to a 23-month high in May compared to all-time low of Rs168.43 to a dollar recorded in August 2020.
Remittances rose 29% to a record high of $24.2 billion during the first 10 months of FY21.
Published in The Express Tribune, June 8th, 2021.
Like Business on Facebook, follow @TribuneBiz on Twitter to stay informed and join in the conversation.
COMMENTS
Comments are moderated and generally will be posted if they are on-topic and not abusive.
For more information, please see our Comments FAQ