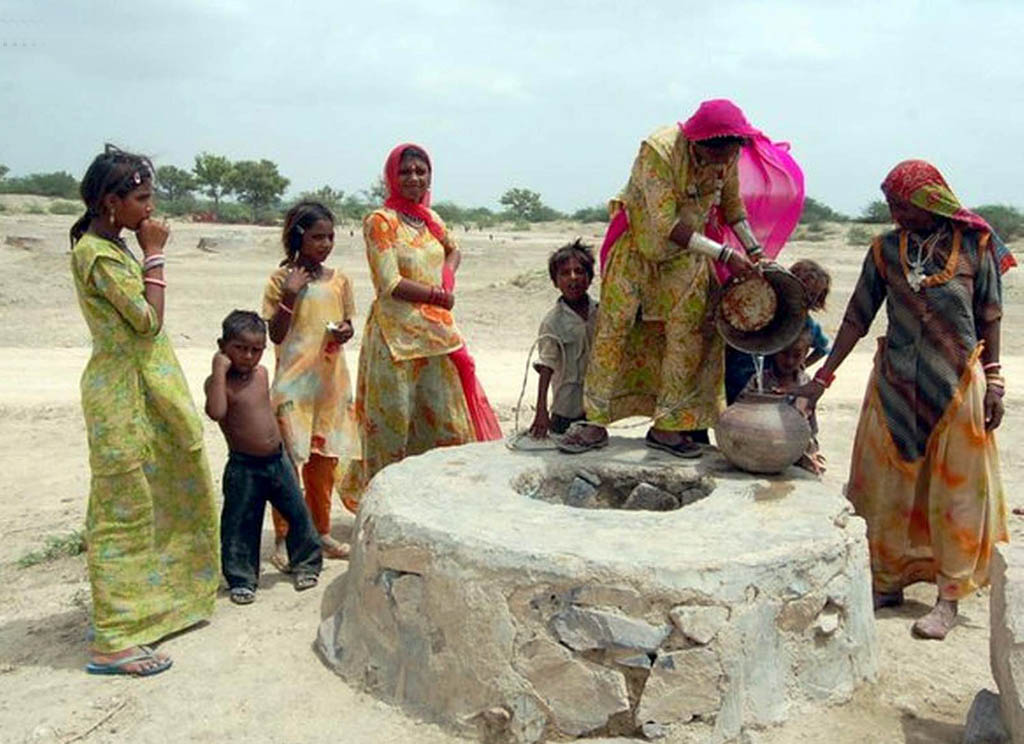 ---
If misery had a face it would be the life of the people living in Tharparkar. There has been a drought-like situation in Tharparkar for several years, leading to the death of more than 3,000 children, yet the predicament of these unfortunate people has been accepted with callous indifference by the provincial government and no urgent measures have been taken to improve the existing horrific living conditions.
The population of 1.6 million people is deprived of health, education and clean drinking water, which is the basic need of human beings and they have been surviving on contaminated, saline and untreated groundwater. Their day begins with carrying water pitchers, which they fill from stored rainwater or small natural tanks after walking over 3 kilometres in the scorching heat.
The continued use of groundwater has caused fluorosis among people. Fluorosis, a malady caused by high intake of fluoride has become an epidemic in Thar, leading to dental fluorosis, joint deformations, thyroid and kidney problems.
The political economy of water has contributed largely to the current state of water distribution. A few people owning large tracts of land have become very powerful. By using their political clout, they have gradually taken control over the irrigation department, manipulating existing laws to divert more water towards their land, through sanctioning direct outlets from canals.
Several governments have announced schemes to improve the life of the Thari people but no tangible projects have ever materialised. One example is the Sindh government's proposed $33 million projects in 2015, under which 750 reverse osmosis (RO) water purification plants were to be installed in Tharparkar.
Unfortunately years later, barely 400 RO plants exist, of them at least 70% are dysfunctional and the locals are forced to spend around five to six hours daily for getting three to four pots of unhygienic water, instead of focusing on other aspects of life.
In the absence of surface water infrastructure, the most practical solution would be to construct a canal from district Umerkot to Islamkot in Tharparkar.
Also read: SWD launches first peafowl survey in Tharparkar
According to experts, there is no technical issue in providing canal water to Tharparkar. Water is provided to the people living in Rajasthan's desert area through the 650 kilometres Indira Gandhi Canal, which begins in the Indian state of Punjab and ends in Jaisalmer in Rajasthan.
Political differences are the biggest hurdle to canal construction and one example is the slow progress of the Rainee Canal Project. Initiated in 2002 by the Water and Power Distribution Authority (Wapda) to irrigate lands on the left bank of the Indus river in the districts of Sukkur, Ghotki and Khairpur with an aim to later build a canal in Thar. When its first phase was completed in 2014, work halted due to a funding dispute. The federal government wanted the provincial government to provide funds, however, the Sindh government maintained that since Wapda is not a provincial entity so the federal government should bear the cost of the project.
These disputes have overshadowed the plight of these people, resulting in drought, famine and eventual prolonged death.
The water scarcity situation can be further aggravated as Thar Desert contains one of the largest untapped coal deposits and locals are afraid that after extraction of huge amounts of groundwater for coal excavation, the groundwater level would drop even further. It has already fallen to hundred metres deep in some places due to prolonged drought.
Inadequate rain patterns, occasional bouts of drought and absence of clean drinking water are some of the unlimited woes of Tharparkar, yet the criminal negligence shown by the provincial government is perhaps the most significant part of this preventable tragedy. Each year reports are sought, commissions are made to create emergency plans but none of these plans are put to action.
In the meantime, the Tharis continue to suffer and keep wondering when their thirst would be quenched.
The writer is PTI lawmaker in Sindh Assembly