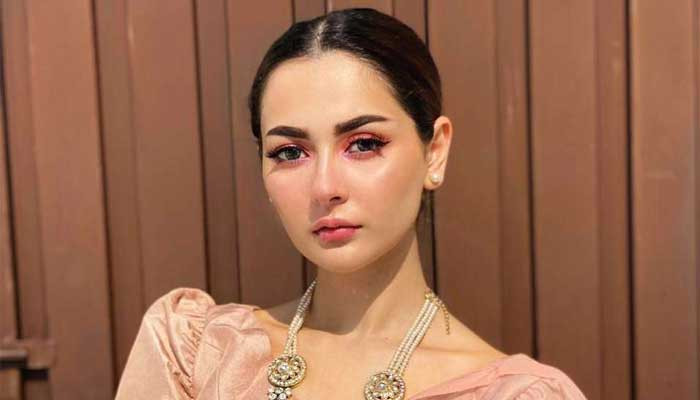 ---
Hania Aamir became the target of trolls after a now-deleted video posted by her sparked controversy. Several shared snippets from the video to spew hate against the actor and misrepresent the scenario.
In the midst of this bashing, according to Hania, another distasteful and off putting video surfaced on social media, which showed a man "ejaculating" to her picture "on video on the internet." This video was then re-tweeted and "made viral," according to the celebrity, who shared a response to the virtual harassment on her Instagram.
Taking to the photo-sharing app, the Dil Ruba star shared a clip of herself in tears with a caption reading, "Just another day surviving in a misogynist world where double standards have power over innocence and where coexisting with difference of opinion is not a thing. Where a man trying to belittle a woman is applauded but if a woman does the same she is hated."
The actor then reinstated how her initial video, which was misrepresented, merely showed her affection towards her loved ones, but clearly, the opposite is acceptable in the world we live in. "Where a woman showing affection to her loved ones is wrong but a man ejaculating on a woman's picture on video on the internet is re-tweeted and made viral content. Just another day surviving, hope you all are doing well in this disgusting world and keeping your goodness intact. Someone else's evil shouldn't ruin your goodness," she concluded.
Hania's initial and now-deleted video showed her lying over Aashir Wajahat with Nayel Wajahat by her side and here's what trolls had to say:
Hania amir posted a video of her lying on ashir wajahat on bed ??!!!!! Wtf ??!!!Please don't come at me with any justification for this cringe🤮🤮#HaniaAamir

— عطاء المصطفیٰ (@your_mulberry) June 4, 2021
Is it only me who finds Hania Aamir's physical closeness weird with these Wajahat's kids... 😖😖

— Ennanana (@Enna_Ejaz) June 4, 2021
Nevertheless, fellow actors and social media celebs lent their support to Hania on the comment section of her response post. "Small men with small minds and fragile egos will forever remain tiny, irrelevant and insignificant," wrote Ali Rehman Khan. "You're stronger and braver than all of them put together, with a heart of gold to top it off. Keep shining that light of positivity and warmth wherever you go, because it makes a difference. You make a difference. You're incredible and you remind us every day of that fact. Lots of love," added the actor.
Dananeer, who's become best buds with Hania over the course of a few months, also chimed in saying, "I've only known you for a couple of months but they were enough to concrete my belief in your beautiful, loving and warm heart. You're a lioness. These internet trolls can have a field day for all it matters, we know you. Larki lagi reh!"
Have something to add to the story? share it in the comments below.
COMMENTS
Comments are moderated and generally will be posted if they are on-topic and not abusive.
For more information, please see our Comments FAQ