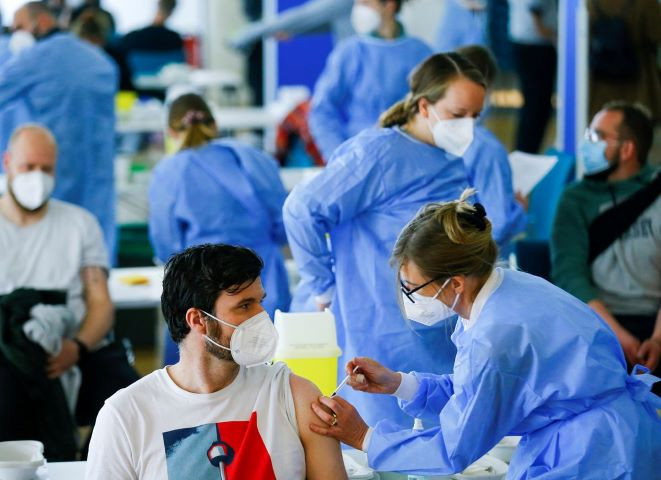 ---
Active Covid cases fall below 50,000
Positivity rate stays under 4% for fourth consecutive day
---
ISLAMABAD:
The number of active Covid cases fell below 50,000 for first time in more than two months, as the positivity rate stated below 4% for the fourth consecutive day, showing a visible sign of a waning third wave of coronavirus, according to official data.
The national tally of active cases reached 48,937 – the level last seen on March 31 – as 1,923 more people tested positive for the virus while 4,380 patients recovered from the disease during the last 24 hours, the National Command and Operation Centre (NCOC) said in its daily update of the pandemic.
The NCOC, which serves as the nerve centre of the government's unified strategy to combat the global pandemic, said that 84 patients, of them 74 in hospitals, including 33 on ventilators, died during the past 24 hours, raising the nationwide death toll from the infectious disease to 21,189.
Read Flouting SOPs could lead to another Covid wave, fears Dr Faisal
Among the active cases, the NCOC said, 3,734 patients were under treatment at various Covid-dedicated healthcare facilities across the country. It update that 3,452 patients were in critical care, including 424 on ventilators. It added that national positivity rate during the last 24 hours was 3.81%
The disease first emerged in the country in February last year. Since then the NCOC has recorded 930,511 coronavirus cases. It added that so far, 860,385 patients had fully recovered from the viral infections, which showed more than 90% recovery rate.
Punjab, the most-populated province, is the worst affected federating unit of the country in terms of both number of cases and number fatalities. As of Saturday, the provincial caseload of the disease reached 341,789, including 10,241 deaths.
Punjab is followed by Sindh with 322,350 cases and 5,105 fatalities. The NCOC said that a total of 13,471,172 tests had been conducted so far, while 639 hospitals are equipped with Covid facilities across the country.
(WITH INPUT FROM APP)