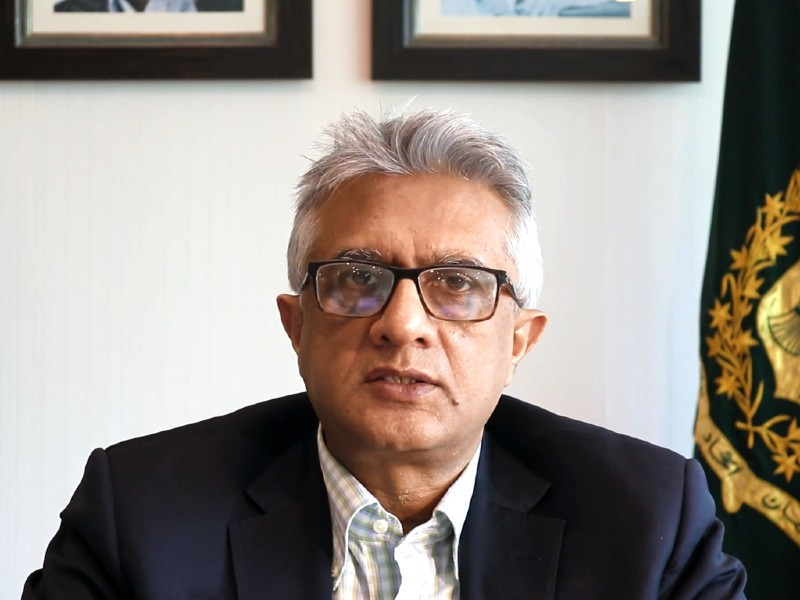 ---
Flouting SOPs could lead to another Covid wave, fears Dr Faisal
If we don't get serious about it now then we might have to face another wave, says PM's aide on health
---
KARACHI:
Special Assistant to Prime Minister on Health Dr Faisal Sultan has said that the average positivity ratio in the country had come down to 4 per cent due to effective curbs put in place by the government. However, he added that non-compliance of standard operating procedures (SOPs) had also increased, which he feared could lead to another wave of the pandemic.
In a video message, he said that the compliance rate had come down to 46 per cent which was at 75 to 80 per cent a few weeks ago. "We also monitor this (compliance of SOPs) but unfortunately we fall behind in this aspect which is a concern for the government," he added.
Dr Faisal Sultan feared that if the trend of non-compliance continued, the number of Covid-19 cases could start to rise again. "If we don't get serious about it now then we might have to face another wave [of Covid]," he added.
Sharing some statistics in this regard, he said that only 40% were following the guidelines in the business and transportation sector, meaning around 60% were not adhering to the SOPs.
Read more: Saudi Arabia has assured of approving Chinese vaccines for Hajj pilgrims: Sindh CM
The PM's aide on health further said that in the industrial sector the compliance rate is only 38%, in mosques and Imambargahs 41% and in other public places it hovers around 40 to 42%. "In hospitals, it is 70% but there it should be no less than 100%," he stressed.
Last week, between 47,000 to 55,000 tests were conducted on a daily basis and the average positivity ratio remained around 4 per cent, Dr Fisal said. "The non-pharmaceutical interventions put in place by the government are working and yielding good results."
He said that the positivity ratio in Sindh was still high but estimated that it will also decline in the coming days. "In Sindh, the third wave reached later than the other parts of the country, therefore, its cycle is a bit behind as compared to rest of the country. Positivity ratio in Sindh is between 6 to 7 per cent," he added.
Vaccination drive
Showing overall satisfaction on the vaccination drive going on in the country, Dr Faisal, however, said that the country had not reached a point where the government's anti-Covid strategy start to depend on vaccinations.
"When we would have vaccinated 50, 60 or 70 per cent of our population then maybe we can depend mostly on vaccine-based strategy but we are not there yet and till the time we don't reach that point, we have to rely on SOPs," he added.
Also read: Walk-in vaccination for citizens aged 30, above to begin tomorrow
He emphasised adherence to SOPs was still the most important part of the government's anti-Covid response.
The PM's aide on health informed that approximately 2.2 million people are fully vaccinated against coronavirus in Pakistan, meaning they have received both doses of the vaccine, adding that at least 3.7 million have received at least one dose.
"Approximately eight million doses have been administered in Pakistan as of June 4. Pakistan is among top 30 countries of the world in terms of the administration of vaccine doses and we are ahead of 165 countries in this regard. For the sake of comparison, we have administered more vaccine doses than developed countries like Australia, Portugal, Switzerland and Belgium. However, these countries are much less populated than Pakistan."
Dr Faisal said that 0.3 to 0.4 million people are being vaccinated each day but added that it was not enough. "We have to vaccinate at least 0.5 to 0.7 million people each day," he added.
Dr Faisal said that walk-in vaccination was opened for above 30 years of age on May 29. He added that all 30 plus people should send CNIC to 1166 to register and visit any vaccination centre and get vaccinated.
He said that registration for people aged 18 years and above was opened on the 27th of May and scheduled vaccine administration was started on June 3.
SAPM on health said that the government was exclusively focusing on vaccinating the education sector. "All those over the age of 18 belonging to this sector can walk-in to your nearest vaccination centre to get vaccinated. If you're a teacher, you can also avail this facility. You would have to bring in your employment letter so we can verify that you belong to this sector," he added.
Procurement
PM's aide said that 11.8 million doses of Covid-19 vaccines have reached the country so far and 76% of these have been purchased by the government of Pakistan.
He said that World Health Organisation (WHO) has given the emergency use authorisation to the SinoVac vaccine. "Pakistan has been administering SinoVac since May 9 and we had full faith in the safety and efficacy of the vaccine. WHO's approval confirms our evaluation and it will encourage more countries to approve the vaccine."
He said that all WHO-approved vaccines went through rigorous trial and testing phases before being administered to the general public to minimise health risks.
He said that the government inaugurated the National Institute of Health facility where "PakVac" is being prepared, adding that the facility will be formulating, filling and finishing the CanSino-BIO vaccine. "We will be able to prepare three million doses a month."
Dr Faisal said "We are closely monitoring the conversation about Covid. We also regularly review the complaints made to the 1166 Covid helpline."
Busting the myths
He said that news was being circulated about Nobel Prize winner Luc Montagnier's claims about Covid vaccines. He made it clear this is completely false and there is no evidence that he said this, and the claim has been discredited by multiple fact-checking organisations, he added.
Dr Faisal said that there is no published scientific research that suggests that people will die within two years of receiving the vaccine.
He said that a video was circulating that showed bulb lighting up upon making contact with a vaccinated person's arm. "This video has also been declared fake news as the vaccinated arms do not generate electricity and cannot light a bulb."
There is no scientific evidence suggesting this happens, and millions of other people that were inoculated have not experienced any such side effect, he stressed. "Several fact-checking platforms produced videos in response, debunking this claim," he added.
With additional input from APP