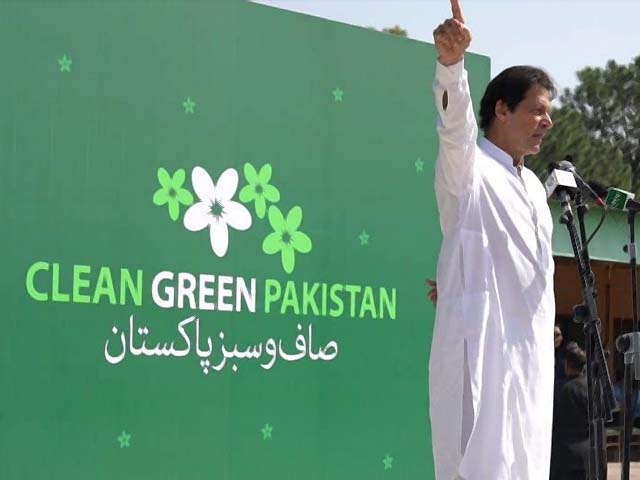 ---
KARACHI:
Pakistan is all set to host the World Environment Day celebrations this year on Saturday, the first time in history in partnership with UN Environment Program (UNEP).
Experts view this as recognition of the country's much-publicised battle against the simmering climate change challenges and an opportunity to lure investment to promote ecotourism and showcase to the world its varied ecology from snowcapped peaks in the north to glistering waters in the south, besides the abundant wildlife.
They, however, argue that the country has a long journey ahead to tackle a slew of environmental challenges, from unplanned urbanisation to daunting deforestation, and ever-increasing pollution to unseasonal rains, accompanied by floods.
Being one of the top 10 countries, which are most vulnerable to climate change, Pakistan is hosting the global event for the first time since the inception of the event in 1970.
The theme of this year's event is ecosystem restoration and resetting relation with nature.
Speaking to Anadolu Agency, Kamal Cheema, a Lahore-based environmentalist said hosting this event is indeed a recognition of the country's efforts to mitigate the climate change challenges.
"The event will further bolster the country's pledge for a Green Pakistan," he said.
He was referring to Prime minister Imran Khan's ambitious "10 Billion Tree Tsunami" project, which aims to restore the country's fast-depleting forest cover.
The event will also mark the launch of the UN Decade on Ecosystem Restoration 2021–2030, which aims to prevent, halt, and reverse the degradation of ecosystems on "every continent and in every ocean."
The tree plantation project has earned recognition from the UN as well.
While inviting Pakistan to host this year's World Environment Day event, the UN's official website referred to this as one of the world's most ambitious afforestation efforts.
15 model protected areas
Pakistan has recently launched an "Eco-System Restoration Fund" for supporting nature-based solutions to climate change and facilitating the transition towards environmentally resilient initiatives, covering afforestation and biodiversity conservation.
Under this project, some 15 protected areas are being developed across the country as models to conserve over 7,300 square kilometres of land, which will create over 5,500 green jobs.
"It would be greater opportunity for Pakistan to showcase its efforts regarding environmental issues being faced by the country, and the initiatives it has taken to mitigate them," Kamal Cheema said.
Moreover, he added, the event will provide an opportunity for Islamabad to rally more financial, technical, and institutional support vis-a-vis its fight against climate change challenges from the international community.
Mahmood Akhtar Cheema, the country director of the International Union for Conservation of Nature (IUCN) — a global environmental organisation — attributed the government's political will behind the execution of environment-related projects in recent years, which has set Pakistan as an example for the developing world.
"Pakistan is emerging on the world map for its efforts for projection of its natural capital. This event will further bolster its position, and provide a chance to convert the simmering (environmental) challenges into opportunities," he told Anadolu Agency.
Mahmood also added that Islamabad can exploit the event to attract international investment to promote its ecotourism and benefit the local people.
"Pakistan is a unique country in terms of biodiversity and ecosystem. It is high time to reveal this to the world through a proper strategy," he said.
Recognition to challenges not enough
Endorsing Mehmood's views, Afia Salam, a Karachi-based analyst who often writes on issues related to environment and wildlife, said "recognition of challenges is just not enough. The government needs to pursue an aggressive policy and practical steps to stem these threats, which can completely throw off the development trajectory."
She said this needs a greater understanding on the part of the government and the political leadership to mitigate the lurking danger and exploit the country's real tourism potential.
Pakistan's varied and compact ecology is its greatest boon. From lofty snow-capped mountains to seashores with limitless opportunities to watch wildlife, sail in the mighty Indus river, and deep-sea diving in the Arabian Sea, the South Asian country has much more to offer to ecology lovers.
Northern Gilgit-Baltistan region, bordering neighbouring China, is home to six mighty peaks of over 8,000-meter altitude, including the world's second tallest peak, K2.
In addition to that, the region has over 5,000 large and small glaciers and more than 100 lakes, which jointly make up the world's largest freshwater reservoir.
Pakistan also houses endangered snow leopard and brown bear, in addition to 300 species of wildlife in the breathtaking region.
One can also sail in the Indus to witness blind dolphins -- also known as Indus dolphins.
Despite some significant achievements in terms of environmental protection in recent years, the country still has formidable challenges ahead, according to experts.
"Unplanned urbanisation, pollution, deforestation, sea intrusion, unusual rain patterns, glacial melting, rising temperatures, and drought, you name the challenge and we have it [to face]," Cheema observed.
"It is a long road ahead for Pakistan to completely obstruct environmental issues, which are negatively impacting the country's economy, including the key sectors of health, and agriculture," he said.
Need for long term strategy
Echoing Cheema's views, Mahmood noted that Islamabad needs a "long-term" strategy for natural resource management.
"Pakistan has had short-term strategies to tackle the issues like climate change. Every government wants a policy or project, which can be completed within its tenure. But it would not work in the case of the environment. It requires a 30-50 years policy to tackle these issues," he observed.
However, Salam noted that the "ferocity" and "severity" of sea storms and cyclones have increased due to climate change over the past 10 years.
Apart from water stress, and glacial melting, she said, there is a shifting monsoon, which is directly impacting the country's already struggling agriculture output.
"Pakistan is a multi-threat country in terms of climate change vulnerability. It needs to do much more to protect the environment, and the local communities from the ravages of climate change," she said.