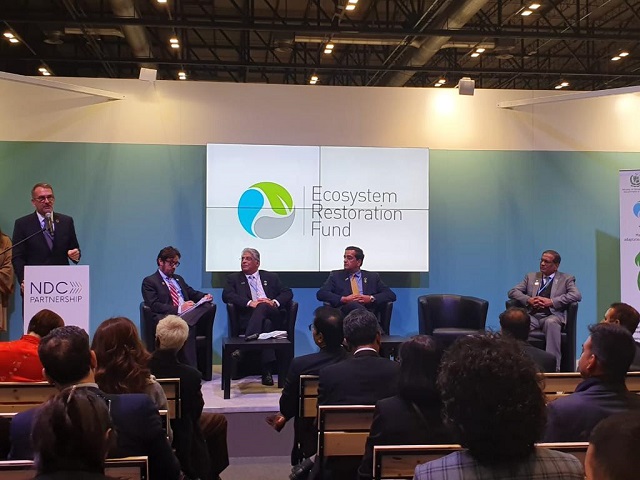 ---
MADRID: Pakistan's Ecosystem Restoration Fund (ESRF) bagged global recognition at the United Nations Framework Convention on Climate Change (UNFCCC) 25th conference of parties (COP25) after successful launch in Madrid on Thursday by Adviser to Prime Minister on Climate Change Malik Amin Aslam.

The ESRF is an independent, transparent and comprehensive financial mechanism which will facilitate Pakistan's transition towards climate compatible development, officials told participants of the event.

The fund's initiatives include afforestation, biodiversity conservation, marine conservation, promotion of ecotourism and electric vehicles.

"The ESRF will lead funding of the 10 billion tree project, which is being undertaken in all the provinces," said Lt Gen (retd) Nadeem Ahmad, CEO of the fund.

He said the new fund will hit the ground running and a three-step approach would be adopted. "Developing a management framework, building capacities of both public sector and non-public sector entities and developing management plans followed with implementation of projects."

The PM's adviser said that theme of the initiative is 'Time for Action'. "This fund shows that we are thinking out of the box in Pakistan and ready to take concrete action."

Pakistan urges joint efforts for overcoming climate change effects

He added that $180 million funds from the World Bank and some funding from German KfW Bank along with the financial assistance from the government of Pakistan are already available for the initiative.

"We have a clear focus and would look for other partners in the financing," Aslam said.

He said the innovative 'Recharge Pakistan' initiative would also be supported through the ESRF fund which will restore about 14 wetland ecosystems and store floodwater and recharge groundwater aquifers along the Indus basin.

"We have 40 MAF flows through Indus in just 100 days period. Floods can create infrastructure losses – we are trying to convert crisis into an opportunity here by using the floodwater to restore wetlands on both the right and left banks of the Indus."

Secretary General of the Commonwealth Baroness Patricia Scotland, who was also invited at the launch ceremony, said that other Commonwealth countries should also launch the project similar to Pakistan's Billion tree project.

"Pakistan's example would greatly assist all of us," she said while pledging to work closely with Pakistan on the fund.
COMMENTS
Comments are moderated and generally will be posted if they are on-topic and not abusive.
For more information, please see our Comments FAQ