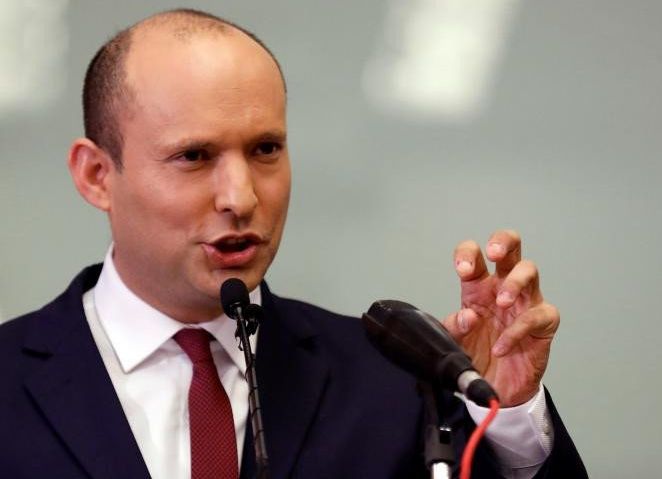 ---
On Wednesday, June 2nd, veteran politician Isaac Herzog was elected Israel's 11th president in a secret ballot with a majority of 87 out of 120 votes in The Knesset parliament.
The June 2nd presidential votes in favour of Herzog came as opposition lawmakers scrambled to forge a coalition to unseat Benjamin Netanyahu after his success in the March ballot. While Netanyahu bagged the most votes, Yair Lapid's centrist Yesh Atid came second and Naftali Bennett's Yamina won six seats. Following this, the centrist Lapid and the far-right Bennett joined hands to form a coalition that led to the dethroning of Netanyahu.
Who is Naftali Bennett?
Popularly known as the 'Kingmaker', the far-right Yamina party leader Naftali Bennett is an orthodox religious-nationalist. Bennett was born in Haifa, Israel to American Jewish immigrants. He is also a former IDF commando who served at the exclusive Sayeret Matkal commando unit. Following this, he attended law school at Hebrew University and became a tech entrepreneur in 1999.
According to media sources, the Yamina leader is best known for his extreme and dangerous views on settlements, annexation and Palestinian statehood.
Rise to Power:
According to International media, Bennett's unpleasant experience of the 'conflict' between Israel and Lebanon in 2006 was what drove him to Israeli politics. Since then, Bennett has worked on building his politics in accordance with the inflammatory, mercurial politics of Israel.
Bennett, today, is a pro-settlement anti-Palestinian statehood leader of the new Israeli right-wing. According to The Washington Post, Bennett entered Israeli politics in 2006 to serve as a senior aid to Netanyahu.
Consequently, Bennett also served as Minister of Diaspora Affairs from 2013 to 2019 and as Minister of Defense from 2019 to 2020 in Netanyahu's government.
The Yamina leader would be Israel's first religious head of government.
Hardline Right-Wing Rhetoric:
After rebranding The Jewish Home (Israeli political alliance of right-wing parties) as Yamina in 2018, Bennett's orthodox religious-nationalist party started advocating the annexation of the West Bank.
Bennett's right-wing policies encourage settlement enterprise and discrimination against all minorities.
Impacting the Israeli-Palestinian 'Conflict':
The orthodox right-wing leader has also been in the news for propaganda and provocative anti-Palestinian rhetoric.
Earlier last week, an instance of 'fabricating evidence' graced television screens the world over when Bennett presented Pakistan's Shifa International Hospital as Hamas headquarters in Gaza.
"Ever heard of Shifa hospital? It is the largest medical complex in Gaza. It's also where Hamas' [a Palestinian resistance group] headquarters is located ...," he said.
Read: Ex-Israeli defence minister shows Pakistani hospital in video targeting Hamas
According to BBC, Bennett rejects the notion of the creation of a Palestinian state alongside Israel. He has likened the two-state solution to the Israeli-Palestinian conflict to 'shrapnel in the buttocks.'
Moreover, in an interview with i24 News in February 2021, Bennett claimed that "as long as I have any power and control, I won't hand over one centimetre of the land of Israel. Period." [6.35]
Embroiled in Controversy:
Creating propaganda is not all Bennett is known for. In his role in the 1996 war between Israel and Lebanon, Bennett had reportedly massacred over a hundred civilians at a UN base in the village of Qana.
The right-wing leader has also been in the news for racist remarks. In 2013, The Jerusalem Post reported that Bennet came under fire for the anti-Arab comments he made during a cabinet debate on whether to release 'Palestinian terrorists' who had blood on their hands. "If you catch terrorists, you simply have to kill them," he had said. Further adding, "I have killed lots of Arabs in my life – and there is no problem with that."
In 2015, Bennett told the EU envoys that the creation of a Palestinian state would be suicide for Israel, citing security reasons. "To single out Israel, to twist our arms economically, in the hopes that we'll commit suicide because financially we'll get hit if we don't - it's immoral from my perspective," Bennett was heard saying in a recording, reported The Times of Israel.
In another Times of Israel article from 2018, Bennett has said that the IDF should shoot to kill any Palestinians escaping from Gaza. According to the article, Bennett was asked by Army Radio what he would do differently if he were the defence minister. To which he said, "Everything."
"I would not allow terrorists to cross the border from Gaza every day… and if they do, we should shoot to kill. Terrorists from Gaza should not enter Israel… Just as in Lebanon, Syria or anywhere else we should shoot to kill."
Social Media Wages War:
While Netanyahu was waging war on Gaza, Bennett focused on Israel's health and economic policies and capitalised on the flaws of his contemporary. However, social media is highlighting his far-right ultranationalist policies to raise awareness regarding the pervasive power of the settler mindset of Israel's next prime minister.
Sharing posts and news articles that highlight Bennet's anti-Palestinian rhetoric, social media users claim Bennet's victory is merely a result of Netanyahu's failed policies, and that he might actually be worse for the peace process.
"I've killed lots of Arabs in my life, and there's no problem with that." - Naftali Bennett

The next PM of Israel even more openly racist than Netanyahu which you would think is impossible. More unashamed aggression likely to come. pic.twitter.com/N8q4RWGNnp

— Dr. Omar Suleiman (@omarsuleiman504) May 31, 2021
I wish I was no longer surprised by the laziness and ineptitude of mainstream media outlets reporting on Palestine & Israel. But when journos say, "maybe Naftali Bennett will restart the peace process" my jaw hits the floor. You cannot be this irresponsible & reckless. #Netanyahu

— Noura Erakat (@4noura) June 2, 2021
Too have an idea of how bad the possible new government of Israel will be like: Netanyahu is the Trump of Israel and Naftali Bennett is the Ted Cruz of Israel, that's how far right he is.

— David Weissman (@davidmweissman) June 3, 2021
As Israel's longest-serving leader Benjamin Netanyahu has been ousted as Prime Minister, Israel awaits to see whether Bennet, a staunch supporter of Israeli settlements and opponent of a Palestinian state, would cement the rise of the next generation of far-right Israeli politicians. But for the rest of the world, the election of a right-wing extremist does not suggest an end to Israeli apartheid.