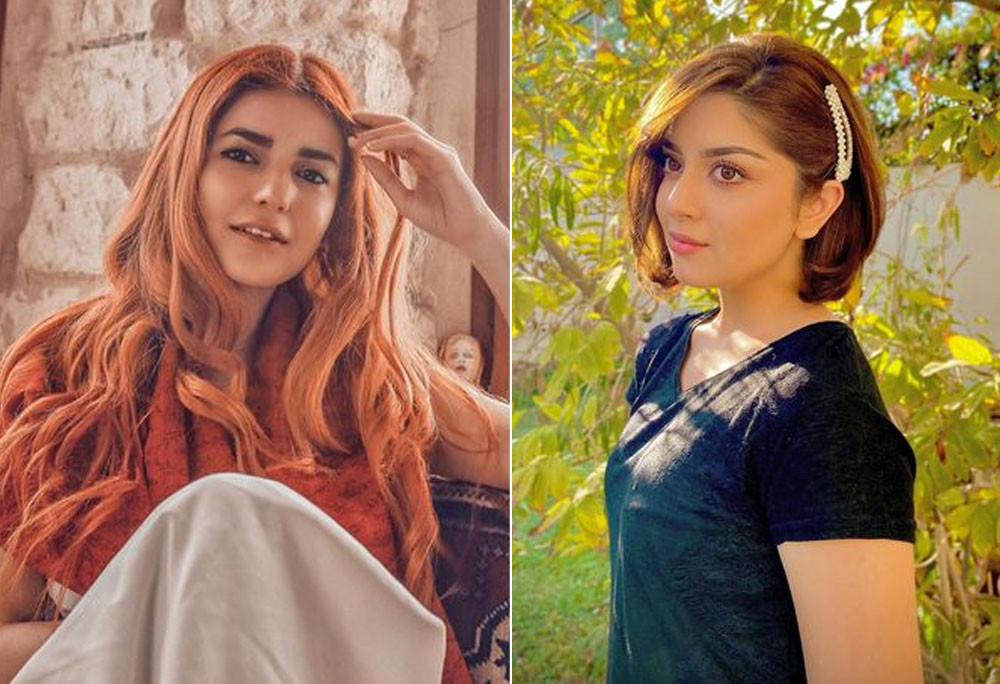 ---
Pakistani starlet Alizeh Shah has been under strict scrutiny as of late. The Mera Dil Mera Dushman star has been called out - quite often - for her dressing. Shah was trolled and bullied mercilessly for her choice of attire in a recently released song with Sahir Ali Bagga and later for another video with actor Feroze Khan.
However, Momina Mushtehsan has now stepped in to defend the Ehd-e-Wafa star. It all began when the Afreen Afreen crooner commented on one of Shah's recent Instagram posts. When a user shared how Shah has 'lost her beauty, in search of fame, Mustehsan responded, "I would respectfully disagree. She's still the same person, just expressing herself differently."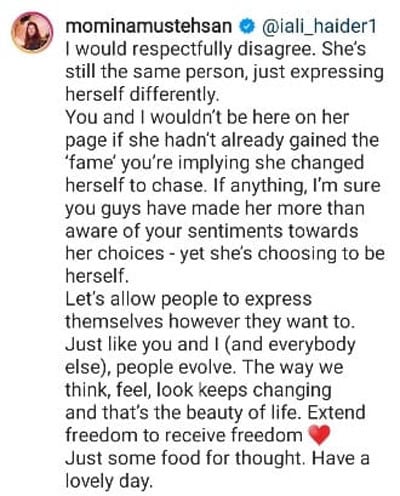 The Awaari singer went on to add, "You and I wouldn't be here on her page if she hadn't already gained the 'fame' you're implying she changed herself to chase. If anything, I'm sure you guys have made her more than aware of your sentiments towards her choices – yet she's choosing to be herself."
"Let's allow people to express themselves, however, they want to. Just like you and I (and everybody else), people evolve. The way we think, feel, look keeps changing and that's the beauty of life. Extend freedom to receive freedom. Just some food for thought. have a lovely day," said the singer added.
Mustehsan went on to respond to another troll who shared how Shah isn't following the religious teachings. "But Islam doesn't allow us to hurt people either, right? Whatever someone chooses to do with themselves (with no impact on you) is between them and Allah. It's not on you. But hurting someone – that's on you."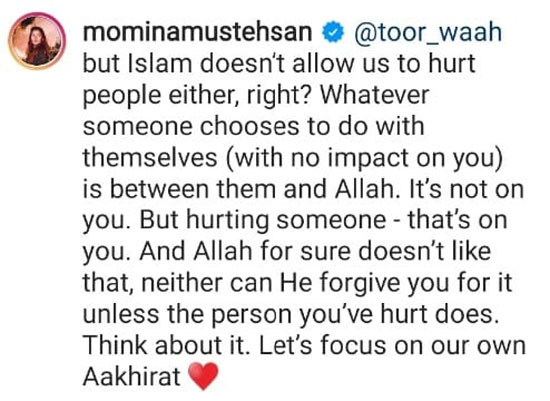 She continued, "And Allah for sure doesn't like that, neither can He forgive you for it, unless the person you've hurt. Think about it. Let's focus on our own Aakhirat."
Earlier, Shah ventured into singing with Bagga by her side. The starlet featured in an upbeat, Punjabi song titled Badnamiyan, and boy did the response resonate with its name.
The track's music video saw her shaking a leg in a tank top, crooning the Punjabi number. And as tradition goes, Twitter was not impressed. The song crossed one million views on YouTube shortly after its release. But the topic of discussion was neither Shah's vocals, nor her debut into music. The topic of discussion was her clothes.
The actor trended on the micro-blogging site as many slut-shamed her whilst using foul language. This moral brigade, dubbed her appearance 'unacceptable' and 'offensive'. And despite the fact that her tank top was like any regular sleeveless outfit, users accused her of "crossing all boundaries of modesty."
So in response to this unrestrained criticism coming her way, Shah later took to her Instagram stories and wrote, "I find all memes and criticism amusing. However, the fact that a trivial topic to discuss is now the most trending issue in our country… Instead of becoming a voice for Palestine, what's wrong with our people?"
Have something to add to the story? Share it in the comments below.
COMMENTS (3)
Comments are moderated and generally will be posted if they are on-topic and not abusive.
For more information, please see our Comments FAQ