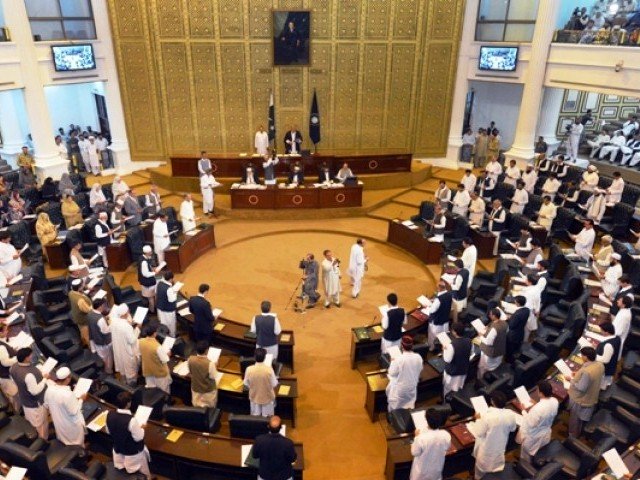 ---
PESHAWAR:
The opposition parties in the Khyber-Pakhtunkhwa (K-P) Assembly have lashed out at the government on Tuesday for paying Rs1.4 million salary to the Trans Peshawar chairman.
"Why the chairman of the Bus Rapid Transit's (BRT) caretaker company Trans Peshawar is being paid a salary of Rs1.4 million?" inquired the Pakistan People's Party lawmaker Yasmeen Orakzai on Tuesday during a question-answer session in the assembly.
Supporting her probe, she added why the chairman, who was also a former bureaucrat, being paid a hefty amount, while the provincial Transport minister was being paid a sum of Rs0.15 million as salary.
Awami National Party (ANP) parliamentary leader Sardar Babak said the salary of Trans Peshawar chairman was not justified as such a hefty amount was not even paid to the chief secretary.
Inayatullah of Jamaat-e-Islami (JI) noted that no private company was allowed to run the BRT.
Pakistan Muslim League-Nawaz's Ikhtiar Wali asked whether the BRT system of Peshawar could be compared to the metro system being operated in Lahore and Islamabad.
Responding to her question, provincial minister Shaukat Yousafzai defended the government's move of paying the hefty sum to the Trans Peshawar chairman.
"People of Peshawar are getting the best transport service through the BRT," Yousafzai said, adding due to the success of the project the Pakistan Tehreek-e-Insaf (PTI) government would get two more terms in the province.
He added that officers of Water and Sanitation Service Peshawar (WSSP) were also getting salaries in millions of rupees then what was the reason of raising objections to the BRT.
Defending the government's move, he added that hybrid buses were running in Peshawar from which people were reaping benefits, while the company was responsible for all the affairs.
He challenged to compare the Peshawar BRT with the metro bus projects of Lahore and Islamabad in terms of cost and buses.
"The Peshawar project is corruption free, while the projects in the federal capital and Lahore involve corruption," the provincial minister said, adding if someone had an objection on the issue, the person should file a complaint in court.
Yousafzai accused the opposition of not accepting success of the PTI government in Peshawar out of malice.
Meanwhile, K-P Assembly Speaker Mushtaq Ghani maintained that the issue of the BRT had been raised in the Public Accounts Committee and it was being reviewed.
The provincial minister for Transport, Shah Muhammad, highlighted that if any lawmaker intended to bring amendments in Trans Peshawar, he or she could do so.
Besides, Ghani announced a day-care centre will be set up in the assembly within a month to take care of infants of lawmakers. He also warned the assembly staff of strict action, if a complaint was received against an official.
A female member of the assembly had complained against the attitude of the officials during the session.
Published in The Express Tribune, June 2nd, 2021.