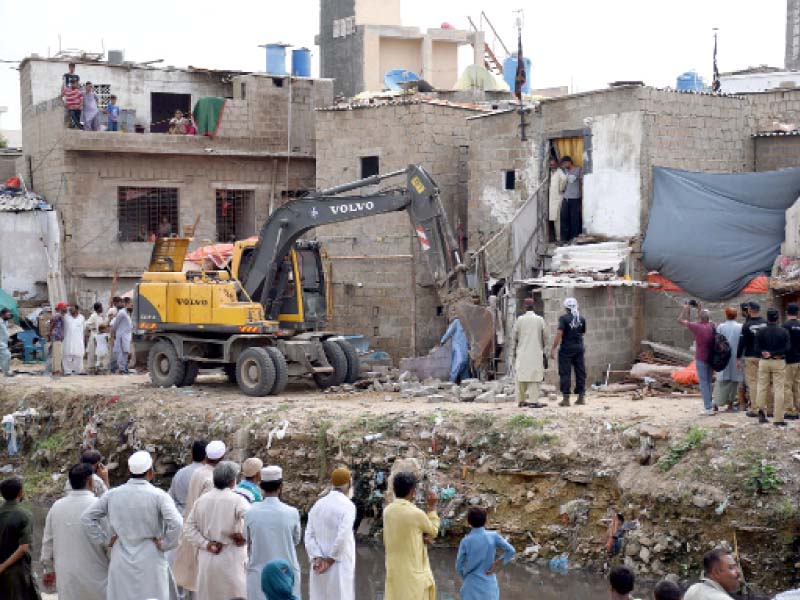 ---
KARACHI:
The Karachi Metropolitan Corporation (KMC) drew the Sindh High Court's ire on Tuesday for continuing the anti-encroachment operation along Gujjar and Orangi nullahs in violation of the court's orders.
Hearing a set of pleas filed by local residents against the anti-encroachment operations along Gujjar and Orangi nullahs, a two-member bench, comprising Justice Syed Hasan Azhar Rizvi and Justice Rashida Asad, extended the stay on demolition of leased houses till the first week of August.
The court was informed by the petitioners' counsel, Faisal Siddiqui, that the KMC razed six leased houses despite the stay order. The petitioners have issued legal notices to the KMC and other relevant authorities warning them of contempt of court proceedings, he said.
He moved the court to make the legal notices part of the record and his request was accepted. "Who is carrying out these operations," asked Justice Rizvi.
The KMC's counsel informed the court that the KMC's anti-encroachment cell is carrying out the operation.
The counsel maintained that the Supreme Court had ordered the removal of encroachments. Leased structures do not fall under this category, however, he conceded.
Irked at the demolition of leased houses, the bench reminded the KMC's counsel of the high court's order to halt the anti-encroachment drive till the apex court hears the case.
Extending the stay on demolitions, the court adjourned the hearing till the first week of August. Besides, the bench sought a progress report from the KMC, Karachi commissioner, Sindh government and other parties.
The high court had earlier directed the relevant authorities and the petitioners to seek clarification from the Supreme Court as to whether leased houses could be considered encroachments.
The court had further sought an explanation on whether the compensation amount decided by the government was enough for losing shelter besides seeking clarification on whether the construction of 30-feet-wide roads on either side of the Orangi and Gujjar nullahs was approved by the apex court.
Bail rejected
Separately, a two-member bench led by SHC Chief Justice Ahmed Ali Shaikh and comprising Justice Yousuf Ali Sayeed dismissed the bail plea of MNA and Pashtun Tahafuz Movement (PTM) Ali Wazir in a case pertaining to alleged use of provocative speech against state institutions.
The court had reserved the verdict around three months ago on the MNA's bail plea after the trial court rejected the same.
According to the police challan, Wazir delivered a speech against state institutions while addressing a rally in Karachi. The case against him was lodged at Sohrab Goth Police Station.
Wazir, elected to National Assembly from the NA-50(South Waziristan Agency-II Tribal Area-XI) on an independent ticket, was arrested from Peshawar in December 2020.
Published in The Express Tribune, June 2nd, 2021.