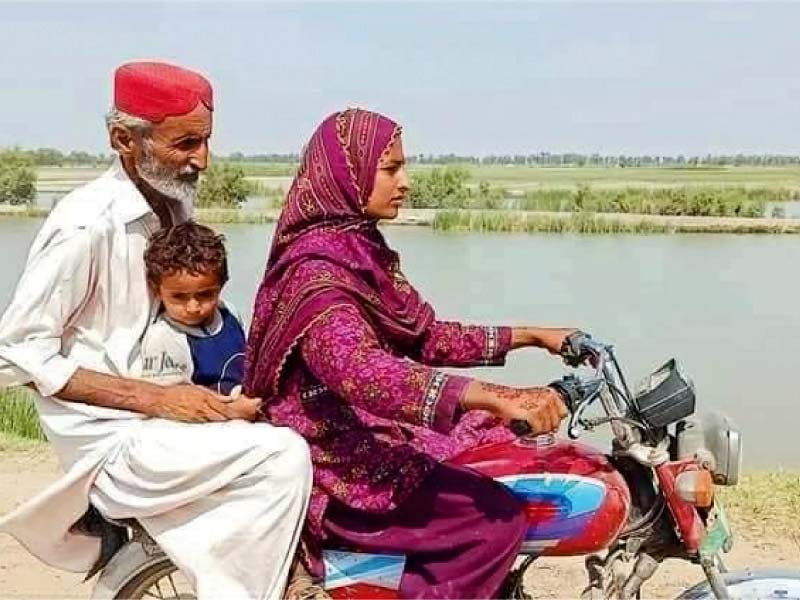 ---
KARACHI:
Teenaged Farzana Shar has taken the bull by the horns, or more specifically a bike by the handlebars, and is riding her way through her native village in Ghotki.
A woman on a bike is a rare site in the provincial metropolis, let alone rural areas. However, Farzana is serving as an inspiration for others and being a great help to her family in the process. Brushing social taboos and accepted norms aside, Farzana lets the road become her pride.
She learnt how to ride a bike from her elderly father Allah Tiwayo. "She is like my son," he says. His daughter is the first in her village of Mohammad Ibrahim Shar to start riding a two-wheeler, albeit a slightly rickety one. The village is some eight kilometres from Mirpur Mathelo city of Ghotki district
"My father taught me how to handle this two-wheeler," she recalls. "I do not feel any fear now." Speaking to The Express Tribune, Farzana, whose photos went viral on social media, says she has never been to a school, but drops her brothers and cousins to educational institutions regularly.
She also goes to the field and nearby villages to help the family with routine tasks. "It is very difficult when my motorbike stops in the middle of the road," she highlights. "It is an old one and needs to be repaired regularly," she adds.
A young man from her village, Asghar Hussain, takes inspiration from the step taken by the teenager. "Hardly five per cent of our girls get a formal education," he says. "It is an encouraging initiative taken by Farzana" he continues.
Hussain says that no girl or woman has ever ridden a two-wheeler in any part of Ghotki and Sukkur districts. "[Despite this, no one objects to Farzana's bold step," he states. "It is a great thing if girls want to ride motorcycles."
Social activist Saeed Sangri from Khairpur, who shared Farzana's photographs, also finds the girl's bike-riding endeavours to be encouraging. "It is a very bold initiative," he says. "People even raise questions about girls on motorcycles in urban areas, but look at how rural dwellers encourage women to learn whatever they wish to."
Sangri believes Farzana has set a unique example for all women of rural Pakistan. "This also indicates that young girls have started challenging social taboos."
Anthropologist Sikandar Ali Hullio outlines that Farzana is breaking social taboos and setting an example of women empowerment in Sindh. Citing the photo of the girl on a motorcycle with her father, he says it is these kinds of steps that fathers need to follow to provide credence to women empowerment.
Farzana has also inspired other girls of her village, an area which lacks even the most basic necessities of life. Nadia Shar, another young girl, has started riding three-wheelers. "She also helps her family," Farzana says.
She reveals other girls from the village have also asked her to teach them to ride. 'I am ready to teach if they are willing to learn," Farzana concludes.
Published in The Express Tribune, June 1st, 2021.