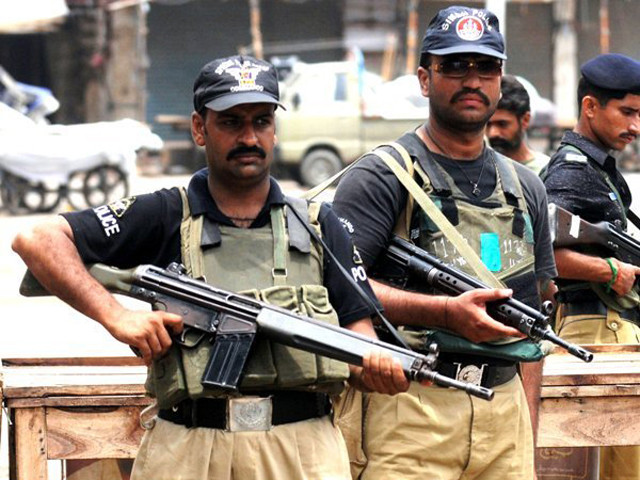 ---
KARACHI:
Robbers continue to strike with impunity across the metropolitan city, even though the new police chief had called controlling street crime the top priority of the police, disgruntled victims of muggers have said.
Not only scores of citizens have lost their lives in robbery incidents but have also left several injured.
SSP South Zubair Nazeer and SP Clifton Tauheedur Rehman Memon shared that two robbers were caught escaping after killing a shopkeeper. He said that two armed suspects were escaping after robbing a cold drink depot in Defence Phase 6 Ittehad Commercial Area when the shopkeeper caught one of them and pinned him to the ground. However, the robber's accomplice shot the shopkeeper in the head killing him on the spot.
The armed suspects were escaping from the scene when two brothers of the deceased shopkeeper caught the robbers. Several other shopkeepers also arrived at the scene and tortured the robbers before handing them over to the police.
SSP South shared that a weapon, seized mobile phones, cash, motorcycle, and several other items were seized from the arrested robbers. The identity of the arrested robbers could not be ascertained immediately.
Meanwhile, SHO Ferozabad Aurangzeb Khattak shared that a trader Wahid and his family were going in their car when armed robbers intercepted them. Wahid opened fire on the robbers who shot Wahid's driver, Mujahid, 34, in the leg before fleeing with snatched cash and cell phones from the family. Mujahid sustained injuries after receiving a bullet in his leg and was immediately shifted to the hospital.
The SHO further shared that the police had obtained CCTV footage of the incident and the motorcycle used by the robbers from the crime scene.
SP Clifton Tauheedur Rehman Memon shared that two armed suspects riding on a motorbike snatched Rs142,000 cash from a woman and her family members who were going in their car in Phase 4. The victims chased the robbers and intercepted them on Agha Khan signal on Korangi Road, upon which, one suspect got off the motorcycle, fired shots at the vehicle, and fled away.
The firing incident left 65-year-old woman Anees Bibi wife of Tariq and her driver, 30-year-old Syed Arab injured.
Published in The Express Tribune, June 1st, 2021.