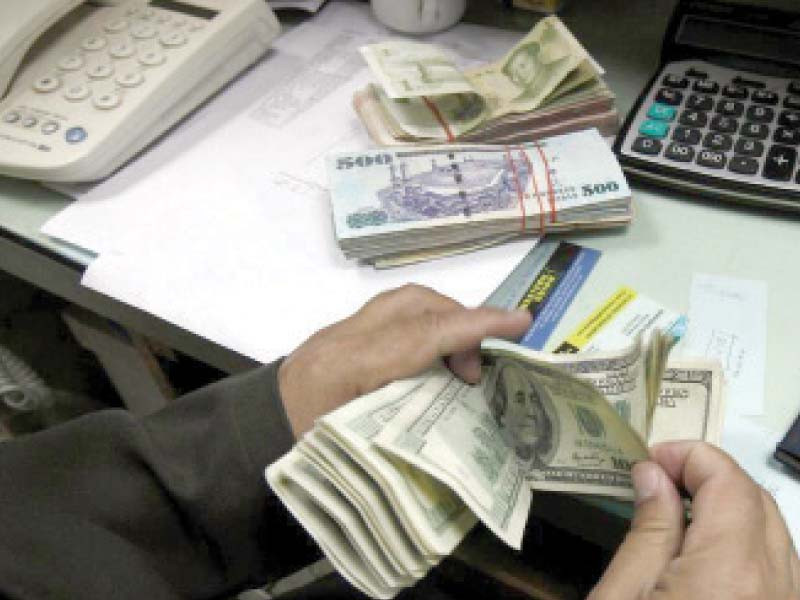 ---
KARACHI:
Pakistan's real effective exchange rate (REER) - the cost of international trades - hit three-year high reading on the index at 103.3 in April, suggesting the country's exports are at risk of losing competitiveness with trading partner countries globally.
REER increased 2.8 points to 103.3 in April compared to 100.5 in March, securities-research houses reported quoting Pakistan' central bank on Monday. REER at 100.5 meant the cost of imports and exports stood balanced in March. The real effective exchange rate below 100 means the country's exports remain competitive and import expensive. The situation reverses when REER stands above 100 on the index, it was learnt.
"Stronger Pak Rupee against many of its trading partners has resulted in REER rising above 100 at almost three-year high," Topline Securities CEO M Sohail said in a comment to The Express Tribune.
REER - the cost of trades - is calculated through taking in account the value of country's currency versus basket of trading partners' currencies, inflation reading in domestic and trading partners' countries, export competitiveness between the country and trading partners in a third country, it was learnt.
"Ideally, it should remain around 100 to maintain a balance (in cost of imports and exports)," AHL Research Head Tahir Abbas said. "It has increased due to appreciation in rupee seen in previous months."
Read more: Traders complain of poor police performance
Another expert, who talked on the condition of anonymity, said the International Monetary Fund (IMF), under its ongoing loan programme worth $6 billion, may ask Pakistan to let the rupee depreciate to around Rs160 to the US dollar to bring REER down to back to around 100 to make exports competitive. Export earnings remain an important source of country's total foreign earnings. Growth in exports is a must to achieve a sustainable surge in the country's foreign currency reserves and conveniently repay foreign debt.
"Authorities may consider maintaining the rupee at around current level (Rs154-155) considering the rupee gained value mainly due to a surplus of around $750 million in current account balance in the first 10 months (Jul-Apr) of current fiscal year 2021," he said.
To recall, the State Bank of Pakistan (SBP) replaced the controlled rupee-dollar exchange rate system in May 2019 with market-based exchange rate system. This means now market forces determine the rupee-dollar exchange rate based on the demand and supply situation of the foreign currency in the domestic economy. However, the central bank holds powers to intervene to fix abnormal movement in rupee-dollar parity, if any. "REER at 103.3 is still not a poor reading. It still remains affordable," Abbas said, adding the country had seen REER at 120-122 in the past.
It is expected to normalise (come down to around 100) since rupee has gradually depreciated to Rs154.40 to the US dollar in the inter-bank market on Monday compared to 22-month high at Rs152.75 hit in March, he said. "The notable growth in imports with reopening of domestic and global economies, reopening of international travelling and tourism…would increase dollars demand in domestic economy. This may result into recording on average 3-4% depreciation in rupee annually, going forward," he said.
He said the situation has changed a lot on the economic front today compared to the times when REER was maintained at around 95-96 on the index by the central bank, when current account was running in deficit and interest rate stood in double digits before the outbreak of Covid-19 in February 2020, he said.
Today, the balance of current account is in surplus with strong backing from historic high workers' remittances. The interest rate stands low at 7%. Besides, the inflows of foreign currencies from overseas Pakistanis through Roshan Digital Account (RDA) have also improved the financial account of the country (foreign currency reserves), Abbas said. In addition to this, outflows have continued to remain low mainly due to limited international travelling (including religious tourism like Hajj and Umrah), he said, adding such developments have overvalued rupee against a basket of trading partners' countries.
"Currently, SBP is using (currencies') weight of 37 major trading partners and competitors of Pakistan for REER calculation. These weights represent not only bilateral trade volumes, but also a competition in the third markets," according to a central bank video explaining REER.
Published in The Express Tribune, June 1st, 2021.
Like Business on Facebook, follow @TribuneBiz on Twitter to stay informed and join in the conversation.
COMMENTS
Comments are moderated and generally will be posted if they are on-topic and not abusive.
For more information, please see our Comments FAQ