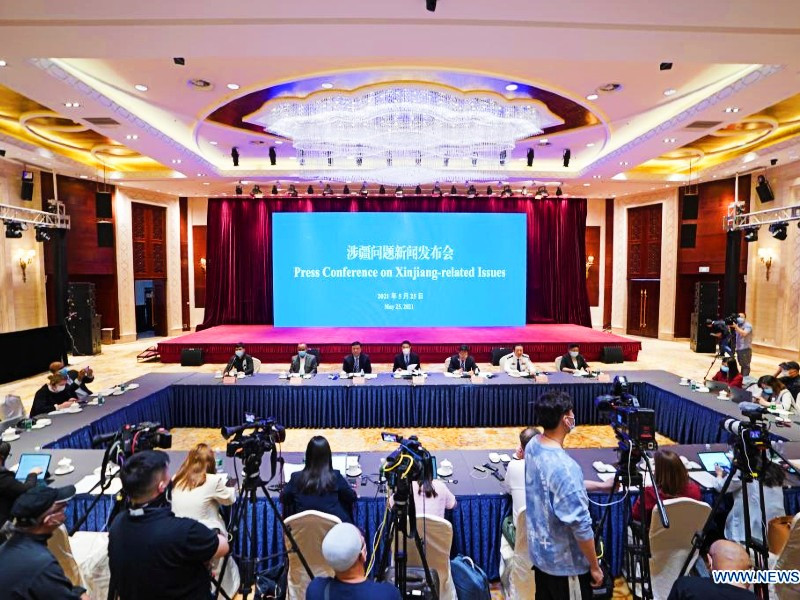 ---
KARACHI:
Senior officials of northwest China's Xinjiang Uygur autonomous region have strongly condemned and rejected the so-called "Uygur tribunal" that attempts to hold a hearing on claims of "genocide" in the region.
Xinjiang spokesperson Xu Guixiang said the tribunal has no legal basis or effect according to relevant international laws and criminal justice practices.
"Any so-called verdict or ruling of the tribunal is nothing more than a piece of waste paper," he said at a press conference held in Beijing.
The "Uygur tribunal", set up by the US and Western anti-China forces in collusion with the World Uygur Congress and other East Turkistan organisations, is a pseudo-court set up to attack and smear Xinjiang and interfere in China's internal affairs, the spokesperson said.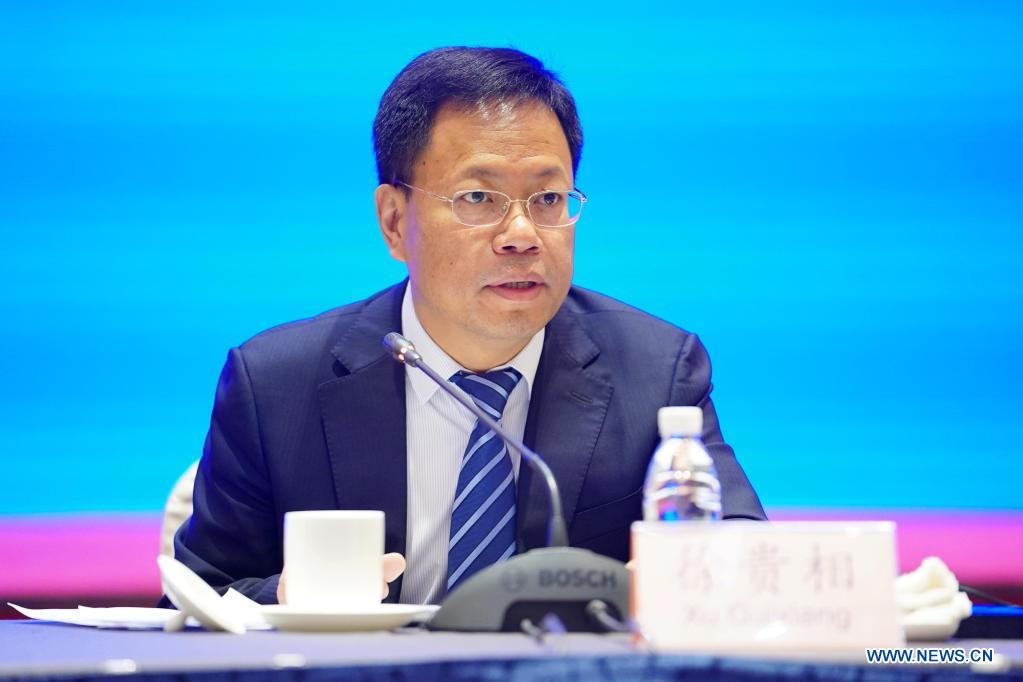 Xu added that it is simply absurd to see an illegal tribunal holding a hearing on the "lie of the century".
"This is a serious trampling of international law, a grave desecration of the real genocide victims, and a serious provocation to the 25 million people of all ethnic groups in Xinjiang," he said.
The tribunal, Xu stressed, lacks legal basis and force of international laws according to the relevant conventions of international laws and international criminal laws.
"Any judgement or ruling of the tribunal is worthless. All the so-called 'Uygur Tribunal' has done is conducting presumption of guilt and then fake the evidence. What they really care about is to find means to slander and split Xinjiang regardless of the truth or people in Xinjiang."
He said that the so-called "witnesses" are no more than those actors that have appeared many times before. "We have exposed and criticised the 'actors' many times," he added.
'No state, organisation has the right to arbitrarily find another state guilty of genocide'
Chinese officials said genocide cases are mostly tried either by competent courts of the country where it took place or by an international criminal tribunal whose jurisdiction the country has accepted, under the Convention on the Prevention and Punishment of the Crime of Genocide (Genocide Convention). Some national courts have also tried cases of genocide within their own borders.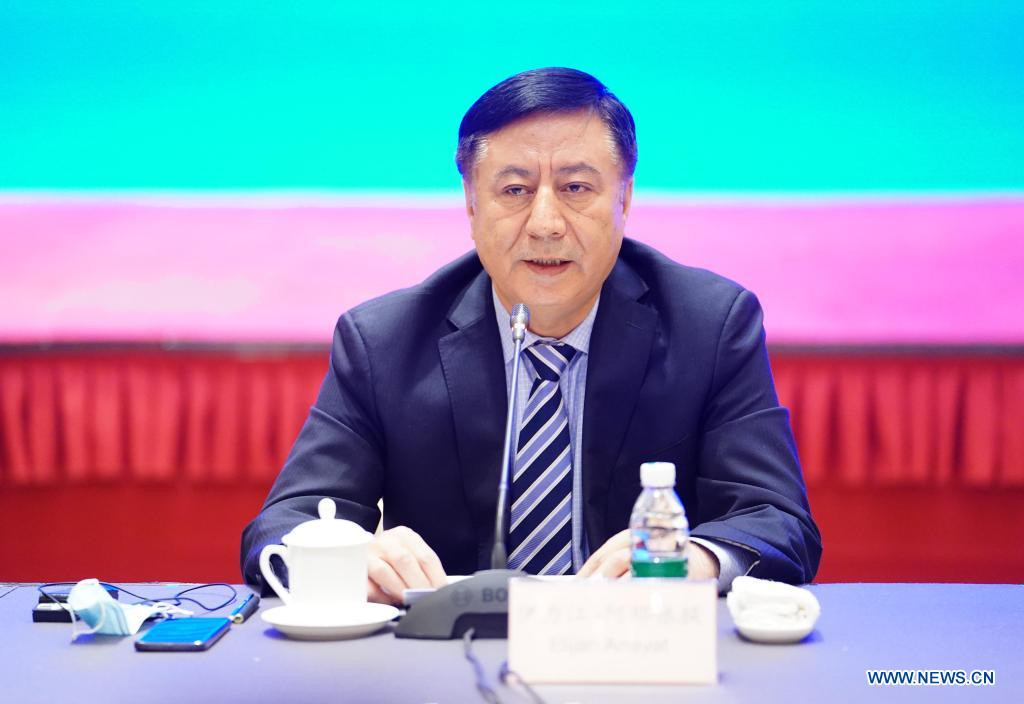 "Apart from that, no state, organisation or individual has the right to arbitrarily find another state guilty of genocide," said Elijan Anayat, a Xinjiang government spokesperson.
Authorities pointed to the tribunal being funded by the "World Uygur Congress", which Beijing classifies as an anti-China separatist organisation with links to terrorism.
"The tribunal was established to smear Xinjiang and interfere in China's internal affairs," said Elijan.
While organisers are reported to have been expecting a substantial number of submissions from "Uygurs exiled abroad", Chinese officials said the potential witnesses involved in the tribunal are actors and liars.
Elijan said that the tribunal still remains illegal even from the nongovernmental organisations' point of view. "According to laws of England, the establishment and operation of the relevant courts are under the jurisdiction of Charity Act 2011, which stipulated "promoting human rights, resolving conflicts or achieving reconciliation or improving religious or racial harmony or equality and diversity" as one of the benefits of charity, he added.
He said that the "Uygur Tribunal" declares to investigate the "continuous atrocity and possible genocide" that the Chinese government forces on Uygur people, which seems to be in accordance with charity goals of the Charity Act 2011(Charities Act 2011) and the Tribunal seems to be the legal organisations. However, he added, the authenticity of its goal is questionable and the tribunal lacks the constitution and Trusteeship Council that a legal organisation should have been equipped with.
"So the 'Uygur Tribunal' cannot meet the registration requirements stipulated in the Charity Act 2011(Charities Act 2011) as a charity organisation, nor does it receive any financial support from the government, which a charity organisation should have received in accordance with the law."
Elijan concluded that the tribunal is by no means an organisation admitted by UK laws. "It is nothing but a manipulated non-governmental organisation that runs for profits," he maintained.
'Several Uygur fugitives are suspected criminals'
Yalkun Yakup, deputy director of the Xinjiang Public Security Department, gave evidence that several so-called outspoken Uygur fugitives are in fact suspected criminals, including Sayragul Sauytbay, who was given a "Women of Courage Award" by Mike Pompeo, the former US Secretary of State.
"She first lied about teaching at a vocational education and training centre. With the help of anti-China forces, she then became a so-called 'victim of the education and training centre' by claiming she was detained in a 'concentration camp' and subjected to torture, medical experiments, and forced to eat pork. Actually, she has never studied or worked there," said Yalkun.
Yalkun mentioned that Dolkun Isa, leader of the "World Uygur Congress", had also become a so-called "concentration camp victim" recently.
"But he's not a victim, he's a terrorist as designated by the Chinese government," said Yalkun, adding that "he has been spreading rumours about Xinjiang in the international community for a long time and his tricks have repeatedly been exposed".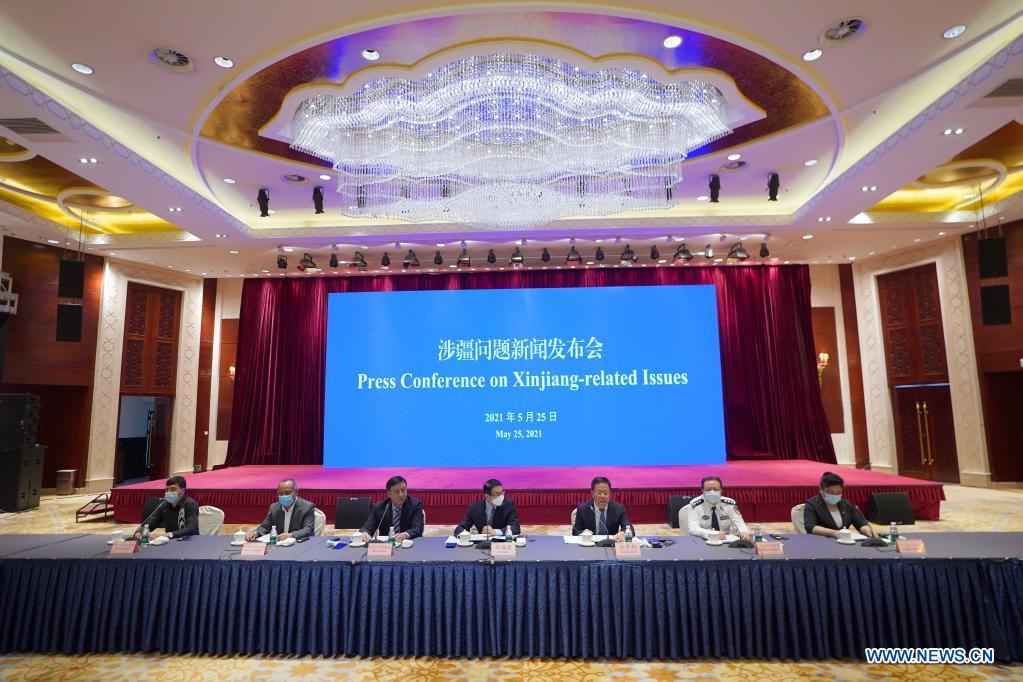 Chinese officials also accused the tribunal of "cheap tricks" that smear Xinjiang and interfere in China's internal affairs.
To a question regarding the steps China has taken to counter terrorism in the region, Xu said that terrorism and extremism have brought great catastrophe for people in many countries in the world, adding that it is a common subject and a worldwide problem for all mankind to fight terrorism and eliminate the harm of extremism.
"Xinjiang has made active exploration in these aspects. I think this exploration is of profound significance and can be summarised. Of course, we also welcome other countries facing the same problems to learn something from. I have been to some countries and regions. I have also made some exchanges around counter-terrorism and de-extremisation issues, and we have been learning some experiences and practices in other places."
He said that many people are affected by extremism and even participate in violent and terrorist activities. "For these people, if we follow some Western ideas, we can simply get them into prison. But we believe that these people are also victims, so we take measures of educational transformation to save them," Xu added.
'All religious activities fully guaranteed in Xinjiang'
Regarding a question on detaining of religious scholars, Elijan said that with the guidance of Chinese laws and regulations, Xinjiang has been managing religious affairs, protecting freedom of religious belief and ensuring the orderly conduct of ordinary religious activities in accordance with the principles of "protecting legality, stopping illegality, curbing extremism, resisting infiltration and cracking down on crimes".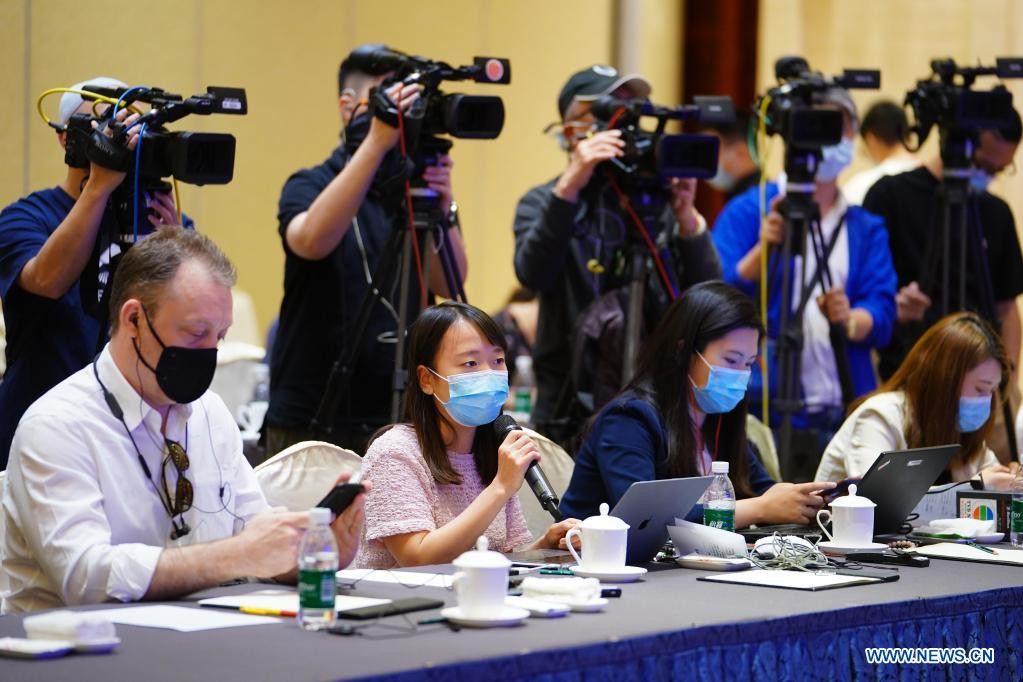 "Xinjiang has accelerated local legislation, publishing and revising regulations of Xinjiang Uygur autonomous region on Religious Affairs, Interim Rules for the Administration of Places on Religious Activities, Interim Provisions on Administration of Religious Activities, and the Interim Provisions on Administration of Religious Staff, which have clarified the rights and obligations of religious groups, places for religious activities, and religious staff."
Elijan said that all ordinary religious activities are fully guaranteed in Xinjiang. "According to the doctrines, religious rules and traditional customs, Muslims of all ethnic groups can carry out religious activities in mosques and in their own houses in full accordance with their personal wishes," he added.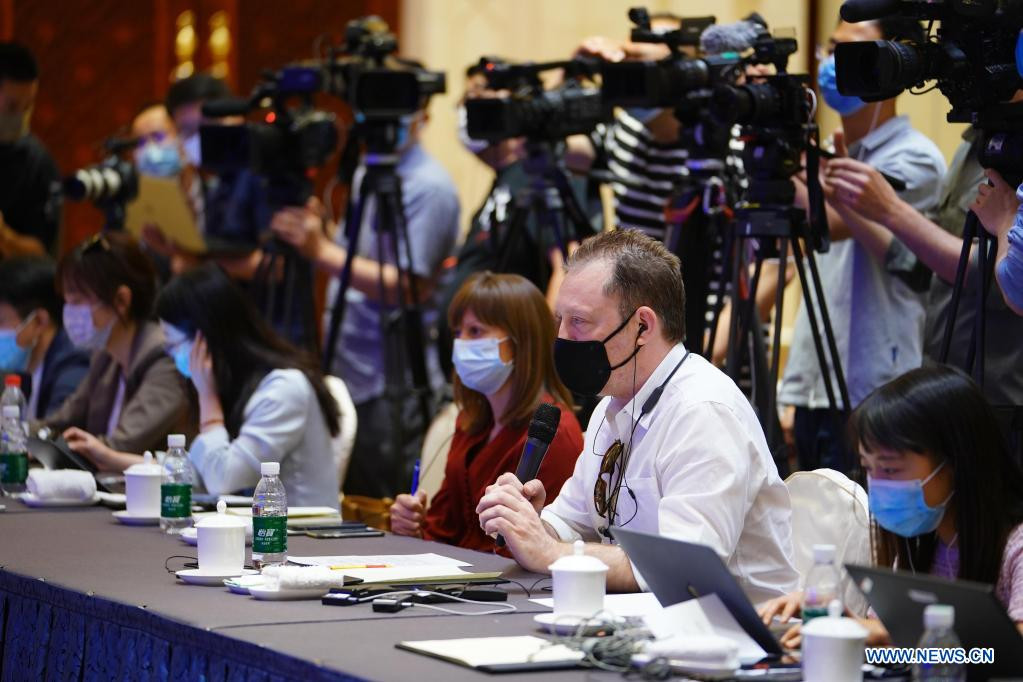 He told that the Islamic Religious Affairs Directing Committee of Xinjiang has translated the Holy Quran and Al-Bukhari's into Chinese, Uygur, Kazakh and Kirghiz for publishing, which broadens the ways for religious people to obtain religious knowledge.
He said that there are 10 Islamic Institutes in Xinjiang, namely the College of Xinjiang Islamic Institute and its eight branches, and Xinjiang Islamic School of Sutras. "These schools recruit undergraduate students, junior college students and technical secondary school students according to the demand, which enables Islam to be passed on."
Elijan said that more than 1,000 religious people of all ethnic groups in Xinjiang are now serving as representatives and members of People's Congresses and Political Consultative Conferences at all levels, fulfilling their rights of participating in the administration and discussion of state affairs and conducting democratic supervision.
(With additional input from Xinhua)
COMMENTS
Comments are moderated and generally will be posted if they are on-topic and not abusive.
For more information, please see our Comments FAQ