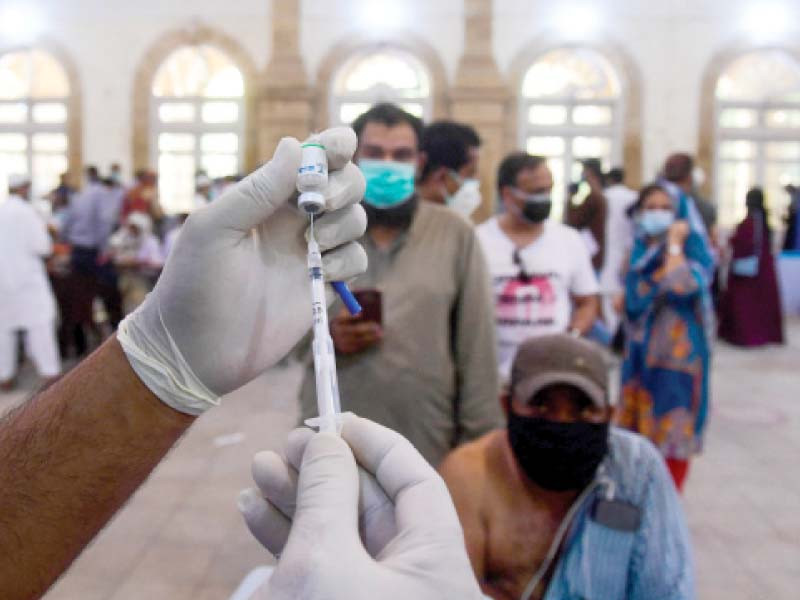 ---
KARACHI:
Long queues in sweltering heat, lack of shelter from the sun and mismanagement has left people visiting the coronavirus vaccination centre at the Expo Centre exasperated.
According to officials, over 10,000 visitors are being vaccinated against the novel coronavirus disease (Covid-19) at the Expo Centre on a daily basis.
However, some of the visitors told The Express Tribune that they waited for over an hour in the queue to reach the registration counter where they were told that online 1166 service has given them wrong date.
The administrators should improve the arrangements at the centre, citizens perturbed with hot weather.
"Over 125,000 people were vaccinated during the first 20 days of the facility set up at the Expo Centre," Dr Husnain, in-charge of the morning shift, told The Express Tribune. The number of visitors is increasing, on an average over 10,000 visitors are being vaccinated, he said.
He said that the mega vaccine centre has the capacity to vaccinate 25,000 people on a daily basis, which will be doubled in the upcoming days.
Mandatory shots for
teachers
Meanwhile, the Sindh government has asked the government employees, especially school teachers, to get at least one jab of the vaccine by June 5, following which, scores of teachers visited the Expo Centre.
The organisers of the vaccination centre seemed to be unable to handle the rush and there was mismanagement.
The teachers said that they do not see chances of getting vaccinated until June 5, but, fear several teachers falling sick due to heat exhaustion.
They appealed to the Sindh government to offer vaccination facilities either in schools or offices of the education department.
Online glitch
People said they had visited the vaccination centre after receiving a message from 1166 for second dose of the vaccine on the mentioned date.
The online system of the health department however did not verify the invite for the second dose, thereby, delaying their vaccination process. The complaint service of the online vaccination registration facility asked people to consult the relevant authorities after a few days.
Some incensed citizens complained that they made to the counter after spending two hours in a queue in the hot weather, yet they were treated inappropriately. They further complained of limited shelter facilities outside the premises of the centre.
Ironically, the government employees were informed of a special counter facility which could not be found on the occasion.
"There is a long and same queue for both the genders. Instead of forming queues in open spaces, the queues should be formed in empty halls, while the vaccination facilities should be extended to more halls of the Expo Centre. Furthermore, special facility should be offered for the senior citizens," the citizens demanded.
Published in The Express Tribune, May 31st, 2021.