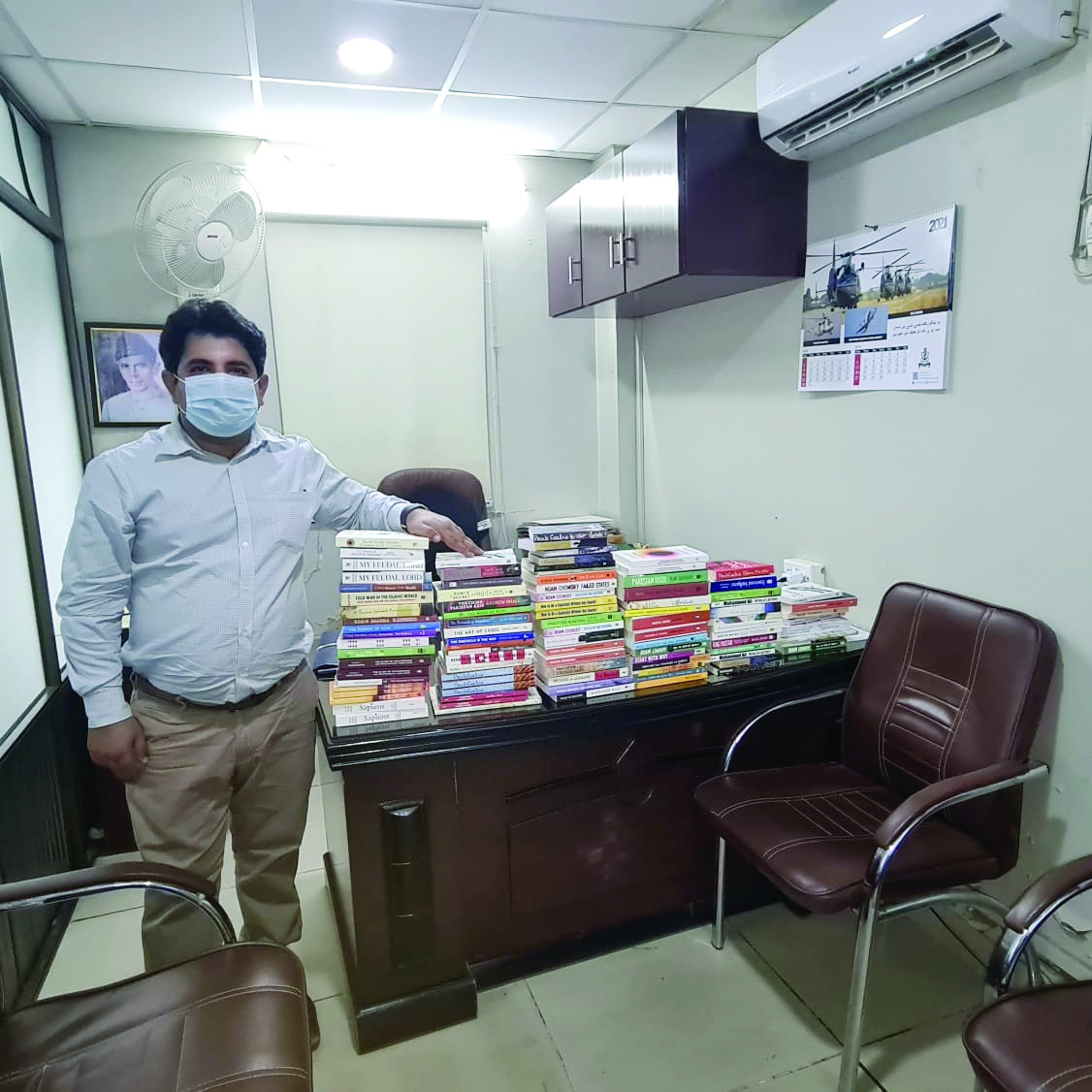 ---
KARACHI:
The pandemic brought life as we know it to a standstill. Loneliness and boredom engulfed many people as they were confined to their homes and restricted from engaging in social activities. Sanjay Raja saw the bustling metropolis enveloped in silence and found a way to bring adventures to people's door steps in the form of books.
Sanjay has a long list of friends whom he has never met but he knows which stories will enthrall them. From Sarghodha to Islamabad, from Quetta to Khairpur, this Karachiite has sent over 400 books to people across the country.
Some he entertained with the joy of fiction while to others he would send informative books on a variety of subjects, including science and politics. Often, people would ask him to send books they could not easily find in their area and Sanjay would happily comply.
The joy of reading
Sanjay, who is an engineer by profession, had launched with his peers a unique SMS campaign called 'Knowledge is Power'. They had a network of students across 34 varsities in Pakistan and would share excerpts and aphorisms. "We used to send a couple of messages on different topics and attracted thousands of students."
Building on the SMS campaign during the lockdown last year Sanjay initiated a drive to get books to bookworms across the country.
Initially, he reached out to his friends and followers on Twitter and sought donations of books. This did not gain much traction in the beginning, he tells The Express Tribune. He spent roughly Rs20,000 buying books out of his own pocket.
"But [then], a girl from Gulshan-e-Maymar sent me over a 100 books," he shared gleefully.
As the drive grew bigger, Sanjay was soon sending books to public libraries. The first such request he received was from Quetta's Shaheed Baz Muhammad Kakar Library. He was then connected to a library in Balochistan's Wadh, Khuzdar district, through a doctor employed at Dr Ruth Pfau Civil Hospital. He sent piles of books there.
Another 50 books were packaged and delivered to a library in Khairpur. "Soon I was receiving requests from different cities across the country. I have over two dozen requests currently pending," he told The Express Tribune.
On his own bookshelf, Sanjay has only six books for he can't stop giving them away. "I love reading. A book can change someone's life forever."
At your doorstep
The majority of individuals who contact Sanjay for books are those who can easily afford them. "But it is not so easy to find the book of your choice at your doorstep," he said, adding that a lot of his time is spent hunting down the particular book someone has asked for.
The lockdown made this harder. Major bookstores had their inventories impacted because books could not be imported and deliveries within the country were interrupted due to coronavirus-related restrictions.
"There was one request that I could not fulfil," he lamented. A medical student from Jamshoro wanted a few books that he could not arrange. "For those books I even tried Lahore and Islamabad markets but failed."
For his own deliveries, Sanjay relied on a private courier service at first but soon turned to the Pakistan Post, which he found to be the better option.
Booklover's gift
For Sanjay the joy of reading is only superseded by sharing a good story with another person. He will frequently knock on the doors of friends and acquaintances and drop off a book he has just finished while en route to home or work.
"The most difficult thing for anyone is to give away a book they like. But I request everyone to not keep your favourite books to yourself but to share them with others."
Laughingly he shared that his wife is at times perplexed by his insistence on giving away books. She questioned why he would spend so much money purchasing them for other people. "But she knows my happiness lies here," he added, lovingly.
The idea of sharing and gifting books has been appreciated, he said, adding that people in his circle have started sharing books among each other.
A female school teacher in Jamshoro has recently started a similar drive, said Sanjay, beaming. He dreams of setting up a book corner near Teen Talwar, where "anyone can find a book they like and can leave behind the books they have read for others".
This story is part of a weekly series that seeks to bring to light the unsung heroes of Karachi - the hawkers, traders, doctors, teachers, engineers, lawyers and daily-wage labourers. It is they who make Karachi the city of lights.
Published in The Express Tribune, May 31st, 2021.