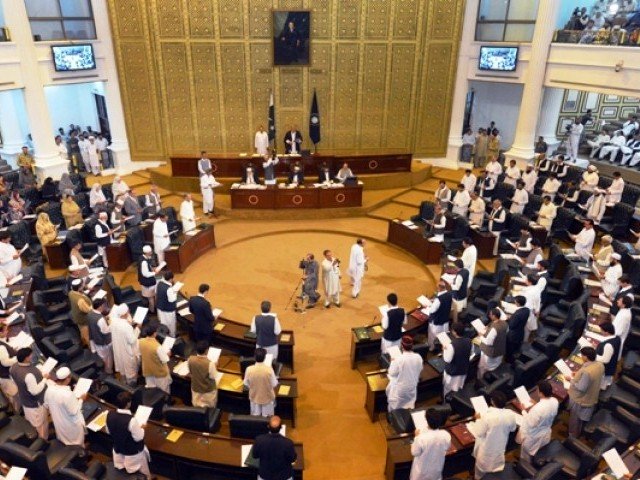 ---
PESHAWAR:
The Khyber-Pakthunkhwa (K-P) government has decided to de-notify one of its ministers after the size of the provincial cabinet reached 17 against the constitutionally acceptable level of 16.
The point was raised by the opposition during the assembly session and government decided to consult with constitutional experts who also told the government that, technically speaking, it could not exceed the constitutionally approved level of 16-strong cabinet. Advocate General is expected to brief the assembly about the constitutional provisions on the matter.
Talking to The Express Tribune a government official said that the government had taken a decision to de-notify one of its ministers to reduce the size of the cabinet to 16.
"One of the ministers will be made either advisor or special assistant to CM in order to reduce the size of the cabinet after the objection of the opposition," he said, adding that the decision will be taken soon in this regard.
"There is a provision in the constitution under which the size of the cabinet could not exceed 16 ministers and the provincial government knew it very well. So it was decided to remove some of the ministers whose performance was not good or who were not even going to offices regularly. But due to the forthcoming fiscal budget the decision was postponed for the time being and four ministers were issued warning notes instead. Due to this the size of the cabinet reached 17 ministers," he said.
He added that CM Mamood Khan is not happy with the performance of some of the ministers who don't bother to come to the assembly and answer the questions regarding their ministries and they would be removed from the offices soon after the budget.
"The decision to remove a minister will be taken soon. This will cause some unrest among the cabinet and the party but government has no other choice for the time being," he said.
Published in The Express Tribune, May 31st, 2021.
COMMENTS
Comments are moderated and generally will be posted if they are on-topic and not abusive.
For more information, please see our Comments FAQ