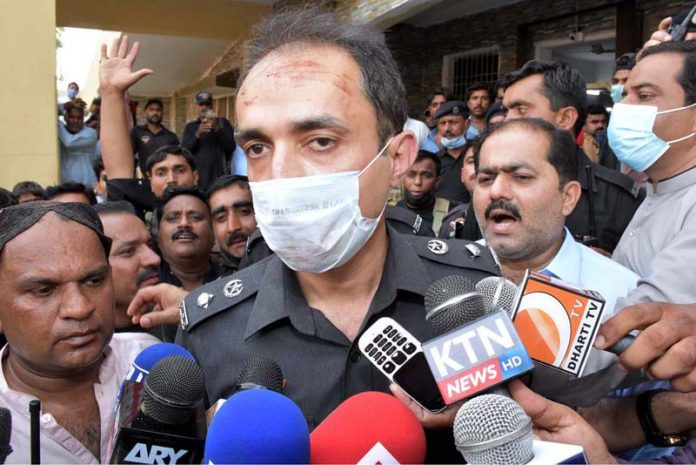 ---
KARACHI:
The police department is often criticised because of corrupt and laidback officials in its midst. Yet, there are senior officers who are truly heroic in the discharge of their duties as they show up not just for photo ops and grand operations but also for community support and routine fieldwork.
Newly appointed Larkana SSP Imran Qureshi is one such official.
His presence on the ground and efforts towards community building have earned him the reputation of being a compassionate and empathetic officer. An officer from the Police Service of Pakistan, Qureshi has quickly gained popularity for his tendency to reach the crime scene immediately - no matter how big or small the incident. Besides, he has under his belt the setting up of a flourishing model village.
"After a long time, we have seen such a [senior] police officer who reaches the spot himself to lead an encounter with criminals, takes injured cops in his lap and visits every nook and cranny to console citizens and to resolve their complaints," said Ahmed Ali Abro, a lawyer who lives in Larkana city. Abro was referring to a recent operation against dacoits in the area.
The SSP's quick response during the operation garnered him appreciation from people from all walks on life, when the news broke on social media.
Qureshi joined the police force in 2010 and was first posted in volatile districts of Balochistan. In areas like Turbat, Qureshi says, the cops had instructions to not leave the police station after sunset. It was there that he realised how necessary it was to witness a crime scene firsthand no matter what the case. "I believe that local police officers, including the SHO or even the personal staff officer, are not [always] able to give the complete picture because of various reasons. So by reaching the spot one can get firsthand authentic information."
In Turbat, Qureshi ensured all policemen under him were routinely patrolling the area even at night. "We saw many ups and downs over there but learned a lot on how to cope with an insurgency. My posting in Balochistan is the driving force behind me reaching every crime spot now."
A stickler for order
Since his university days, Qureshi has been one to bide by the rules. "I was against all odds and used to resist those student leaders [who] would forcibly shut the university due to strikes called by various nationalist parties," he tells The Express Tribune. "It was only our department that not one would dare to shut because of our insistence to continue classes."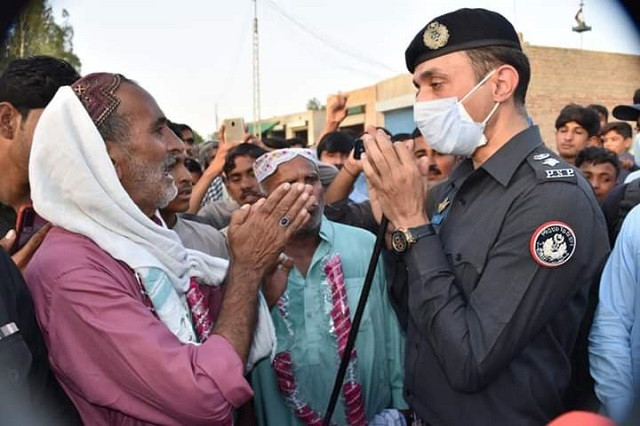 Larkana SSP Imran Qureshi appreciating villagers for helping police during an encounter with dacoits in Larkana
Last year, when he was posted in Kamber Shahdadkot, a landlord and his sons were accused of shaving the head of a peasant woman and torturing her. The victim's statement went viral on social media and drew the attention of rights' groups and higher ups alike. Despite elected local representatives backing the criminals, Qureshi reached out to the woman himself and ensured that the culprits were brought to task.
During his postings in Balochistan and Sindh, dozens of criminals including dacoits have been killed in encounters under his command. In Sindh alone, around 30 encounters took place with 5 dacoits killed and 24 injured by him.
A desire to serve
Qureshi was born to a well educated family in Larkana city. But his childhood years were spent living in different districts of Sindh because of his parents - both government employees - postings. He started his primary education in Model School Hyderabad, where renowned singer and educationist, Zarina Baloch, was one of his teachers. He then enrolled in Public School Hyderabad and completed his FSc with honours in 1993.
After gaining admission at the Mehran University of Engineering and Technology, Jamshoro, on merit, Qureshi graduated with a civil engineering degree in 2001, after which he worked for World Bank-funded development projects and other construction firms.
"Since my college time, I had been involved in community service so I began preparing for the Sindh Public Service Commission exams along with my job," says Qureshi. "I first appeared for the competitive exam in 2005 and then attempted the Central Superior Services (CSS) exams in 2008 and joined the police force in 2010."
Welfare work
After seven years of service in Balochistan, Qureshi was posted in Sindh as the Naushero Feroze SSP. Eager to engage with the community, he started appearing on the weekly FM radio programme Sachal and would listen to people's concerns and find ways to resolve them.
He was transferred to Tharparkar district next and here he set a precedent by launching a model village with the help of the community and different government departments.
"It's an integrated self-sustained model village near Mithi. We started artificial insemination of livestock because natural mating of animals was not resulting in production of milk or more offspring," he said, adding that they also set up a kitchen garden with Sohanjro - Moringa - trees.
Besides, 26 fish ponds were developed in the model village. The ponds were populated with fish resilient to saline or brackish water so that people could easily breed their own fish.
"I'm a civil engineer, so we developed the ponds such that peacocks could sit over sticks arranged over the ponds and lay their waste, which would then become feed for the fish," he said, adding that he was posted there for barely nine months otherwise he had more plans for the model village.
Qureshi's mother is his inspiration when it comes to welfare work. After she retired as a chemistry professor, she continued different projects to provide relief to the community around her, he shares.
A father of three, Qureshi, has never taken a single day off throughout his career. His dream is for community policing across Pakistan and for the police force to develop an amicable relationship with the communities they serve in. Such that people's problems can be easily identified and solved.
Published in The Express Tribune, May 31st, 2021.