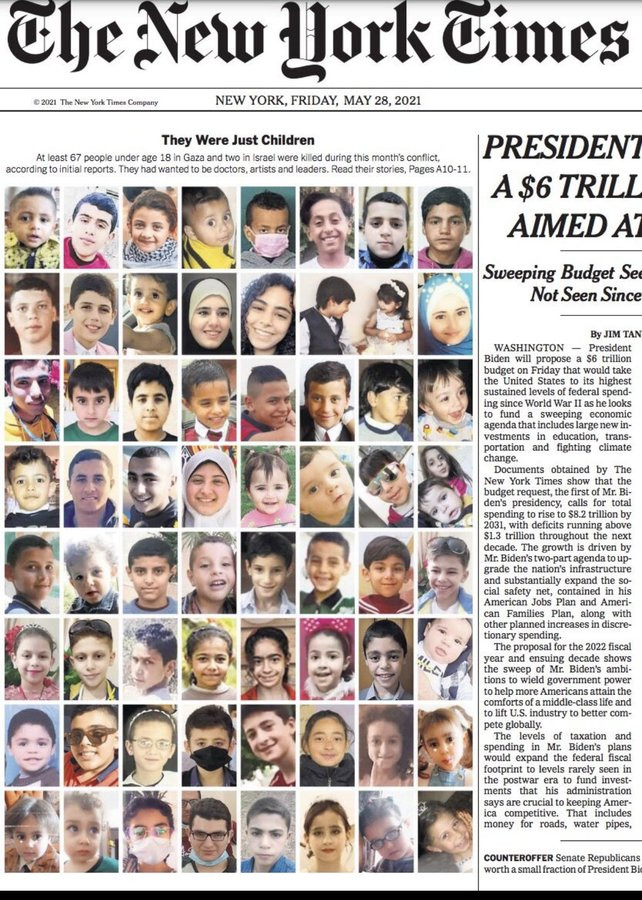 ---
The New York Times published a front-page collage of the children killed in Gaza on Friday, May 28, 2021.
During the last two weeks, Israel's bombardment of Gaza has killed at least 67 children, the article on NYT read. It also shed light on the identities of all 67 minors; the circumstances of their deaths; and the grief and disbelief of their parents - reiterating the constant threat of war haunting the Palestinian children.
The NYT, in the article, also estimated that an average 15-year-old in Gaza would have lived through four major Israeli offensives.
To Everyone's Amazement:
This article comes as a surprise to many, since parenthetically, on May 22, the same newspaper had published a rather pro-Israel advertisement, condemning Dua Lipa, Gigi and Bella Hadid - celebrities who protested against the genocide happening in Palestine.
While Twitteratis around the world were pleasantly surprised by the front-page article, Palestinian writer Mohammed El-Kurd provided a reality check by holding NYT accountable for years of publishing anti-Palestinian content.
"The NYT's has participated in shaping and spreading anti-Palestinian racism and Israeli propaganda for decades. This will not be reversed by an obituary that depoliticizes genocide. And btw, when we mourn, we mourn all of our martyrs, not just our children," he wrote.
NYT's coverage comes a day after the Israeli Hebrew-language daily Haaretz published photos of the 67 children killed in Gaza. The front-page headline read: 'This is the price of war,' while the third page read: 'The names and the stories of the young victims of the conflict' and 'When leaders unleash a war, the weakest pay the price.'
Many praised the objectivity of the Israeli newspaper and restated that the children were the real victims of the endless 'conflict' between Israel and Hamas.
However, netizens seemed more concerned over the sudden change in NYT's stance.
Politically (In)correct:
As people world over argued that the NYT finally conveyed a strong sense of journalistic objectivity, some Twitteratis put up tone-deaf statements about antisemitism and the 'blood libel' of Israel.
American-Israeli scholar Martin Kramer joined in, saying he will not retweet posts from the NYT from hereon.

While others simply pointed out the logical fallacy in the article - the photo of a girl that was published in 2017.
Following this, their Middle-East Editor Herbert Buchsbaum posted a correction:
After eleven days of deadly violence in the Gaza strip, both sides have agreed to a fragile truce that temporarily suspends hostilities between Israel and Hamas.