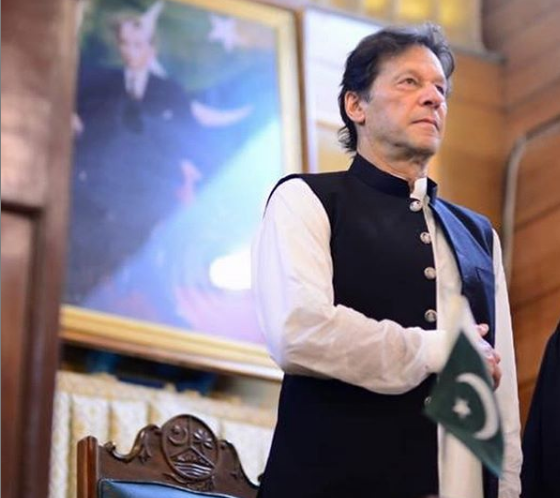 ---
Pakistan Tehreek-e-Insaf (PTI) Chairman Prime Minister Imran Khan has finalised the party candidates for the upcoming elections of Azad Jammu and Kashmir (AJK) legislative assembly.
In a tweet on Saturday, Minister of Information and Broadcasting Fawad Chaudhary said that candidates for some seats will be announced later. He added that 300 applications were received for tickets of 45 seats.
وزیر اعظم و چئرمین تحریک انصاف عمران خان نے آزاد کشمیر اسمبلی کے آئندہ انتخابات کیلئے امیدواروں کے ناموں کی منظوری دی ہے، کچھ نشستوں پر امیدواروں کا اعلان بعد میں کیا جائیگا، آزاد کشمیر کی 45 نشستوں کیلئے 300 امیدواروں نے ٹکٹ کے حصول کیلئے درخواست دی تھی۔ pic.twitter.com/uCrZ8Eh6F5

— Ch Fawad Hussain (@fawadchaudhry) May 29, 2021
Earlier in the day, five members of AJK assembly met PM Imran and announced joining the ruling PTI, "showing full confidence in his prudent policies and leadership".
The lawmakers included Ali Shan Soni, Ali Raza Bukhari, Sagheer Chughtai, former speaker Anwarul Haq, and former minister Shahzad Chaudhry.
They expressed full trust in Prime Minister Imran Khan's leadership, vision and PTI's policies.
The legislators lauded the prime minister for steering the country out of economic crisis through prudent and coordinate strategy.
The MLAs told the prime minister that they decided to join the PTI after getting inspired by the party's vision and practical measures and with an objective to carry forward the PTI chief's vision.
Information Minister Fawad, Minister for Kashmir Affairs and Gilgit-Baltistan Ali Amin Gandapur, and PTI leaders including Saifullah Niazi, Amir Kiani, Arshad Dad, Sultan Mahmood Chaudhry and others attended the meeting.
(With input from APP)