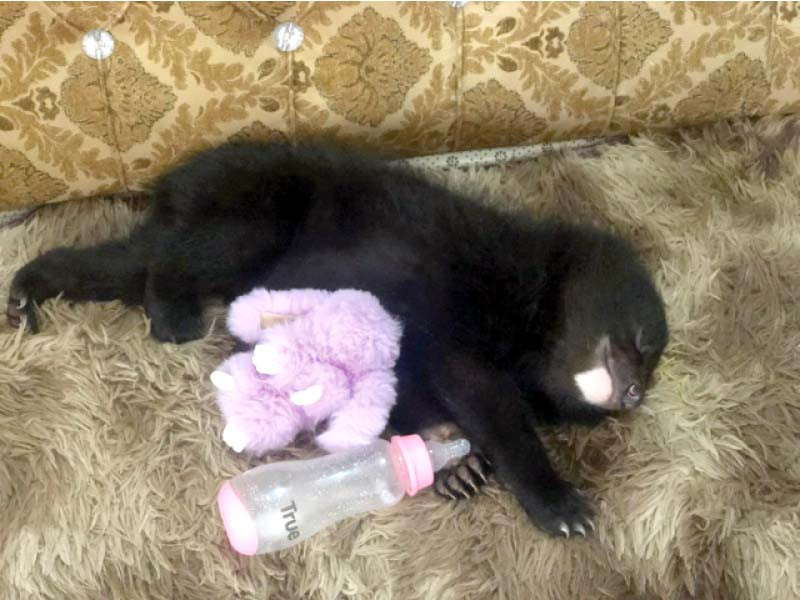 ---
RAWALPINDI:
The Punjab Wildlife Department (PWD) took the custody of a bear cub from a house near Bagh Sardar after TikTok videos featuring the animal went viral.
PWD Assistant Director (AD) Rizwana Aziz, Inspectors Amjad Abbasi, and Kashif Mehmood went to the house of a citizen and rescued the baby bear and produced it before a court. Civil Judge Ahmed Shehzad Gondal ordered to transfer of the bear cub to Lahore Zoo.
The Express Tribune learnt the wild animal was bought by wildlife conservationist Anila Amir from poachers in the Neelum Valley forest area of Azad Kashmir who wanted to sell it for a hefty price. She said she did not have enough money to buy the wild animal from the poachers so she collected money from her parents, siblings, friends, and servant.
Amir told The Express Tribune that she had raised the cub with utmost care like a human baby. She added the animal was badly injured when it was purchased and both ears and different parts of the body had wounds that were infected with pus. She said the cub could not eat anything and was fed milk with the help of a feeder. The cub used to drink three litres of milk daily.
The wildlife conservationist said the cost of treatment of the animal was quite high. However, within two months, his wounds healed and now it was able to eat fish.
Anila said that she had decided to hand the bear over to the Islamabad Wildlife Department (IDF) and preparations in this regard were also completed. However, when the TikTok video went viral, the Punjab Wildlife Department thought that the keeper was abusing it and they reached her house a night before she was about to hand it over to IDF and took away the cub.
She said that she was a wildlife rescuer and had raised dozens of cats, pets, dogs, and parrots.
She said conservation of wildlife was a national duty and demanded that the government should ensure proper planning for the conservation and reproduction of endangered wildlife. She also offered her services as a frontline field worker in this regard.
PWD Assistant Director (AD) Rizwana Aziz said they took immediate action and recovered the cub upon seeing its video on social media. She expressed satisfaction that the cub was brought up with great care. She said when the wildlife team went to recover the bear, it was having a meal and playing around.
She said the wild animal had been sent to Lahore and be handed over to the Lahore Zoo administration on May 28.
Published in The Express Tribune, May 28th, 2021.