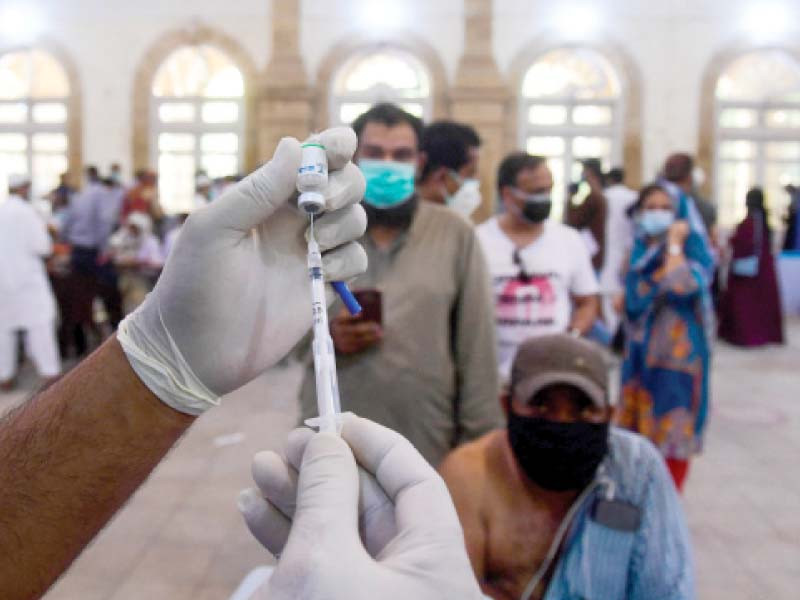 ---
ISLAMABAD/RAWALPINDI:
The Federal Directorate of Education (FDE) has directed all Area Education Officers (AEOs) to ensure the vaccination of teaching and non-teaching staff of educational institutions in the Islamabad Capital Territory (ICT) in their respective areas.
According to a notification issued by FDE here on Thursday, it was stated that the National Command and Operation Centre (NCOC) has informed that vaccination of all teaching and non-teaching staff will have to be ensured and compliance is needed in this regard.
It is, therefore, advised that every AEO ensure that all teaching and non-teaching staff of their respective sectors get themselves vaccinated on a priority basis from their nearest vaccination centres or visit Mass Vaccination Centre established at F-9 Park, it added.
It was further notified that if not done already, everyone must immediately register for the vaccination by sending their CNIC number through SMS to 1166. All heads of institutions shall be responsible for the implementation and timely provision of data to the respective Area Education Office, the notification maintained.
All AEOs are requested to ensure implementation in true letter and spirit and submit a final compliance report on June 4. Needless to mention that compliance of this report at the given dates is mandatory and needs to be shared with NCOC accordingly, it mentioned.
Meanwhile, around 30,000 citizens and healthcare workers have been vaccinated so far against the coronavirus at the Polyclinic Hospital (PCH). PCH Assistant Executive Director (AED) Dr Abdul Jabbar Bhutto briefed about the coronavirus vaccination campaign at the hospital and treatment facilities available.
The official said that the hospital management has set up a new vaccination centre to provide better facilities to the citizens. He added that the process of immunisation continues from 8am to 10pm at the centre.
Dr Bhutto said that PCH was administering Sinopharm vaccine to the citizens and healthcare workers while the supply of single-dose vaccines will start soon. He maintained that a separate flu clinic has been set up for the examination and treatment of Covid patients that operates round the clock in three shifts.
Positivity ratio continues to decline in ICT
The district health authority (DHA) reported that the positivity ratio in Islamabad stayed only 2.26 percent during the past 24 hours while three patients succumbed to the virus on Thursday.
Islamabad District Health Officer (DHO) Dr Zaeem Zia said that 5,177 tests were conducted during the span and 117 people returned positive while 478 patients recovered over the past 24 hours.
He informed that so far, 80,779 citizens cases of the virus have been reported while 73,217 have recovered and 751 lost their lives to it. At present, 6,811 active cases are still in the log in Islamabad.
Meanwhile in Rawalpindi, as many as 50 cases were reported during the last 24 hours, raising the tally of confirmed cases to 26,086 in the district. As per the latest data released by the District Health Authority (DHA), the total infected cases included 24,093 from Rawalpindi and 1,993 from other districts.
Presently, 101 confirmed patients were admitted to various facilities with 21 at Holy Family Hospital, 16 at Benazir Bhutto Hospital, 31 at Institute of Urology, 25 at Fauji Foundation Hospital, four at Bilal Hospital, three at Hearts International Hospital, and one at Akhtar Rukhsana Memorial hospital, a health authority report stated.
Pindi restaurant owners irked over restrictions
All Rawalpindi Restaurants Association (ARRA) officials have called for lifting restrictions on restaurants and hotels to prevent further devastation of the economy.
ARRA General Secretary Muhammad Farooq Chaudhry said on Thursday that due to the lockdown, unemployment in the country has increased by more than 33 per cent, adding that the disturbing estimates could lead to a severe recession.
It is high time that the government should realise the gravity of the situation and provide a relief package in the budget, he suggested. He further said that the lockdown has taken a heavy toll on the restaurants and left millions unemployed. He added that the business community was unable to afford any more lockdowns or sanctions.
Chaudhry said the restaurants' gas tariffs should be shifted to the bread-oven tariff to restore the business sector and prevent further destruction. The official added that the majority of the restaurants and their consumers followed anti-Covid standard operating procedures (SOPs) and that ARRA is also ready to sign a petition regarding assurance of full implementation of precautionary guidelines.
The members of the association urged the government to remove all restrictions on the sector and allow them to operate under strict implementation of SOPs.
Published in The Express Tribune, May 28th, 2021.
COMMENTS
Comments are moderated and generally will be posted if they are on-topic and not abusive.
For more information, please see our Comments FAQ