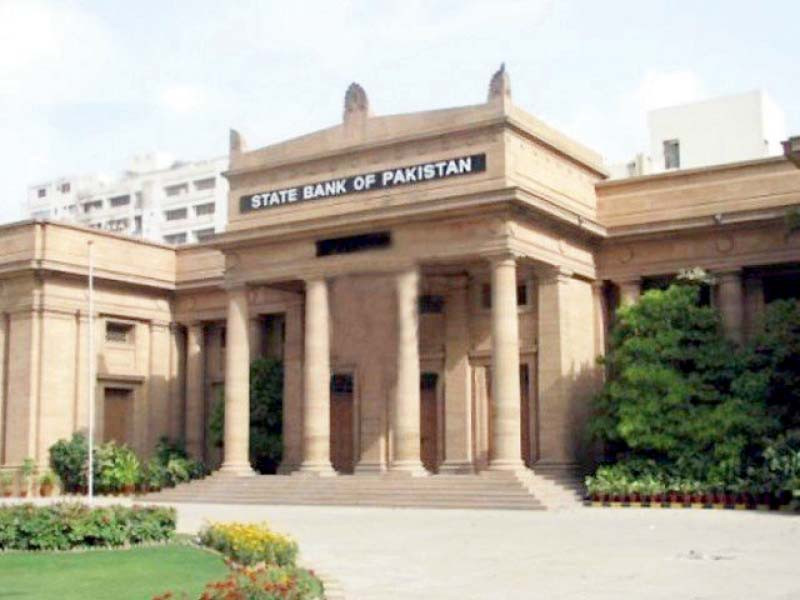 ---
KARACHI:
Pakistan's central bank is scheduled to meet on Friday to announce the benchmark interest rate for the next two months (Jun-Jul) on Friday as it will look back to assess major changes that have taken place in the domestic economy over the past couple of months and determine the outlook.
One of the leading changes that happened since the State Bank of Pakistan (SBP) announced status quo in the rate at 7% in the last bi-monthly monetary policy statement (MPS) in March 2021 is the change of federal finance minister for the fourth time since Pakistan Tehreek-e-Insaf (PTI) formed its government in the centre in August 2018.
Finance Minister Shaukat Tarin has remained very vocal in keeping the benchmark interest rate low to provide cheaper financing to businesses so the domestic economy can grow at a higher rate and can create new job opportunities.
He is also in favour of renegotiating with the International Monetary Fund (IMF) to discuss softening tough conditions on which Pakistan acquired the latest $6 billion loan program from the financial institution in May 2018. Getting IMF to agree on not increasing power tariff and softening targets for collection of revenue in taxes would help in avoiding a new wave of inflation, which has remained high in double digits for the past couple of months in the country.
Read: SBP urged to disburse funds to diverse sectors
The SBP Monetary Policy Committee (MPC), headed by the central bank governor Reza Baqir, stands independent in taking its decisions and it is believed that the new finance minister will not interfere in MPC's decision making process.
To recall, the central bank has also announced in January and in March to keep the interest rate unchanged till economy fully recovers from Covid-19 pandemic. More importantly, the country is passing through a third wave of the pandemic these days.
The health crisis and the resolve to let the economy grow at a higher rate suggest the central bank would keep the benchmark interest rate unchanged at the current level of 7% despite the real interest rate (the benchmark interest rate minus inflation reading) hovering at negative 2%.
"The appointment of new finance minister will have a major impact on the politico-economic landscape, as his focus remains on economic expansion; and raising rates will hamper growth," Alfalah CLSA's analyst Fahad Irfan said in a commentary.
In the latest poll conducted by the CFA Society of Pakistan, 97% of the participants expected no change in interest rates in May 2021 monetary policy statement (MPS), he said.
"We expect increase in policy rate during 2H2021," Topline Research said.
Topline Securities conducted a poll of key financial market participants over their views on the upcoming Monetary Policy Statement (MPS). A total of 78 participants took part in the latest poll.
"About 73% of the participants are expecting no change in the policy rate…13% of the participants expect an increase of 25bps, while 12% of the participants anticipate a cut of 25-50bps."
"Majority of the participants expect GDP growth to clock in between 2.0-3.0% during FY21," it said.
Read more: SBP revises equity limit to 10%
To recall, the National Accounts Committee (NAC) has revised up projection for economic growth to a surprising level of 4% for the current fiscal year ending June 30 on Friday against forecasts in the range of 1.5-3% by Pakistan's central bank, International Monetary Fund (IMF) and World Bank for the ongoing financial year.
Finance ministry is targeting to achieve 5% growth next fiscal year starting July 1, 2021.
AHL Research's analyst Sana Tawfik said, "Headline inflation for current fiscal year to date now average at 8.63% year-on-year versus 11.24% year-on-year in the corresponding period last year. We may witness double digit CPI to continue in the remaining months of 4QFY21 too due to low base effect. Going forward, any further electricity adjustment and continuing food inflation are two key concerns to our overall inflation expectation. On the other hand, low international oil prices and rupee remaining strong against the greenback will help keep the inflation in check."
Keeping in view SBP's inflation projection and its stance to support domestic demand, we expect policy rate to remain unchanged at 7% MPS, hence closing this fiscal year at the same rate, she added.
Published in The Express Tribune, May 28th, 2021.
Like Business on Facebook, follow @TribuneBiz on Twitter to stay informed and join in the conversation.
COMMENTS
Comments are moderated and generally will be posted if they are on-topic and not abusive.
For more information, please see our Comments FAQ