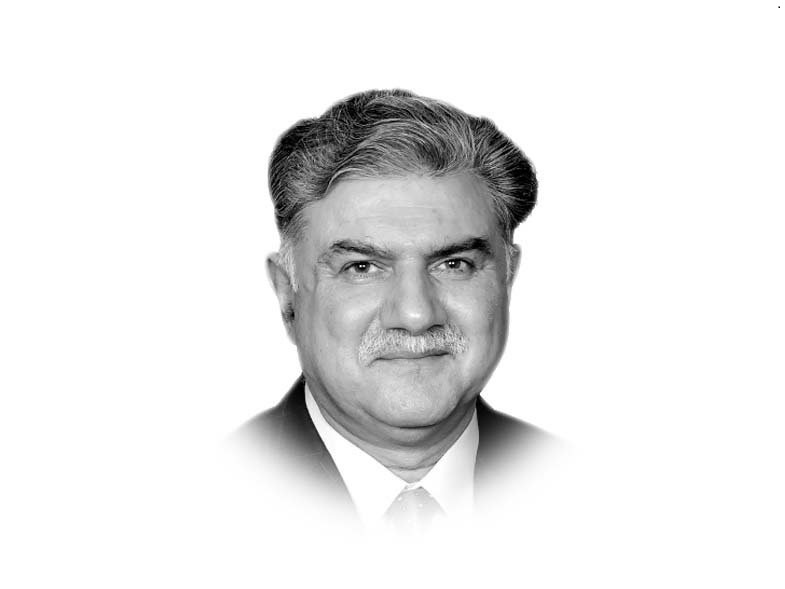 ---
Last week, in "CPEC: Understanding the Behemoth — Facts and Myth", we covered the conceptual framework of the China-Pakistan Economic Corridor (CPEC). This week, we continue to discuss the 'eight core areas' of the agreed CPEC architecture. CPEC has strong focus on social development, population welfare and poverty alleviation along its command areas… unlike any other programme of the International Monetary Fund (IMF), World Bank etc.
The first core area deals with the 'integrated transportation system', including construction/development of Kashghar-Islamabad, Peshawar-Islamabad-Karachi, Sukkur-Gwadar and Dera Ismail Khan-Quetta-Sorab-Gwadar road infrastructure. CPEC will expand the capacity of existing railway lines (specifically the strategic Main Line (ML-1) besides new projects and modernise railways.
The Gwadar City Master Plan comprises Gwadar city, port, a new international airport and corresponding transport system, the construction of East Bay Expressway and enhancing the effectiveness of Gwadar Free Zone to promote social progress and economic development.
Second, is 'information network infrastructure'. This includes construction/operation of local communications (broadcast and TV networks), strengthening bilateral information and communication to synchronise construction of 'information, road and railway infrastructure'. It also contains laying of cross-border optical fiber and 'backbone optical fiber networks' in Pakistan, besides upgrading Pakistan's network facilities, national data center and the second submarine cable landing station. Pakistan is to adopt China's Digital Terrestrial Multimedia Broadcasting (DTMB) standard.
This core area aims to improve Pakistan's Information Communication Technology (ICT) — enabled development like e-government/e-commerce; electronic monitoring of borders and safe city projects; and building IT industrial parks and IT industry clusters. Human resource and technology exchange is inbuilt in these programmes.
Third, cooperation in 'energy related' fields. It spans collaboration in oil and gas, electricity/power grids, construction of major thermal power, hydropower, coal-gasification and renewable power generation projects. It supports 'power transmission networks' to enhance 'power transmission and supply reliability'. This entails construction of high-voltage power grids, power transmission and distribution networks and developing the related industry to manufacture the entire range of energy sector equipment. This area is especially critical, as the enhanced power produced by WAPDA — under its agile leadership — needs to reach the end-user, to be encashed… boosting industrial production and revenues.
Catering especially to the Chinese hunger for fossil fuel, the long term plan (LTP) agreed to diversify oil supplies and cooperate in developing oil/gas resources and research. It develops storages along the CPEC route. Other initiatives comprise optimising Pakistan's coal-sourcing and utilisation; developing surface-coal gasification, expansion of the coal mining sector; developing wind and solar enabled energy supply sources; promoting river planning and preparatory work for major hydropower projects. However, this area at inception, missed building large water reservoirs, that needs to be included.
Fourth, 'trade and industrial parks'. This core area targets textile and garment industry for quality improvement, value addition, competitiveness and efficiency improvement to help Pakistan's exports and enhance mutually beneficial regional cooperation. Special economic zones (SEZs) are envisaged in all Pakistani provinces/regions and in China (Kashghar Economic and Technological Development Zone and Caohu Industrial Park).
China resolves cooperation with the Pakistani industry… from assembling imported parts/components to localised manufacture besides Chinese investment for development of energy-efficient industry. China shall promote industrial cooperation in sectors like chemical/pharmaceutical, engineering goods, agriculture, iron/steel, light manufacturing, home appliances and construction materials etc. The focus is to use energy-efficient and environmentally-friendly processes/equipment, helping Pakistan's exports.
Both sides agreed to increase exploration and development of mineral resources, setting up mineral processing zones and industries, besides expanding trade logistics, business-to-business (B2B) relations, bilateral and balanced trade structure. LTP envisages establishment of special customs supervision areas along CPEC, to achieve information docking and standardised data exchange, enhancing trade facilitation.
Fifth, 'agricultural development and poverty alleviation'. This area encompasses biological breeding/production/processing, storage/transportation, infrastructure construction, disease prevention and control, water resources utilisation and land development etc. ICT-enabled agriculture and marketing of agricultural goods is expected to develop systematic, large-scale and standardised agricultural industry.
The core area focuses on upgrading agricultural infrastructure like water-saving techniques, modern agricultural zones, increasing productivity of medium/low-yield land, and strengthening drip irrigation technology. Both sides are to cooperate in crop farming, livestock breeding, forestry, food growing, aquatic and fishery etc.
Cooperation is to extend to areas such as improving post-harvest handling, storage and transportation of agricultural products; innovation in marketing and sales models; improving water resource operation/management; developing pastoral areas and deserts; application of remote sensing technology; cooperation in production of pesticides, fertilizer, machinery and support services like agriculture education and research; and collaborate in forestry, horticulture (and horticulture products), fisheries and livestock medicines and vaccines.
Sixth, 'tourism'. Both countries agree to exploit the tourism potential of regions along CPEC, especially the China-Pakistan border areas, coastal belt and across border. LTP encompasses improvement in quality of bilateral tourism services like public information, transportation and security protection.
Tourism follows "2+1+5" spatial structure; with 'two centers' (Karachi and Gwadar), 'one axis' (coastal tourism development belt) and 'five tourist zones' of Jiwani/Gwadar tourism zone, Jhal-Jhao, Ormara, Sonmiani and Keti Bander… connected through a 'tour route' and themed on coastal leisure and vacationing.
Seventh, 'social development and non-government exchanges'. This core area constitutes cooperation between local governments, NGOs, people-to-people friendship and social development in cities along CPEC. This shall provide an enabling social environment for CPEC projects, especially in restive Balochistan. Node cities are to benefit from China's new urbanisation concepts like public transport, water supply and drainage systems through pilot projects, utilising China's strength in technology, equipment, and capital.
Training programmes for Pakistani officials, parties, local government representatives and students — from regions along CPEC — are planned in China, besides cultural exchanges. Educational and research institutions are to cooperate in knowledge, technology transfer and R&D. LTP plans social/economic development cooperation, medical assistance and vocational training for communities.
Drought prevention and disaster relief cooperation through comprehensive planning of water resources and river-basin development, utilisation, conservation and protection, are some other areas planned, that directly affect public livelihood and welfare.
Eighth core area is 'financial cooperation'. LTP emphasises a multi-layered cooperation and policy coordination covering financial reform, opening-up, innovation of financial products/services and risk mitigation to create conducive financial environment. It includes monetary cooperation between central banks and financial regulatory agencies; implementing and expanding existing bilateral currency swap arrangements; assigning foreign currency to domestic banks to support project-financing; and encouraging payment settlement in RMB and rupees, to reduce reliance on third-party currency.
Cross-Border Inter-Bank Payment System (CIPS) is used for clearing/settlement and promoting free but orderly flow of capital. China supports Pakistan's cooperation with the Asian Infrastructure Investment Bank (AIIB). Both sides encourage loans from international banks and seek improved cross-border credit system and financial services like export credit, project financing, syndicated loan, trade finance, financial lease, business in RMB, assets management and e-banking, etc.
Cooperation between financial markets like stock exchanges, securities markets besides multi-currency direct financing of Pakistan's central/local governments and direct financing of projects (in each other's capital markets) is agreed upon. Gwadar Port Free Zone is to benefit from the experience of Shanghai Pilot Free Trade Zone.
The story continues.
Published in The Express Tribune, May 27th, 2021.
Like Opinion & Editorial on Facebook, follow @ETOpEd on Twitter to receive all updates on all our daily pieces.