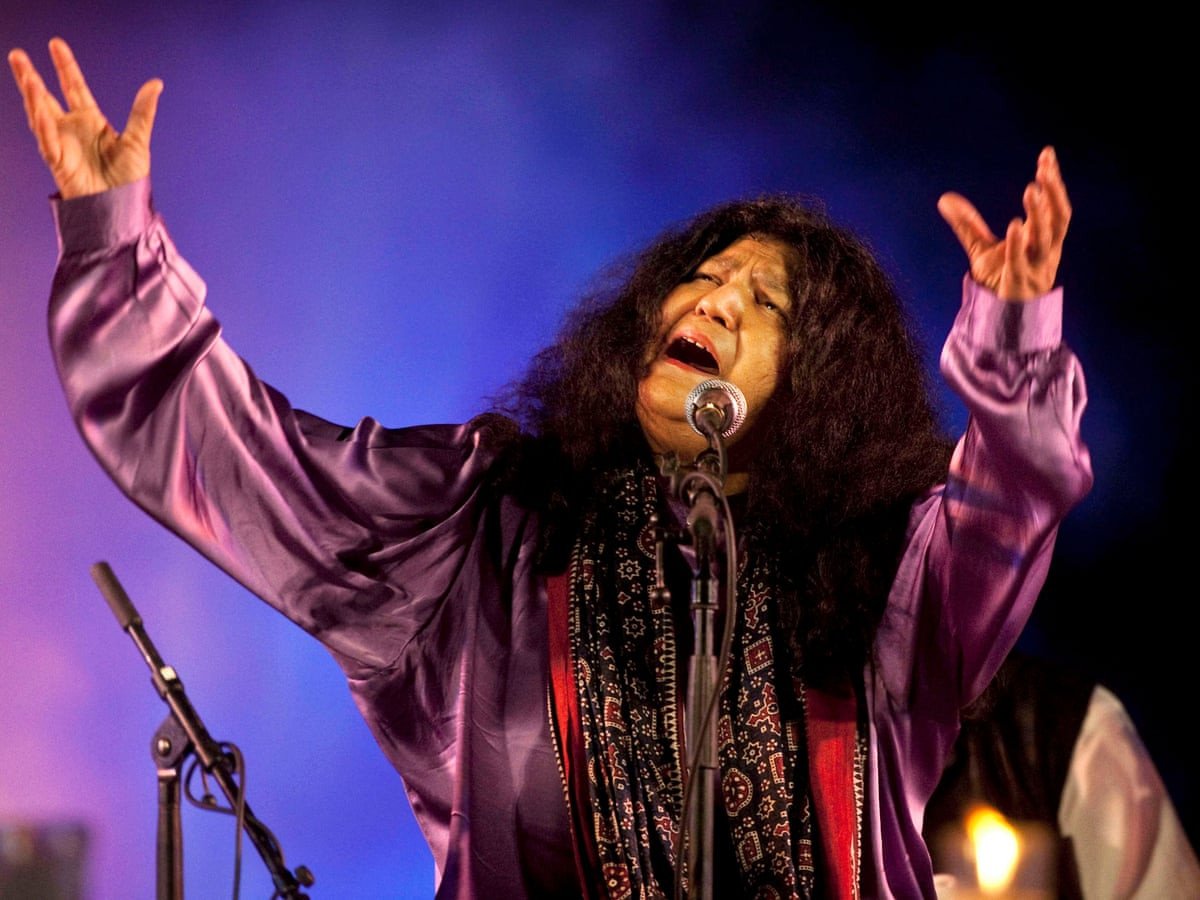 ---
Abida Parveen's magic has enchanted audiences from all walks of life and crowds in every corner of the world. Her presence and stature is so exalted that one wonders if being awarded the Nishan-e-Imtiaz or making it to the 11th issue of The World's Most Influential Muslims of 2020, is even a feather in her cap. She is a nest full of ideas on her own.
Whether a kalaam is in Arabic, Sindhi, Urdu, or Persian, Parveen has attempted it all with grace and nuance and believes that the "message of Allah" crosses all boundaries of language and race. "The message of Sufism only concerns itself with God and humanity, everything else is worthless," Parveen told BBC Urdu.
"There isn't even a concept of man or woman in Sufism. The Sufis are a force of religion, a force of light, a force of Panjtan Pak, from which this Sufi music is inspired." Parveen went on to reiterate that the ethos of Sufism is egalitarianism, and assured that the only thing Sufism identifies itself with, is humanity.
"Sufism is concerned with humanity and connects everyone through a common chain of humanity. You are building a chain between yourself and God and God allows it to happen regardless of gender or your place in society," she said. "When what you are reciting comes from the heavens then who can question it?" she asked.
Parveen recalled how growing up in the land of saints contributed to her obsession for folk music. "The atmosphere of Sindh is the atmosphere of a shrine, so much so that the mood and vibe of Sindh is that of a Darga," asserted Parveen. But her inspiration wasn't just limited to the rich cultural ecosystem of Sindh; her father had an equally significant impact on her tastes.
"My dad had a music school, where he taught folk music. So with such an environment around me, Allah Sain instilled in me the colour and passion of Sufi music," added the Global Mystic Sufi Ambassador.
She also assured that people around the world have now developed an affinity for Qawwali, whether they understand the language of it or not. "Sufism is the pain of Allah. It calms you down as if your soul is in a state of ecstasy."
Parveen credits the message of Sufi saints and the influence of figures such as Khusrau for shaping Sufi music into the way it is played today. "Amir Khusrau made a lot of melodies and instruments. First, a pakhavaj was turned into a tabla, and then the sitar came into being. As for Qawwali, it was initially performed at the shrine of Nooruddin Chishti in India, which then became a major center of Sufi music. But each saint has brought with them their own form of Sufi music," Parveen informed.
"The saints used to murmur/hum in pain but it is very difficult to do justice to that pain through our singing and music," said Parveen. "It is very difficult to bear the pain of Allah." She went on to assert that even Qawwali is a kind of a spell, a state, which is related to Dargahs, and it is sung in every place in multiple languages. "Hazrat Amir Khosrow had composed the first Qawwali in Arabic which had the following words, 'Man Kunto Maula Fahaza Ali Un Maula', meaning, the one who considers me his master, Ali(RA) is also his master," concluded the singer.
Have something to add to the story? Share it in the comments below.