 ---
"I utterly reject the false and appalling allegations that were published today," Grammy-winning singer Dua Lipa hits back at a full-page advert in a renowned international publication that attacked her, along with models Gigi and Bella Hadid, and appeared to link them with Hamas. The advertisement came after the stars recently made social media posts in solidarity with Palestinians.
"This is the price you pay for defending Palestinian human rights against an Israeli government whose actions in Palestine both Human Rights Watch and the Israeli human rights group B'Tselem accuse of persecution and discrimination," the Levitating singer shared in an Instagram story and added, "The World Values Network are shamelessly using my name to advance their ugly campaign with falsehoods and blatant misrepresentations of who I am and what I stand for. I stand in solidarity with all oppressed people and reject all forms of racism."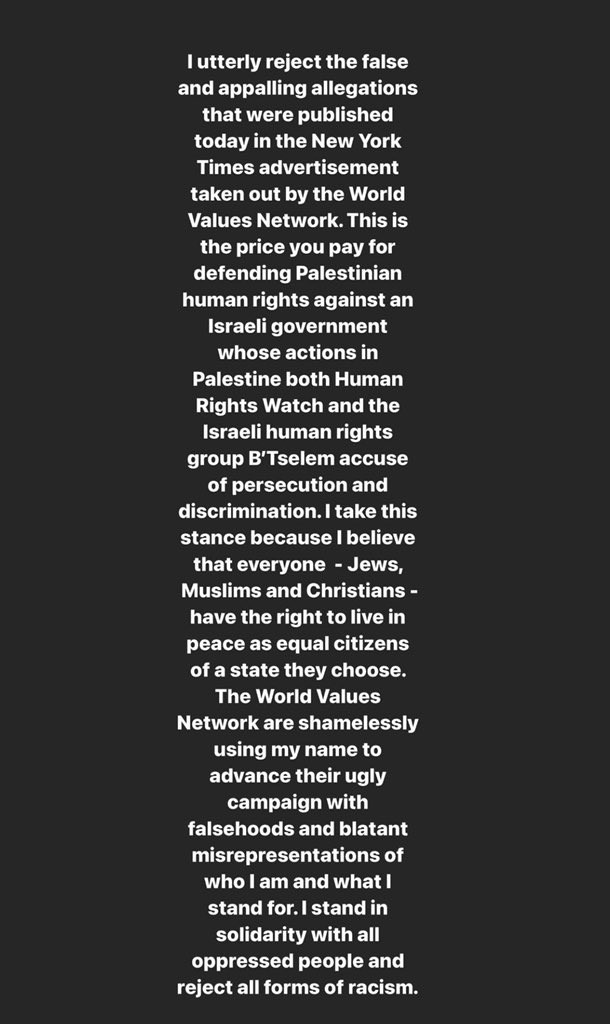 The ad has been roundly criticised by social media users and journalists, who saw it as an attempt to silence prominent pro-Palestinian voices.
On Saturday, the Times ran a full-page ad directed at Lipa and the Hadid sisters following their pro-Palestinian statements. "Bella, Gigi and Dua," the ad states. "Hamas calls for a second Holocaust. CONDEMN THEM NOW."
It superimposed the three A-listers' faces over a picture of a rocket strike from Hamas, and was accompanied by lengthy inflammatory text which attempted to link the three stars with antisemitism, genocide and terrorism.
"Bella, Gigi and Dua should be aware that 6 million Jews were annihilated in the Holocaust just 75 years ago and the Hamas genocidal charter openly calls for the murder of Jews," it stated. "Is the ongoing vilification of Jews and Israel on social media perhaps the reason we see Jews being beaten up in Time Square?"
Another sensationalist section of the ad criticised Bella Hadid for condemning Israeli checkpoints that "were erected after 700 innocent Israeli Jews and Arabs were blown to bits by suicide bombers in buses and cafes".Checkpoints were cited in Human Rights Watch 213-page report last month as evidence of Israel committing crimes of apartheid against Palestinians.
The Times ad was paid for by The World Values Network, an organisation set up and run by Shmuley Boteach, a controversial right-wing American rabbi with a history of taking out attack ads against figures critical of Israel.
The Hadid family have been among the most vocal high-profile celebrities to speak out, with both Gigi and Bella sharing statements and information about the imminent evictions of Palestinian families in the Sheikh Jarrah neighbourhood of occupied East Jerusalem and of ongoing violence and abuses committed by Israel.
Bella was falsely accused by Israel's official Twitter account of advocating for Jews to be thrown in the sea, after she joined in with the pro-Palestinian chant "From the river to the sea, Palestine will be free" during a protest in Brooklyn last weekend.
Earlier this month, Dua - who is the girlfriend of Bella and Gigi's brother Anwar - wrote on Instagram. "The ethnic cleansing of the Palestinian people must come to an end. NO MORE!! This is a human rights issue! WAKE UP, PEOPLE."
A ceasefire came into effect in Israel and the besieged Gaza Strip on Friday, following a devastating escalation in violence in which Israeli airstrikes on Gaza killed at least 243 Palestinians, including 66 children. In the occupied West Bank and East Jerusalem, 29 Palestinians were killed.
COMMENTS
Comments are moderated and generally will be posted if they are on-topic and not abusive.
For more information, please see our Comments FAQ