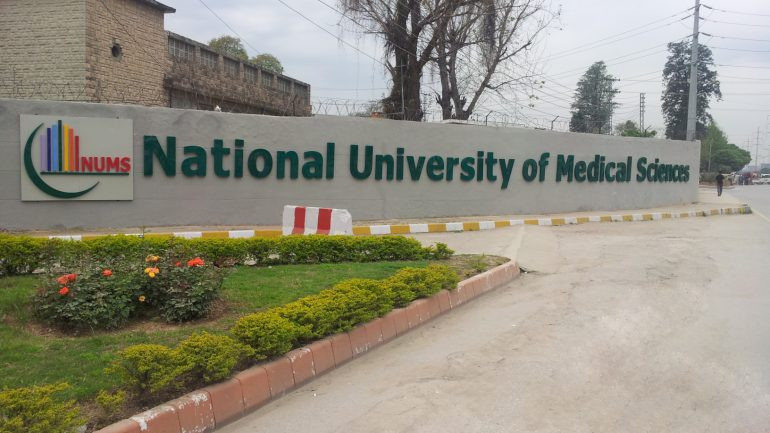 ---
RAWALPINDI:
National University of Medical Sciences (NUMS) Vice Chancellor (VC) Lt-Gen Muhammad Imran Majeed has called for research collaboration with the world's leading universities to produce vaccines and medicine to combat microbial strains that contribute to viral and infectious diseases in Pakistan.
"Research collaboration of Pakistani medical universities with international partners is the only way forward in the medical field," he stated on Sunday, adding that NUMS is already collaborating with some universities in the UK, the US, China, Malaysia and Turkey to promote medical research.
The VC said that phenomenal advances in information technology have given access to massive information to medical professionals but "we need to learn from the world in the field of research by building our partnership with their top universities".
Unlike the past, he said, Pakistan now has specialised medical universities which should not remain confined only to awarding degrees and instead "we should concentrate on research to resolve the problems facing the people here".
Also read
Medical research is contextual and we cannot solely depend on the research of others," Majeed maintained, adding that medical knowledge is upgraded every month and Pakistani doctors need to constantly update themselves as well.
"Knowledge changes fast so if we do not focus on research according to our own needs, we will lag behind," the VC said, adding that Pakistan needs to train its medical practitioners for carrying out quality research to get the requisite results.
Majeed also called for setting up a "Pakistan Health Commission" to supervise allied health institutions in the healthcare system including drug inspections. "If the private sector is not regulated, it will have terrifying consequence in the future and it should be properly monitored while taking on board all stakeholders," he said.
Referring to the Chinese treatment, he said that during his visit to China, he realised there was a lot of depth in their knowledge base as they have done their own research.
"In China, after initial diagnosis, patients are given the choice of either getting Western or Chinese treatment And generally, 60 per cent opt for traditional Chinese medication," he stated.
Published in The Express Tribune, May 24th, 2021.