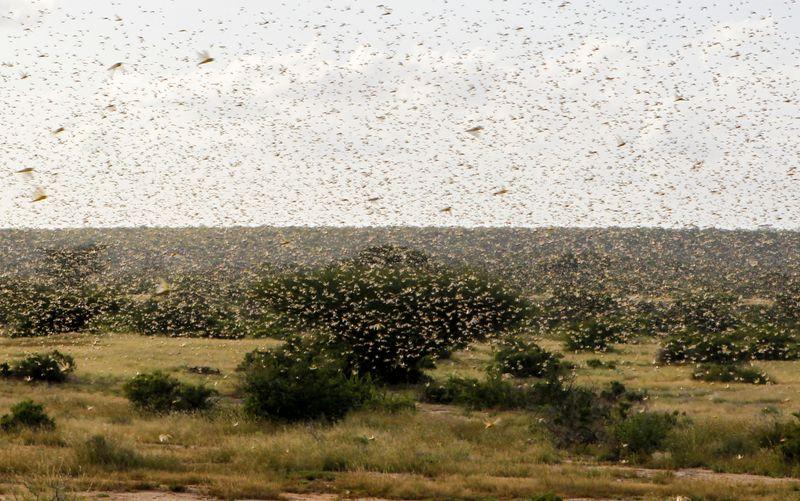 ---
ISLAMABAD:
Desert locusts visit Pakistan after intervals and mostly stay in the desert belt. However, in January 2020, locusts unusually entered the fertile agricultural fields in Punjab and even moved to the southern fertile districts of Khyber-Pakhtunkhwa.
This posed a threat to the national food security, therefore, the government declared a locust emergency and engaged the army and NDMA in insect control. Millions of rupees worth of emergency budget was approved to deal with the situation.
Besides the traditional locust control techniques of aerial and ground spraying of various pesticides, innovative methods of community-based locust catching for poultry feed were also successfully demonstrated at the biologically rich ecosystem of Depalpur in Okara district.
Locusts mostly stay in deserts, therefore, the Department of Plant Protection (DPP) and provincial agricultural departments undertake aerial spraying without any major impact on the sparsely populated and low biodiversity ecosystem.
However, this time around, locusts entered the agricultural fields in Punjab, eating crops and posing great challenges like the impact of chemicals on the soil and human health.
Read: ECNEC approves Rs32b plan to fight locusts
Pakistan has already ratified several chemical conventions like the Persistent Organic Pollutants Convention, Prior Informed Consent Convention, Basel Convention on Hazardous Waste and Montreal Convention on Ozone Depleting Substances and is, therefore, obliged to enforce these conventions.
DPP uses conventional methods of aerial and ground spraying. So far, it has used around 738,900 litres of chemical pesticides.
In 2020, about 165,000 litres of pesticides were sprayed over an area of 220,000 square kilometres valuing at Rs198 million. These did not include the chemical pesticides used by the provincial agricultural departments for locust control in their respective jurisdictions.
Spraying such a huge quantity of chemical pesticides has far-reaching environmental consequences. The impact of such chemicals on human health and biodiversity cannot be justified for the sake of killing locusts.
Therefore, the community-based locust management offers socially acceptable, economically viable and environmentally safe techniques to control locusts.
The federal cabinet, in its meeting held in early June 2020, considered the community-based locust management and approved it besides appreciating the model not only as a viable alternative to chemical spraying but also for the welfare of poor rural communities due to income generation through locust catching.
The cabinet also approved a proposal for buying locusts from the local community at Rs15 per kg through the Ehsaas social protection programme. To implement the cabinet decision, the Pakistan Agricultural Research Council (PARC) developed a project aimed at buying locusts from the local community and processing them to make bio-fertiliser.
This way, locusts will be used as a bio-waste instead of a rich source of protein for making poultry or other animal feed.
The reason for using locusts as a source of bio-fertiliser instead of protein is the difficulty in establishing a feed chain under the market mechanism, as mentioned by project proponents.
Consequently, the proposed project will miss the opportunity of using locusts as a valuable source of protein and reducing imports of soybean. The local community can still use the locusts they catch as a source of feed for their poultry, livestock, fish and pets.
How to catch locusts?
Catching locusts is considered as a challenge, but in fact it is easy once you know the locust behaviour. Adult locusts assemble in groups with the sunset on trees, open ground and areas with dense vegetation, and stay there almost motionless till sunrise the next day.
During this period, locusts can easily be caught and stored in aerated plastic mesh bags, allowing sufficient time for the transportation of live locusts for processing.
In Depalpur, the local community picked up the locust catching method so easily that it was able to catch tons of locusts in a single night. It caught locusts in a three-day trial with a price of Rs20 per kg.
Drying and processing
Locust drying is not much different from drying grains in rural areas. Moisture content should be observed regularly and as their texture appears brittle and dried, locusts should be powdered in small pieces for storage and can be used as a source of protein in chicken, fish and other animal feed either as it is or after mixing with other feed.
This way, the rural communities can get benefit of locusts as a source of feed and by offsetting their crop losses to some extent.
Read more: Pandemic, locust batter agriculture sector
Way forward
As locusts can revisit Pakistan anytime in future, it would be appropriate to stay ready for sustainable locust management at the institutional and community levels.
With a view to encouraging the local community to catch locusts for their own use and for earning cash, the following way forward is proposed:
One, create awareness among the local community of the importance of locusts as a rich source of protein for chicken and other animal feed. Two, train and educate the local community about catching locusts in their vicinities. Three, train the local community in drying, processing and value addition to the collected locusts.
Four, support and encourage private poultry and animal meal enterprises to buy the collected locusts from the local community.
Five, stop chemical spray in areas where locusts are being caught.
The writer is a PhD in natural resources management and is a civil servant
Published in The Express Tribune, May 24th, 2021.
Like Business on Facebook, follow @TribuneBiz on Twitter to stay informed and join in the conversation.