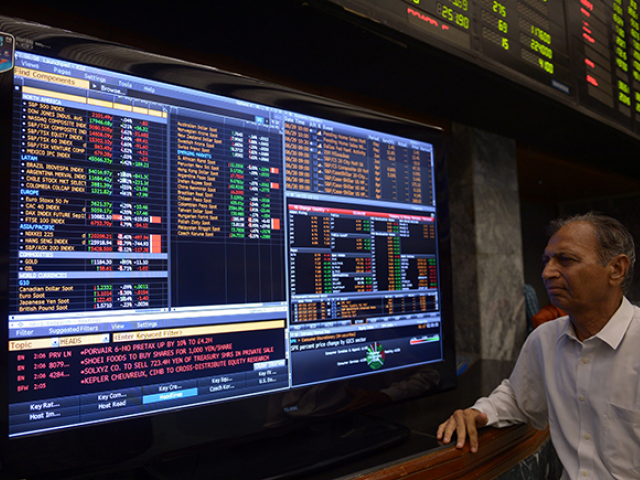 ---
The Pakistan stock market posted smart gains in the outgoing week as trading resumed after the long Eid holidays. Buoyed by the easing lockdowns and businessfriendly budget proposals, the KSE-100 index surged 740 points or 1.6% to settle at 45,919 points. Reduction in Covid-19 cases coupled with upbeat economic data and positive expectations about a status quo in the upcoming monetary policy announcement, scheduled for May 28, fuelled bullish sentiments at the bourse.
However, mixed news regarding the upcoming budget impacted the market and tempered gains. But the overall sentiment at the local bourse showed signs of improvement as investors remained undeterred by the political gloom. The week started off strongly, after the long Eid break, with the index climbing over 600 points on back of results of Morgan Stanley Capital International's (MSCI) semi-annual review. MSCI upgraded one Pakistani company to its emerging markets MSCI Global Standard Indexes from the MSCI Global Small Cap Indexes and added one new company from the country to its small-cap.
The positive momentum continued on Tuesday as surge in workers' remittances to an all-time high of $2.8 billion in April and healthy car sales number drove the index higher. Unfortunately, bears staged a comeback by mid-week and dominated the next two trading sessions. Weakening oil prices in the international market and rise in political noise in the country kept investor interest suppressed as an internal rift in the ruling party caused jitters. Interestingly, things took a turn for the better on Friday as bets of status quo in the monetary policy announcement due on Friday (May 28) along with news reports indicating that Pakistan would achieve a surplus in its current account balance in the ongoing fiscal year and anticipation of a business-friendly budget acted as a catalyst and spurred investor interest.
"We expect the market to remain positive in the upcoming week," stated a report from Arif Habib Limited. "With the monetary policy scheduled to be unveiled next week (May 28, 2021), we foresee the state bank to maintain a status-quo on its benchmark policy rate," it added. "We believe market performance will be dictated by budgetary expectations while key risk for the medium term depends on spike in Covid-19 cases," it added. Average daily traded volume surged 153% week-on-week to 609 million shares while average daily traded value increased 84% week-on-week to $137 million. In terms of sectors, contribution to the upside was led by cement (3139 points), oil and gas marketing companies (102 points), fertilisers (90 points), food and personal care products (89 points) and technology and communication (64 points).
On the other hand, sectors that contributed negatively included commercial banks (32 points) and power generation and distribution (18 points). Scrip-wise, major gainers were TRG Pakistan (93 points), Unity Foods (68 points), Lucky Cement (62 points), Mari Petroleum (57 points) and Engro Corporation (46 points). Foreigners turned net sellers this week as they offloaded stocks worth $49.4 million compared to a net buy of $1.04 million last week. Major selling was witnessed in all other sector ($43.4 million) and exploration and production ($7.8 million). On the domestic front, buying was reported by individuals ($37.2 million) followed by companies ($18.1 million).
Among other major news of the week; petroleum prices were kept unchanged, Oil and Gas Development Company discovered gas from Jandran X-04 well, foreign direct investment dropped 32.5% in the first 10 months of the current fiscal year and the National Accounts Committee approv