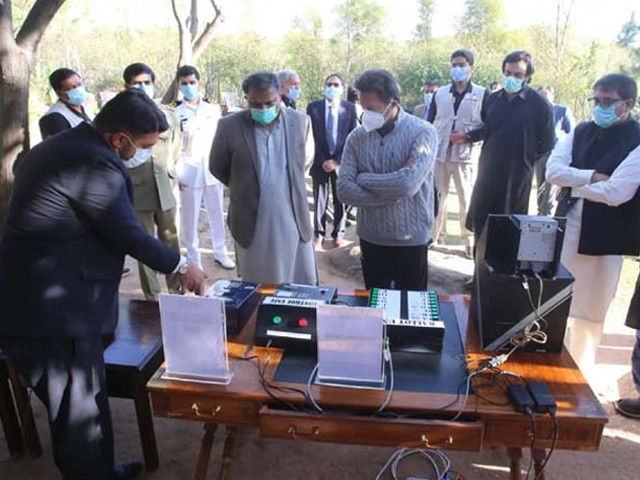 ---
ISLAMABAD:
The Election Commission of Pakistan on Saturday shared on its official Twitter account a vlog of a journalist criticising e-voting machines (EVMs) only to delete it a couple of hours later. In the vlog, the journalist can be heard voicing his concerns over the use of "expensive" EVMs, and speaking out against their use in the general elections, claiming that they were a fraud. According to the ECP, its Twitter account is managed by its IT department.
The tweet stayed for two hours and was later deleted following an uproar. In response, Minister of State for Information and Broadcasting Farrukh Habib tweeted that the ECP was a constitutional body. "It should keep in check what kind of material is being shared on its official Twitter handle and who is doing it," he added. "How can you describe EVMs as a fraud? The matter has to go to parliament and the chief election commissioner should give an explanation." ECP Director Altaf Ahmed Khan maintained that the incident occurred because of an "error".
He added that the commission's stance on e-voting machines issued on May 20 should be considered its official viewpoint on the matter. Earlier this month, President Arif had promulgated the Elections (Second Amendment) Ordinance 2021 under Article 89 of the Constitution only two days after National Assembly Speaker Asad Qaiser constituted a panel of the cabinet members to engage the opposition on the issue of electoral reforms. PPP termed the parliamentary committee on electoral reforms toothless and said that it had no mandate and power.
However, the PTI government maintained that it wanted reforms in the electoral system with the introduction of latest technology to bring transparency and credibility to the election process. On Thursday, the ECP formed a committee for the procurement of EVMs and to enable the overseas Pakistanis to exercise their right to vote while staying in their country of residence. The committee under the supervision of ECP secretary will forward its recommendations in the next meeting.
The commission sought an audit report on the pilot projects for the overseas Pakistanis right to vote and issued directives to the authorities concerned to write a letter to the information technology ministry for this purpose. It asked the science and technology ministry to present a demonstration of the EVMs after May 31.
The federal government was also asked to forward a report on the internet voting and EVMs. The chief election commissioner observed that the ECP hailed the use of technology and emphasised that security standards must be considered in this process.