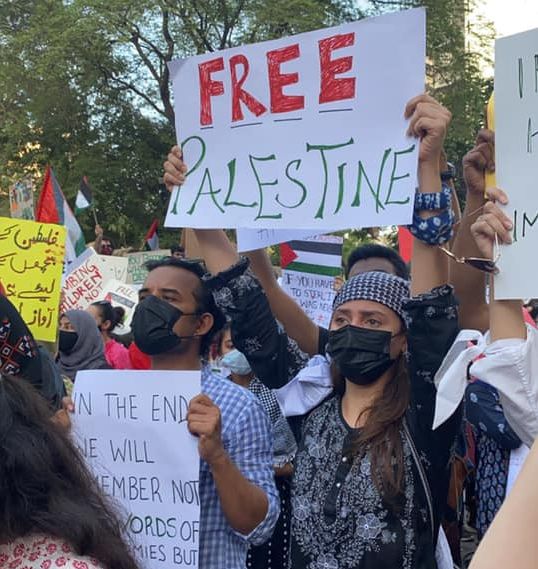 ---
This week, many marched in solidarity with the Palestinians. Pro-Palestine protests were organised in several cities across Pakistan. The #PakistanForPalestine demonstration saw people from across the city, raising various informative placards. Every individual seemed to have done their homework, preventing anti-Semitic slogans from becoming the spotlight of the day.
Celebrities including Mahira Khan, Ayesha Omar, Sheheryar Munawar, Ali Rehman Khan and Hania Aamir alongside others, chanted slogans for Gaza. But one thing irked Pakistanis more than the cause to protest itself – Mahira making an appearance without a dupatta.
A few netizens on social media called out the Raees star for not wearing a dupatta on the occasion.
After a local magazine shared the news, many artists such as the likes of Yasir Hussain, Ahmed Ali Butt and Zhalay Sarhadi came to Mahira's defence and slammed the trolls. Taking to his Instagram story, Yasir shared, "Wah! So, you can create a 'summer look' out of shorts and Mahira can't even leave a dupatta at home in this scorching heat in May? Discuss some real issues instead of who wore what. Have some shame and fear God."
Mirroring Yasir's sentiments, Ahmed too, shared his take. "People who couldn't find the dupatta, how do we expect them to find wisdom?" the Punjab Nahi Jaungi star shared. "Try finding shame in yourself instead of a dress." Zhalay shared Ahmed's story and penned, "That's why no real issues are solved. People focus on these ridiculous issues."
Organisers and some celebrities also rooted for the Boycott, Divestment, and Sanctions (BDS) movement against the state of Israel, while making it clear that boycotting Jews or Jewish products did not make sense. The air echoed with chants of 'Free, free Palestine,' as the protest for Palestinian liberation kicked off at the Karachi Press Club on May 19, 2021. People arrived with hopes to amplify the voices of families they had never met and children they had seen only through their mobile screens.